BIOL 1070 Lecture Notes - Fish Gill, Zebra Mussel, Glochidium
For unlimited access to Class Notes, a Class+ subscription is required.
Biodiversity
1/9/2013 8:27:00 AM
Introduction

Biodiversity is the variety of genes, species and ecosystems

Shaped by billions of years of evolutionary history of interaction
between environments and life forms (natural phenomenon, other
species, etc.)

Human activity can have lasting impacts at large scales that are
difficult to predict

Descent with modification from common ancestors
Mussels

What factors contribute to the threats to native freshwater mussel
biodiversity in the Great Lakes Region?
o
MASS PROPAGATION OF MUSSELS
o
TEMPERATURE FLUCTUATION
Bivalves develop in 3 ways (Ontogenic Variation; not all freshwater mussels
develop in the same way)

By passing early development as a parasitic stage on a host
(Unionids)

By producing veliger larvae ( in Dreissena polymorpha)

By releasing fully developed young mussels (rare)

Dioeceous (Male and female; both genders)

Production: releases sperm from the exhalant siphon, female takes
in sperm from the inhalant siphon; female now has sperm and egg
in the same area internally; once the egg is fertilized it is an
embryo, the embryo is then held within a little chamber within the
gills called a marsupium; those embryos develop and then release
Glochidia
which attach to a fish gills by clamping down onto the
finger-like gill extensions, suck nutrients out of the blood of the
fish; Eventually leave the fish and grow till the become a full sized
adult)
Glochidia

Attach to host fish gills

Sometimes release a few million of these glochidia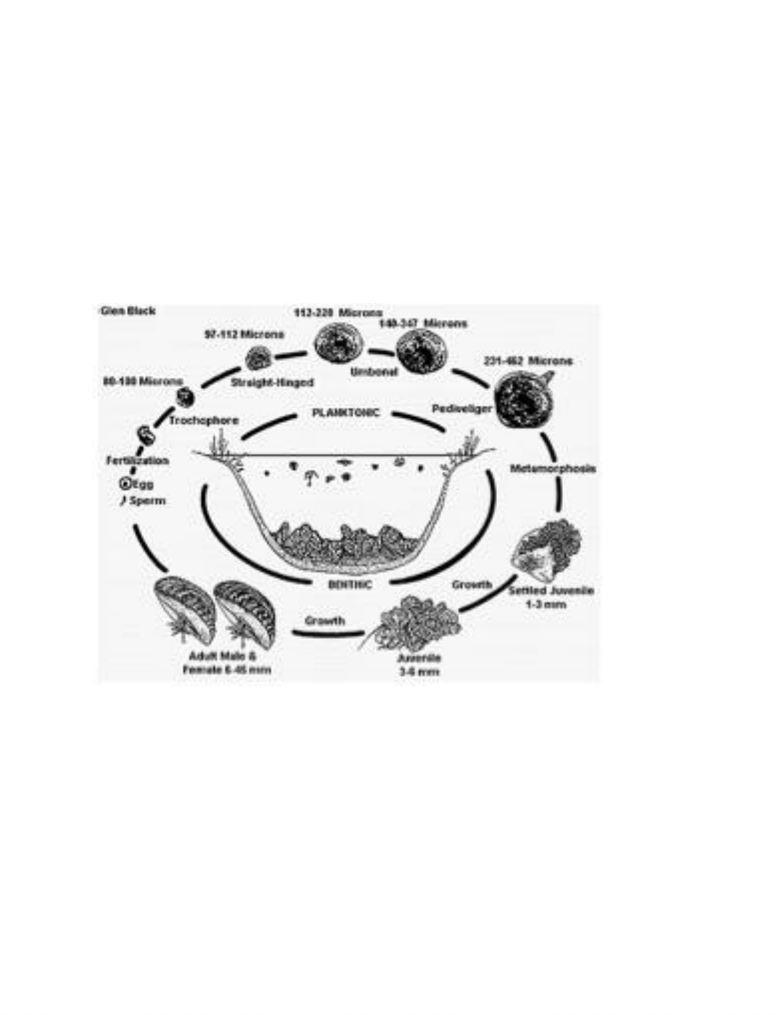 
As few as 10 out of a million can attach to a fish gill
Strategies for Infection

Using Lures to attract the fish (modified mantle tissue that mimics
fish or invertebrate prey to attract fish host)

Conglutinate : a membranous sac that is released by the mussel,
attached by a thread that is filled with
glochidia

Host capture: Mussel may physically grip host and pump glochidia
over the gills (snuffbox mussel)
Veliger Larvae

Trocophore (stage at which larvae are released into the water
column)

Veliger larvae that can move in the water and are carried a long
distance away and do not require a host to complete their life cycle

Go under metamorphosis after the Pediveliger stage to form a
juvenile

Starts are Embryo, embryo becomes veliger larvae, undergoes
some transformations and undergoes complete tissue and structure
metamorphosis into a juvenile settled larvae until it grows into an