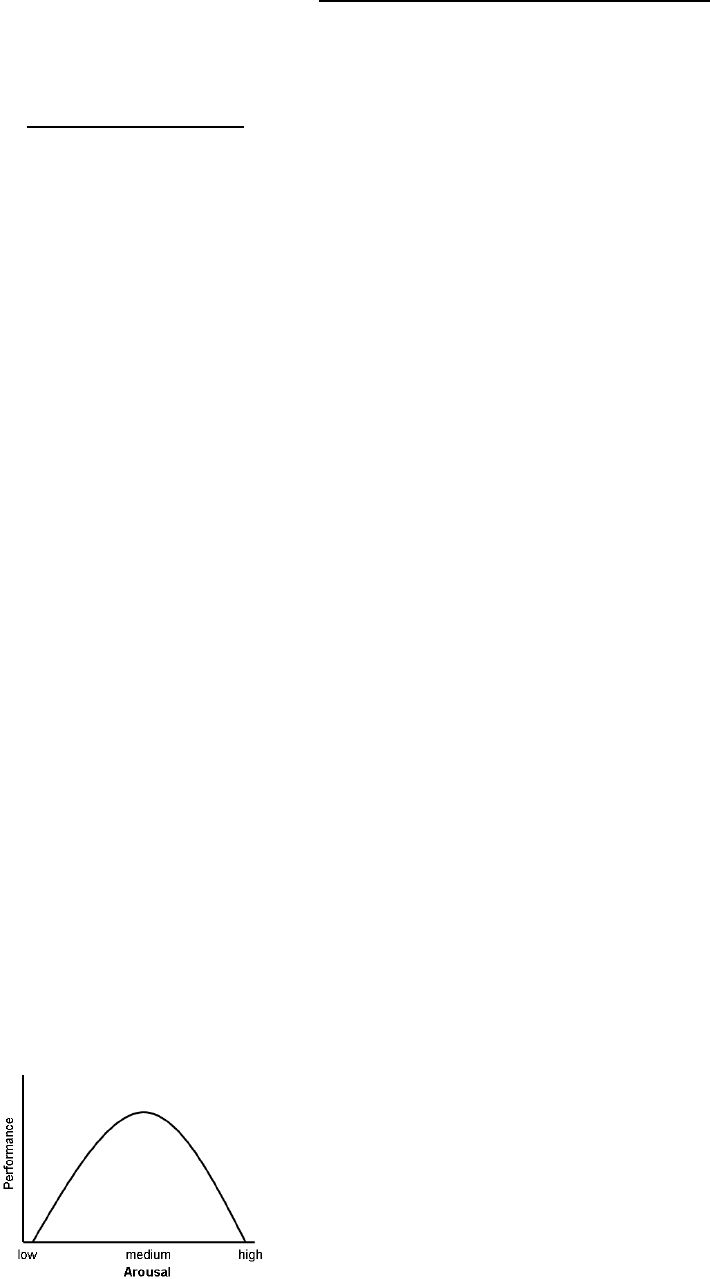 Lecture 6: How do emotions pertain to the body.
1.
Emotions and body action.
2.
Emotions and bodily feelings.
1.
Emotions and body action.

Emotion brings about reflexive body action.

Once induced by emotion, reflex actions:
a.
Mediates between organism and environment.
b.
Functions according to principle of self-preservation.
c.
Automatic. i.e.: see a snake and immediately jumps back, this can't be inhibited.
Harvey Carr: emotion calls for deliberate action.
"Emotional reactions are awakened when organism is unable to respond in an orderly and efficient fashion to a highly stimulating
situation".
*Emotion signals
failure of instinct or presence of novelty. (instinct failed, so emotion help you plan in conscious ways, or when no
instinct is available to help in novel situations).
--How is emotion adaptive: Energy that can be discharged by the body, something that tends to "awaken a vigorous appropriate
adjustment". Alert you about the problem, energize you to engage in problem solving.
John B. Watson: Pattern theory of emotion.
"An emotion is a hereditary pattern-reaction involving changes of bodily mechanism as a whole, but particularly of the visceral and
glandular systems".
-Emotions: instinctive unconditional responses to environmental stimuli. Ex. Fear is not learned., sadness for the loss of a loved one is
not learned or conditioned. Rage as well.
-Two-part bodily response: organs, autonomic nervous system.
-Adds:
Emotions
can
be
swayed
by
conditioning.
Ex.
Increase/decrease
emotion,
desensitization.
Ex: Women who likes chocolate. Unconditioned stimulus (chocolate), unconditioned response (Liking), if shock them, liking will
decrease…
Clearly: Emotion helps aid in self-preservation.
-heuristics for adaptive behavior (don't overthink the situation, run when see bear)
- Leads to appraisal of good vs. bad (appropriate action, analyze if on the right course. If actions support our goal, feel positive emotion.
If not, negative emotion.)
- Aid in maintenance of homeostasis (maintain physiological stability, ensure feeding, warm, deliberately think what to do).
But: Emotions may also hinder. Ex:
Yerkes-Dodson Law.
Peak performance at moderate arousal/stress.
2.
Emotions and bodily feelings.

Emotions can cause, facilitate, interfere w/ bodily action.

Emotions also associated with bodily sensations: cause & caused by bodily sensations.
Emotion Sensation
Disgust noxious
Fear/ anger
Increase heart rate
Emotion caused by sensation: pain due to hunger, thirst cause depression, anxiety, anger.
Convention view
: EVENT



EMOTION-



BODILY CHANGE + ACTION.

For James: EVENT  BODILY CHANGE + ACTION  EMOTION. (We feel sorry cause we cried, afraid cause we tremble).
**Facial expression lecture: Tomken—actions of muscles in face create emotion. Movement from limbs, tension of body and facial
muscles create emotion.
Ex: See a bear…
Convention: fear run.
James: run fear (because I ran away, I must be afraid).
C: Think about pickle  +Emotion (I like it)  get a pickle (action).
J: Think about pickle  I ate one yesterday (Think about action)  +E (therefore I must like it).
Gregorio Maranon & W.B. Cannon
-Maranon inspired Cannon's critique of James: What happens when inject people with adrenaline. (induce bodily change will lead to
emotion? Since James proposed that bodily changes induced emotion). inject people with adrenaline.
Adrenaline increase sympathetic activity, James would assume a change in emotion.
First-degree reaction 79%. (en froid, somatic disturbance)
Second-degree reaction. 21%
Bodily changes
Awareness of bodily arousal, awareness about autonomic nervous
system.
-Felt the symptoms and know they are symptoms of a fear
response.
Same as first degree reaction
Emotion changes
Incomplete emotion. E.g., as if I were frightened, however, I am
calm.
Felt entire emotion.
*The 21% mistaken arousal for emotion because they have a psychological motif, superimposed on the autonomic reaction. (Stress in
life: lost a family member, lost job..).
•
Neither findings supported James' theory.
Maranon's two-factor theory of emotion.
-In correspondence with findings, emotion is comprised of:
1. Bodily component (
l'

é

motion v

é

g

é

tative
)
2. Psychological component. (l
'
é
motion psychique
)
-Co-presence of both enables a complete affective state. *Preferably, psychological before bodily.
Cannon's official critique of James (recall James: autonomic specificity for emotion, can distinguish emotions by looking at different
style of activations in the body).
1.
Same bodily changes accompany different emotions. Ex: general arousal response.
Ex: fear, anger, sexual desire… all show increase in sympathetic activation, h-rate, Adh.
2.
Autonomic

changes

are

incremental.
-Very
small,
can't
be
the
reason
for
emotion
states.
Ex: difference in ANS activation between calm state and feeling furious is only a few extra heart beat/min.
3.
Autonomic changes are too slow.
Feel emotion before body catches up. The immediate flush of fear is instantaneously, bodily changes take place at about 15-30s after
emotion is felt.
4.
Autonomic changes for non-emotional experiences. Ex: jogging.