BIOB50H3 Lecture Notes - Lecture 13: Horse Length, Guard Cell, Cuticle
Lecture 13
Chapter 14
Mutualism and Commensalism
Case Study: The First Farmers

The fungus-growing ants started cultivating fungi for food at least 50 million years before the

The fungi produce specialized structures called gongylidia on which ants feed

When a queen leaves the nest to mate and begin a new colony, she carries in her mouth some
of the fungi from her birth colony

The fungi are cultivated in subterranean gardens. A colony may contain hundreds of gardens,
each the size of a football; they can provide enough food to support 2-8 million ants

(A) The mound above the ground is made up of soil excavated by the ants, the fungus is
cultured in garden chambers, each about the size of a football, and the dump chambers contain
refuse from the fungal gardens. Picture is a representation of an AttaLeaf-cutter ant colony.

(B) Photo is a cutaway view of a garden chamber in a central Paraguay colony of the leaf-cutter
Positive Interactions:

POSITIVE INTERACTIONS OCCUR WHEN NEITHER SPECIES IS HARMED AND THE BENEFITS OF
THE INTERACTION ARE GREATER THAN THE COSTS FOR AT LEAST ONE SPECIES

MUTUALISM

—

mutually beneficial interaction between individuals of two species (+/+)

COMMENSALISM

—

individuals of one species benefit, while individuals of the other species do
not benefit and are not harmed (+/0)

SYMBIOSIS

—

a relationship in which the two species live in close physiological contact with each
other, such as corals and algae

Parasites can also form symbiotic relationships

Symbiosis can included parasitism (+/-), commensalism (+/0), and mutualism (+/+)

Mutualistic associations are everywhere.

Most plants form

MYCORRHIZAE

, symbiotic associations between plant roots and various types
of fungi. The fungi increases the surface area over which the plants can extract soil nutrients
(over 3m of fungal hyphae may extend from 1cm of plant root)

There are two categories of MYCORRHIZAE:

ECTOMYCORRHIZAE
—

the fungus grows between root cells and forms a mantle around the
exterior of the root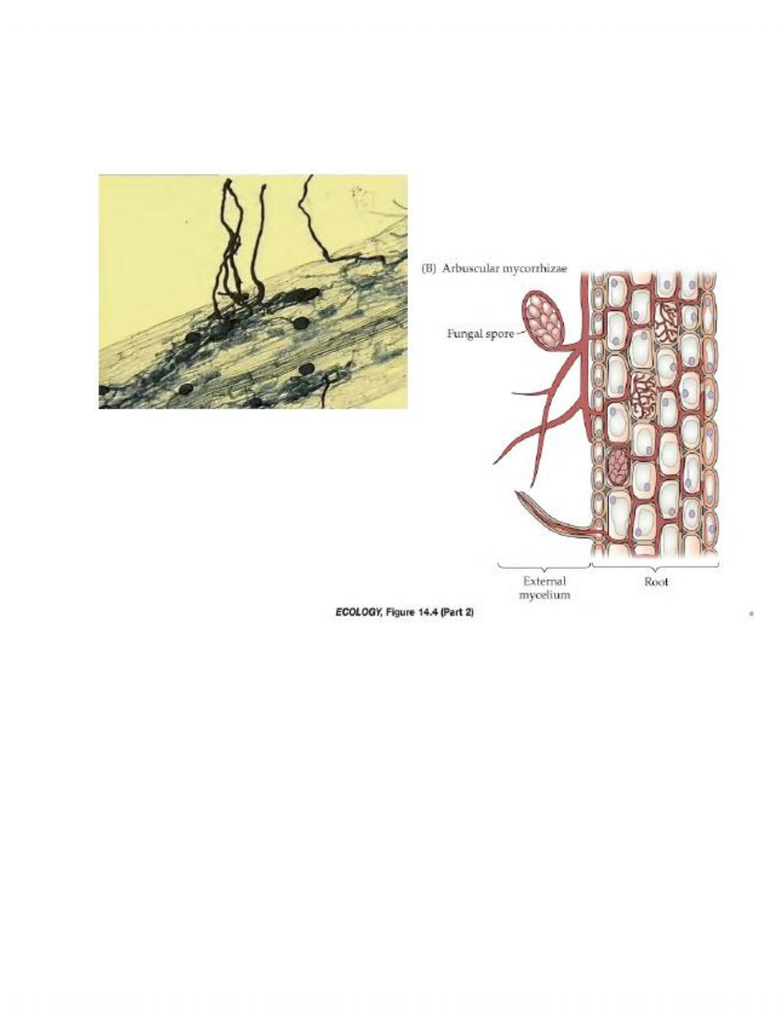 
Some of the hyphae grow between root cells (red stuff between cells) and in ectomycorrhhizae,
fungal hyphae form a mantle or sheath around the root

ARBUSCULAR MYCORRHIZAE

—

the fungus grows into the soil, extending some distance away
from the root; and also penetrates into some of the plant root cells

Corals form a mutualism with symbiotic algae. The coral provides the alga with a home,
nutrients (N and P) and access to sunlight. The alga provides the coral with carbohydrates
produced by photosynthesis
What are Lichens?

Lichens are unique unclassifiable composite organism of fungi and algae; 14000 species;huge
variety in size, form and color; found everywhere on earth; dual nature only described in 1868;
and is a great example of symbiosis (or parasitism)?

Lichen components, algae

. Mostly green algae: most/many lichenized algae CAN live alone.
Exampels are trebouxia and trentpohlia

Basic Lichen Morphology:

Fungus layer followed by an algae layer and finally followed by
another fungus layer.