---
LINA02H3 Lecture Notes - Lexical Decision Task, Psycholinguistics, Word Association
---
---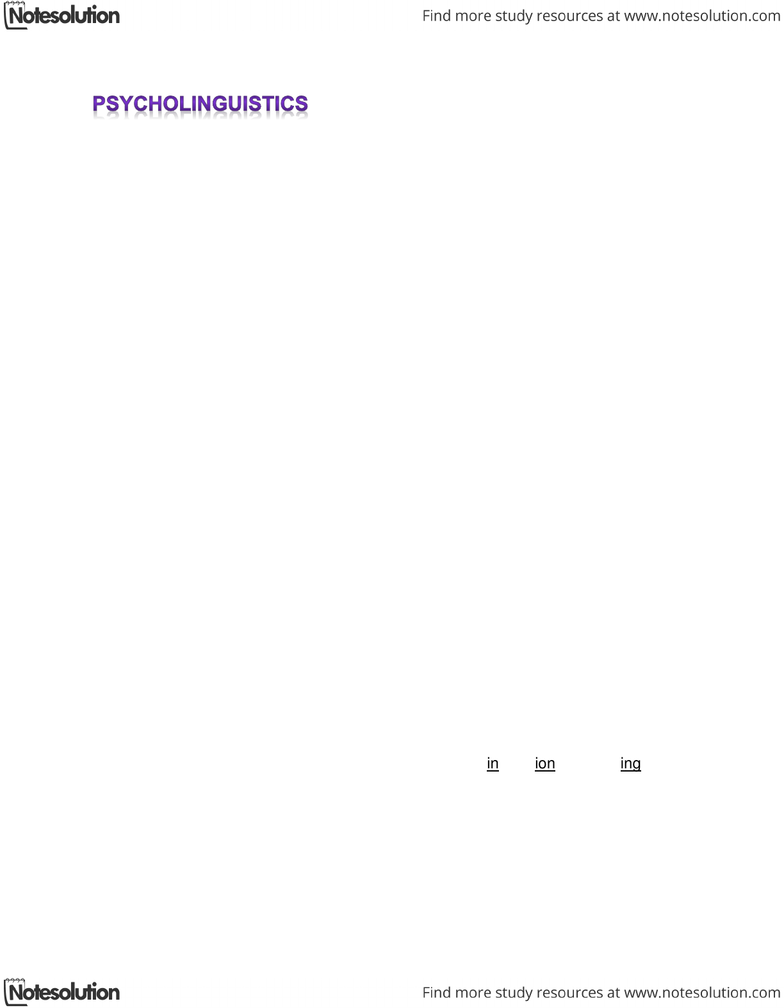 Psycholinguistics:
study of comprehension, speech production, acquisition
Most of psycholinguistics cannot be observed, have to be inferred on the basis of
behavior.

Slips of the tongue

–

Spoonerisms
o
The initial consonants are usually switched between words

Tells us that sentences must be planned before they're said
o
Bases that morphemes are attached to are switched as well

This tells that morphemes, not words, are the basis of the
sentences
o
The mental lexicon is different than a dictionary

–

it's flexible, can
incorporate new words, it's faster to use, it's not just organized by the first
letter of the word.
o
This is shown by the tip-

of

-the-tongue occurrences

–

we can't

remember a
word so we find it by rhymes, word association, meaning sound = mind is
flexible
o
Word primitives hypothesis
1.
Words as primitives: each word is a separate entry in the mental
lexicon
2.
Morphemes as primitives: when we process speech, we
decompose morphemes in order to sort them
a.
This has the advantage of lexical economy

Subject must decide whether a word on a screen is a word or not.

They are studied based on their response time/response latency
(time it takes to respond) and response accuracy

They have to use their mental lexicon in order to make their
decision

It shows that it takes longer to decide on a multimorphemic word
than a word with a single morpheme (
in
decis
i
o
n
vs. decid
ing
.)

People also take longer with words than are used left often than
words than are used in everyday life
–
Frequency Effect

Words that are harder to pronounce also take longer while more
pronouncable words, even nonsense words, take less time.
o
Like the lexical decision task, a word to be judged (the target) is
presented. However, it is preceded by a stimulus (the prime)
o
The study is based on whether the prime has an effect on the target
o
Priming effect:

a semantically related prime (cat-dog) makes a faster
response time than a non-semantically related prime (pen-dog)
o
Parsing: the automatic analysis of a sentence
o
Bar pressing exercise:

read a sentence, read one word at a time, get next
word by pressing bar. This study measures the time to hit the bar.

Takes longer for content words

–

verbs, nouns

Less time for function words

–

conjunctions, prepositions
o
Measure

saccades

(movement of eyes while reading)

Fixation time is longer for less-frequent words and typically focused
on content words

Regressive saccades (backtracking) is due to miscomprehension
Garden path sentences

Is grammatical but are called so because their meaning leads the reader down
the wrong path of understanding

Cause regressive saccades as reader has to work to fully understand

Result in

minimal attachment

: we do not project new syntactic modes unless we
really have to.

Also results in

late closure

: we prefer to attach words to a node we've already
understood than one we don't.

Even after we get the right meaning, we are still more likely to repeat the first,
wrong answer.
---