---
SOCA01H3 Lecture Notes - The Postmodern Condition, Conflict Theories, Intelligentsia
---
---
This preview shows pages 1-2. to view the full 8 pages of the document.
Culture
-
Is defined by sociologists as the sum of practices, languages, symbols, beliefs, values,
ideologies, and material objects that people create to deal with real-life problems.
o
It enables people to adapt and thrive in their environments
o
Is cultured consumed mostly by the upper class
o
Distinguishes it from popular/mass culture
o
Is culture consumed by all classes
-
Shared culture is socially transmitted
o


society is composed of people who share culture
The Origins and Composition of Culture
-
Human culture has 3 main tools for survival
o
The ability to create general ideas or way of thinking
o
It allows us to classify and generalize our experiences



symbols
o
Symbols

–

ideas that carry meaning



language, formulas, signs
o
Is is the capacity to create a complex social life by norms and values

E.g. families members cooperate to to raise children, and in the process,
they develop and apply norms and value about which child rearing
practices are appropriate and desirable

Animals have some kind of cooperation


but is it more instinctual base
o
Norms

–

are generally accepted ways of doing things
o
Values

–

ideas of what is right or wrong
o
Unique to humans



it is the capacity to make and use tools and improves our
ability to take what we want from nature.
o
Material culture

–

tangible



tools and techniques that enables a task to be
completed
o
Non-material culture

–

non-tangible



symbols, norms, etc…
Only pages 1-2 are available for preview. Some parts have been intentionally blurred.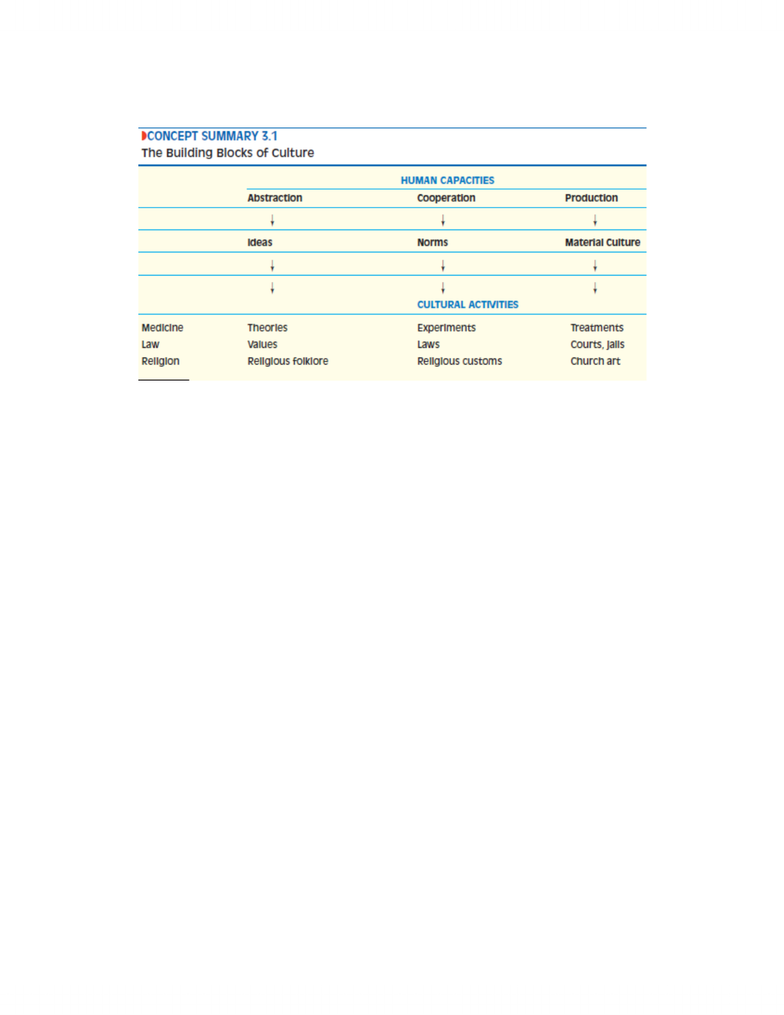 -
How do these tools create different kinds of ideas, norms, and elements of material
culture?
o
In medicine, theoretical ideas about the way our bodies work are evaluated using
norms about how to test theories experimentally.

Experimentation, in turn, results in the production of new medicines and
therapies

part of material culture.
o
In law, values (shared ideas about what is right and wrong) are embodied in a
legal code, consisting of norms defining illegal behavior and punishments for
breaking the law.

The application of the law requires the creation of courts and jails


part
of material culture.
o
Religious folklore



traditional ideas about how the universe was created, the
meaning of life, and so forth
—
is expressed in religious customs regarding how to
worship and how to treat fellow human beings.

Religious folklore and customs can give rise to material culture that
includes churches, their associated art and architecture, and so forth.
Sanctions, Taboos, Mores, Folkways
-
People are rewarded/punished when they follow cultural guidelines/not.
o
Rewards (positive sanctions) and punishments (negative sanctions) aimed at
ensuring conformity

System of social control


the sum of sanctions in society by means of
which conformity to cultural guidelines is ensured.
-
Taboos



among the strongest norms
o
When someone violates a taboo



causes revulsion in the community, and
punishment is severe

E.g. incest, rape, murder
o
considered to be essential for survival of a community



William Graham
Sumner
You're Reading a Preview
Unlock to view full version
Only pages 1-2 are available for preview. Some parts have been intentionally blurred.
o
also called mores (Latin for ―customs‖)



e.g. walk on street without any pants

called folkways


evoke the least severe punishment



e.g. walk on
street without a top
-
Stable but vibrant societies are able to find a balance between social control and cultural
innovation.
Evolution of human behaviour
Culture Biology
-
The ability of humans to create culture is built on a strong biological foundation


biology sets limits
-
Sociobiologists



claim that genes can play a part on how humans behave
-
Charle's Darwin evolution theory



species that are best adapted to their environments
are more likely to survive longer and have offspring
Male Promiscuity, Female Fidelity, and Other Myths
-
Universal trait



they claim that men are more likely than women to want many sexual
partners
-
Explanation



why this behaviour?



increases survival chances



e.g. males produce
millions of sperm, women only one per month

these are different strategies for
optimum survival
-
These behaviour cannot be easily changed



encoded in human genes
Problems with evolutionary biology
-
Males tend to exaggerate number of sexual partners



study shows no significant
correlation
-
No verification that genes control behaviour (except for language)
-
Environmental factors affect behaviour



social interaction, nutrition, etc…
Language and the Sapir-Whorf Thesis
-
language is a system of symbols strung together to communicate thought



enables
humans to understandings, pass experience and knowledge from one generation to the
next, and make plans for the future

language allows culture to develop (cultural
invention)
Is language innate or learned?
-
Pinker



language is instinct



people have a sort of innate recipe or grammar for
combining words in patterned ways.
-
Recently it was discovered that a mutation of a gene known as FOXP2 is associated with
SLI (Specific Language Impairment)
Social Roots of Language
-
suggests that our biological potential must be unlocked by the social environment to be
fully realize
o
Language must be learned
o
Children with SLI fully recover with language therapy
You're Reading a Preview
Unlock to view full version
---