BIO220H1 Lecture 4: BIO220-Lecture 04 - Social Behaviour.pdf
•
Evolutionary explanations of cooperative
behaviour
Behaviour increases another individual

s
reproductive success at a cost to one

s own
Behaviour that, if adopted by two (or more)
individuals, benefits both
The interaction with and responses to other
individuals of the same species
!
Social Behaviour
Cooperation and Natural Selection

…

a special difficulty, which
at first appeared to me
insuperable, and actually
How then can cooperative
genotypes spread in an
environment of selfish genes?
co-operative behaviour between the individuals,
does something that harms one self but helps
an-others fitness. Harm is interm of genes not
individuals.
meerecats do
alarm calls.
it identifies that
individual to the
predator, putting f
it to risk, but the call
warns everyone else.
unselfish behaviour.
juveniles in the group hold up the nest , and help the nest
they increase the fitness of whomever's nest it maybe.
— meerecats : unrealated individuals help raise anothers
offsprings.
more than one
generation in one group.
naked mole rats - most of the colony forgoes
mating and works, theres only one female that
mates and gives offspring.
individual dec.
its reproductive
success but inturn
inc. the others
reproductive
Game Theory
Developed during the Cold War
Explanation of Game Theory
•
Set of possible strategies
•
Some pay-off schedule for playing A
against B for all A and B
Contest between two individuals over
obtaining a resource
Two strategies that can be used:
Hawk
(fight aggressively)
Dove
(resolve contest peacefully)
Hawk - Dove
Game
Hawk/Dove Game
2 players
2 strategies/player
Pay off matrix
Dove
Dove
Hawk
Hawk
John Maynard Smith
Which strategy
will prevail?
Dove
Dove
Hawk
Hawk
Suppose R > 2C; e.g., R=6, C =2
It is always best to play Hawk!
used game theory to try and understand to win the game
against Russia , ( nuclear war)
Strategies A & B ( Hawk, Dove) - you let individuals
choose their strategy.
Dove - don't fight they resolve peacefully
think about this as costs and benefits
the payoffs are in terms of the bold players
hawk vs. hawk - will win half of the time but will
pay the cost of a fight.
the one with the most benefits wins
the only time you
will fight is when
you play a H vs H
you always get more than if you were to play the
Dove strategy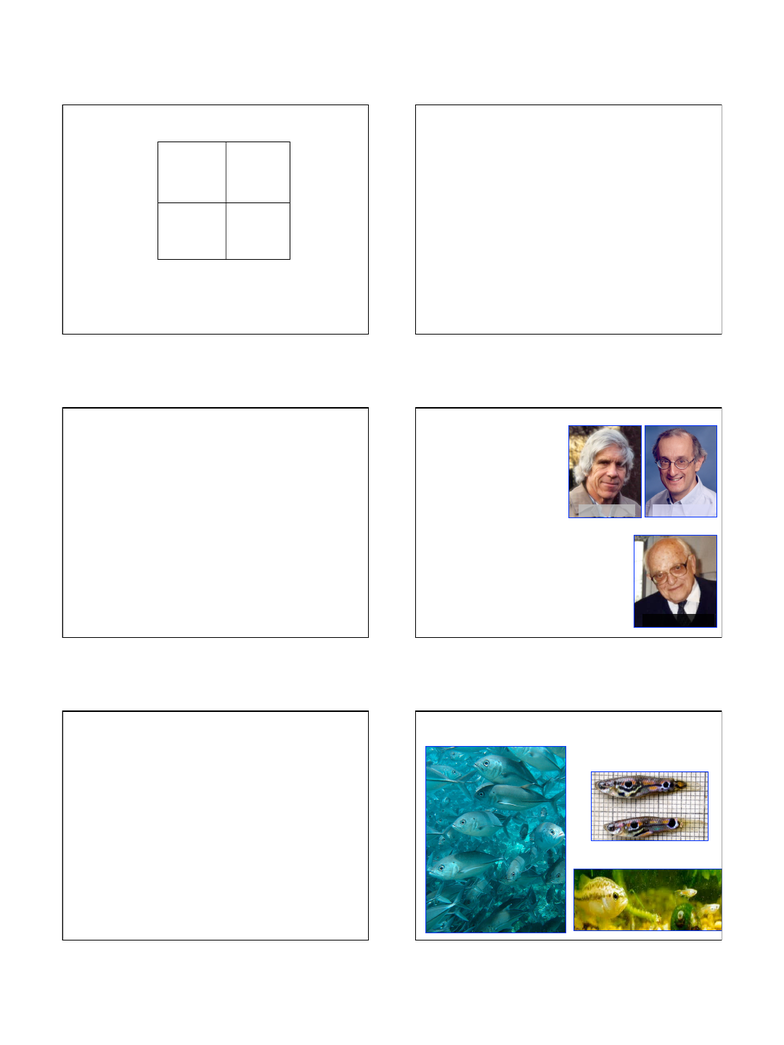 Suppose R < 2C; e.g., R=2, C =6
Dove
Dove
Hawk
Hawk
•
If Hawk is common, Dove is best
•
If Dove is common, Hawk is best
Might expect a mixture at equilibrium
Fitness is Frequency-Dependent
•
Evolutionary explanations of cooperative
behaviour
Reciprocity
•
Given multiple encounters perhaps it does not
pay to be selfish
•
Can examine this possibility using Iterated
Evolution of Reciprocity
(with repeated encounters)
Best strategy is

Tit for Tat


I.
Cooperate on the first encounter
II.
Copy your opponents last move thereafter

!
Robert Axelrod
Anatol Rapoport
Iterated Prisoner

s Dilemma
!
Bill Hamilton
Elements of the Tit for Tat Strategy?

Retaliatory

- stop if partner stops

Forgiving

- if partner has cheated in past
but

changes


then cooperate

Nice

- start by cooperating
the fitness of the Dove will be dependent on who
they play regularly
if you have only one interaction with the individual
it would be beneficial to play nasty. But if you were
interacting with them multiple times it would
be beneficial to co-operate.
Anatol came up with the strategy.
you keep co-operating until that individual
co-operates as well
the schools allows the predator to not specifically attack
on one individual. They travel in schools to identify if a
suspicous animal maybe a perdator , the individuals in the
schools take risk to confirm if the other is a predator or not