LMP299Y1 Lecture Notes - Lecture 10: Hypergonadotropic Hypogonadism, Hypogonadotropic Hypogonadism, Secondary Sex Characteristic
INFERTILITY

Definition: failure to conceive after one year of regular,

u

n

p

ro

tecte

d

in

tercou

r

s

e

.
- Male factors, 40%
* NOTE: assessment of male is equally important as female
- Female factors, 50%

In female, endocrine abnormalities are found in 1/3 of cases
* Hormone dysfunction is a rare cause of male infertility.
SEX STEROID HORMONES

Sources:

Gonads

(testis and ovary) and

peripheral conversion

(adrenal & adipose tissues)

Testosterone and androgens
*in women, 1/2 from ovary & 1/2 from peripheral conversion of dehydroepiandrosterone (DHEA) and
DHEA-Sulphate (DHEAS) secreted by adrenal cortex.
* DHEAS, marker in differential diagnosis of the source of excessive androgen production in women

Estradiol and estrogens
*In normal male, estradiol present in low concentrations.

Sex hormone-binding globulin (SHBG)
- Higher affinity for testosterone than for estradiol
- Estradiol stimulates SHBG synthesis in liver; testosterone decreases it.
- The plasma concentration of SHBG in females is twice that in males
- Factors which alter SHBG concentration alter the ratio of unbound testosterone to unbound estradiol.
CONTROL OF TESTICULAR FUNCTION
-
Negative feedback by the testosterone
-
This hormone is more potent
than testosterone (it is made
from testosterone) and it is
important in male genital
formation and also in puberty
(male sexual features and
secondary sexual characteristics)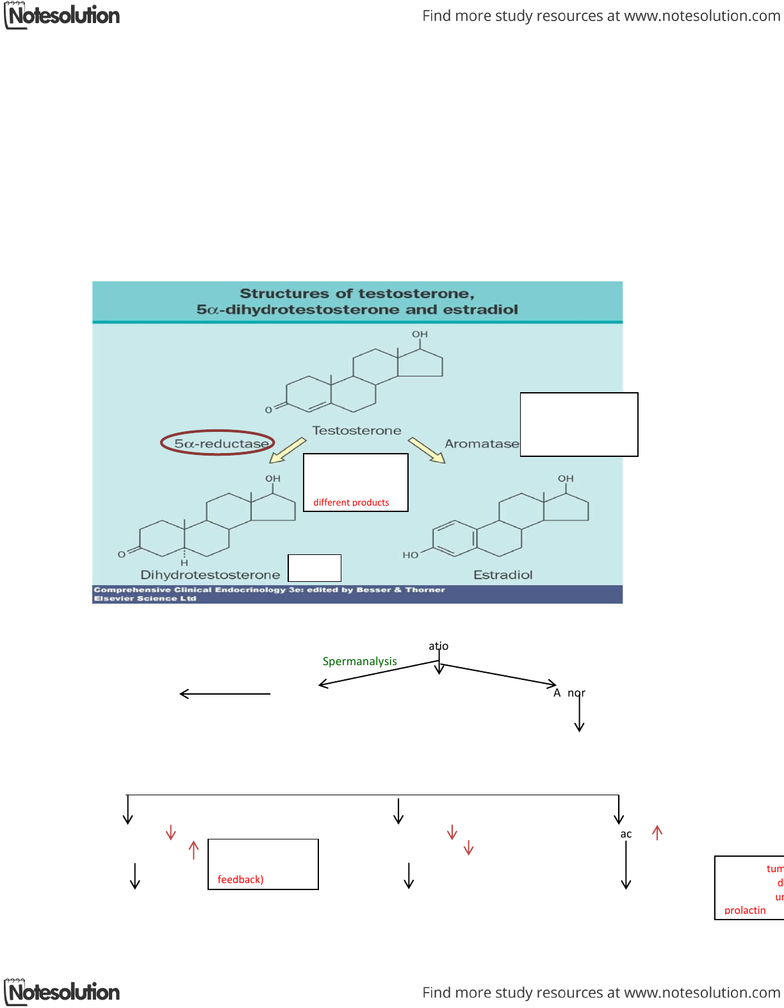 DISORDERS OF MALE SEX HORMONES
Primary:
hypergonadotropic hypogonadism

–

testicular failure
- Congenital defects
Secondary and tertiary:
hypogonadotropic hypogonadism
- Pituitary tumors
-
Hypothalamic disorders, e.g. Kallmann's syndrome (GnRH def.)
* GnRH stimulation test
–
for investigation of the causes

Defects in androgen action

–

sexual differentiation
- Testicular feminization syndrome (Androgen Insensitivity Syndrome
–
due to androgen receptor def.)
- 5
α
-reductase deficiency (DHT deficiency, only affect chromosomal 46XY males)
INVESTIGATION OF INFERTILITY IN MEN
No further
endocrine tes
t
Normal
A
b
n
o
r
mal
Measure
testoste
rone,
FSH, LH,
prolacti
n
Testosterone
Testosterone

Prol

ac

tin
Gonadotrophins
Gonadotrophins
Testicular failure
Hypogonadotrophic
convert
testosterone into
conversion of
testosterone to
there is lack of
Primary hypogonadism
hypogonadism
NORMAL MENSTRUAL CYCLE
o
Selective secretion of FSH and LH during ovulatory cycles reflects changing

G

n

RH

p

u

ls

e

s

ti

m

u

li
o
Slow frequency pulses favor FSH; more rapid pulses favor LH.
o
Selective inhibitory feedback of estradiol and inhibin on FSH release, plus positive actions of ovarian steroids on
LH, combine to produce the two essential features of an ovulatory cycle
o
A massive increase in LH release to produce ovulation at mid-cycle
o
Selective monotonic elevation of FSH in the late luteal to early follicular stages; FSH rise initiates the next wave
of follicular maturation (next cycle).
EVALUATION OF OVULATION

Progesterone measurement

(if it is increased then there is ovulation)
- beginning rise immediately after ovulation
- Peak within 5 to 9 d during the mid-luteal phase (days 21-
23)
- If pregnant, hCG stimulates corpus luteum, progesterone rise continues
- Biphasic if ovulation occurring
T
h
i
s
is
e
i
th
e
r p
i
t
u
i
tary o
r h
yp
o
th
a
l
amu
s
d
e
f
e
c
t
Hormones form the hypothalamus are released in pulses
Fast pulse favours the LH
LH PEAK: induced by the
estrogen peak
Progesterone increase after
ovulation
–
released by the
shows the