---
Health Sciences 1001A/B Lecture Notes - Lecture 15: Blood Alcohol Content, Fortified Wine, Drink Mixer
---
Department
Health Sciences
---
This preview shows pages 1-3. to view the full 9 pages of the document.
•
Alcohol: The intoxicating ingredient in fermented/distilled beverages; colourless, pungent
liquid
▪
Ales and malt liquors are similar, around 6-8% alc
▪
Fermenting juices of grapes and fruits
▪
Fermentation: sugars from fruit react with yeast = ethanol
▪
Fortified wine is wine with added alc
•
Ex: sherry, port, Madeira
▪
Gin, Rye, Rum, Tequila, Vodka, Liqueur
▪
Distilling brewed/fermented grains/plants
▪
30

-50% alc but can be stronger
•
Any beverage containing 1.1% or more alc by volume is considered an alcoholic beverage
•
All labels must include the amount of alc in the product
•
One drink = amount of beverage that typically contains 13.6 grams of "pure" alc
o
12 oz beer = 5 oz wine = 3 oz fortified wine = 1.5 oz liquor
•
People don't always limit themselves to one drink
o
Most servings of alc beverages are much larger
o
Ex: mixed drinks, often containing more than one type of hard liquor
•
Canadian companies not required to list # of standard drinks on alc labels
•
It is important for individuals to have awareness about what a standard drink is and how
many "drinks" are in one container of alc
o
One standard drink (14-17g) = 100-120 cal
•
Ex: Beer = 140 cal per beer
•
"light" in light beer refers to # of calories, NOT alc level
o
Consuming alc on a regular basis adds lots of extra calories to one's diet
▪
Could lead to weight gain and potential health problems
o
Strategies for cutting back on alc
▪
Spacing drinks at least one hour apart
▪
Replacing alc beverages with "virgin" or half alc substitutes
o
20% of alc is rapidly absorbed from stomach into the bloodstream
o
75% is absorbed through the upper part of the small intestine
o
Remaining alc enters through gastrointestinal tract
o
Alc produces feelings of intoxication
▪
Carbonation in beverage (ex: champagne) increases alcohol absorption rate
•
Same with artificial sweeteners (ex: drink mixers)
find more resources at oneclass.com
find more resources at oneclass.com
Only pages 1-3 are available for preview. Some parts have been intentionally blurred.
▪
Food in the stomach slows rate of absorption
▪
Drinking of hard liquor slows rate of absorption
▪
ALL ALCOHOL a person consumes is ABSORBED
•
Metabolism and Excretion
o
Alc is rapidly distributed throughout most body tissues
o
Main site of alc metabolism is the liver
▪
Small amount of alc is metabolized in the stomach
o
Processes of metabolism
▪
Alc converted to acetaldehyde, then acetate, then burned for energy or converted
to fat
•
Enzymes for this process vary among individuals
•
This explains how different people react to alcohol
o
Metabolism - chemical transformation of food and other substances in the body into
energy and wastes
o
Some people, primarily of Asian descent inherit ineffective/inactive variations of ALDH
▪
Metabolism of alcohol may not be as quick
o
Others, ex: Jewish population and African descent metabolizes very quickly
o
Acetaldehyde buildup occurs when people drink alcohol
▪
Reaction: Flushing Syndrome
•
Skin feels hot, heart + respiration rates increase, headache, vomit, hives
•
Severety of reaction is affected by the inherited form of their alcohol
o
2-10% of alc is not metabolized in the liver/tissues
▪
Instead, it is excreted unchanged by the lungs, kidneys, and sweat glands
•
Ex: Smelling alc on a person's breath
•
Explains breath and urine analysis for alc levels
▪
Affects neurotransmitters temporarily
▪
With chronic heavy usage, alc effects become permanent
•
Interferes with production of new brain cells until the age of 21
•
In mature adults, new brain cells are unable to be produced to replace
damaged ones
•
Alcohol Intake and Blood Alcohol Concentration
o
Blood alcohol concentration (BAC) = Ratio of alcohol in a person's blood by weight
expressed as a percentage of alcohol measured in a decilitre of blood
▪
Affected by amount of alc consumed in a given amount of time and a few factors:
•
Small person has higher BAC than large person after drinking the
same amount of alc
•
Has less overall body tissue into which alc can be distributed
•
Alc does not concentrate as much in fatty tissue as in muscle and
most other tissues
•
Because fat has fewer blood vessels
•
Woman metabolize less alcohol in the stomach than men do
•
Stomach enzyme that breaks down alc before it enters
bloodstream is 4 times as active in men as in women
find more resources at oneclass.com
find more resources at oneclass.com
Only pages 1-3 are available for preview. Some parts have been intentionally blurred.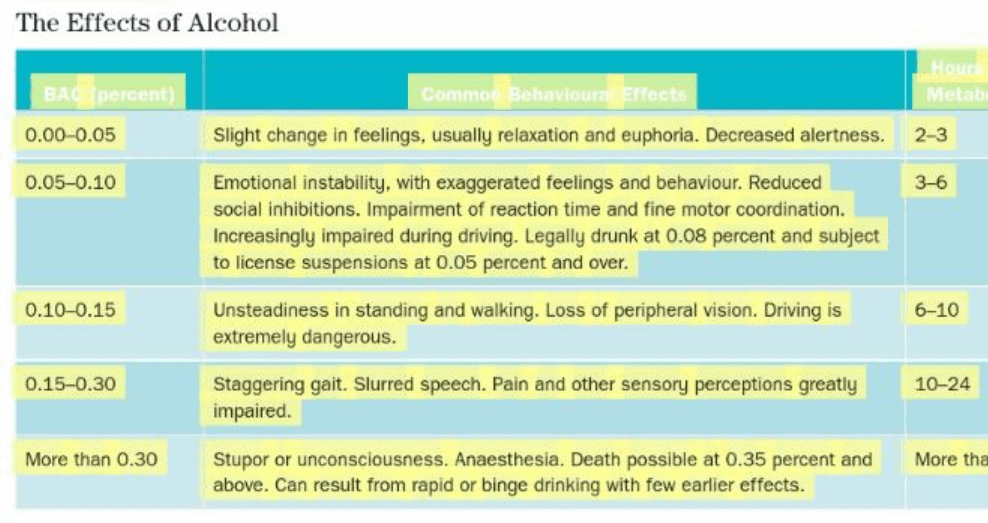 •
Women will have higher BAC than men
•
Hormonal fluctuations may also affect their rate of alc metabolism
▪
BAC depends on rate of alc absorption and rate of alc metabolism
•
Rate of alc metabolism varies among individuals
•
Genetic factors and drinking behaviour
•
Chronic drinking activates enzymes that metabolize alcohol in the
liver
•
People who drink frequently metabolize alcohol at a more rapid
rate than non drinkers
•
Metabolic rate CANNOT be influenced by exercising, breathing
deeply, eating, drinking coffee, or taking other drugs
▪
People can drink large amounts of alcohol over a long period by absorbing slightly
less alc each hour than they can metabolize in an hour without becoming
noticeably intoxicated
•
Still long term health hazards
▪
If people drink alc more quickly than it can be metabolized, the BAC will steadily
increase
•
They will become increasingly drunk
o
Immediate Effects of Alcohol
o
Alc is a Central Nervous System depressant
o
When BAC is increasing rather than decreasing, the effects of alcohol are more
pronounced
o
If a person drinks on an empty stomach, alcohol is absorbed more quickly and BAC rises
more quickly
o
Low Concentrations of alcohol:
find more resources at oneclass.com
find more resources at oneclass.com
You're Reading a Preview
Unlock to view full version
---