---
Management and Organizational Studies 3321F/G Lecture Notes - Lecture 1: Dan Ariely, Reference Group, Sensation (Band)
8 pages
14 views
Winter 2018
---
Department
Management and Organizational Studies
Course Code
Management and Organizational Studies 3321F/G
---
This preview shows pages 1-2. to view the full 8 pages of the document.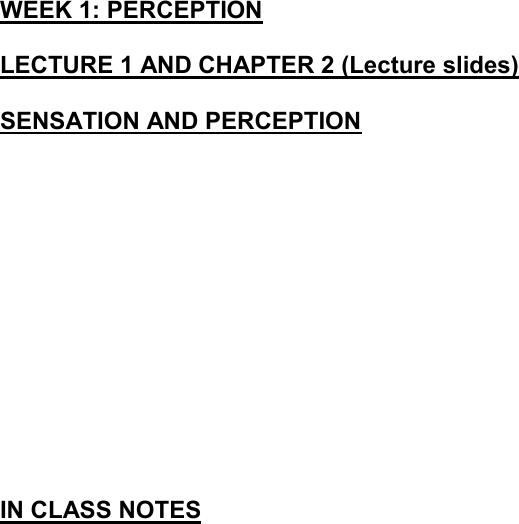 LECTU
RE
1
A
ND
CH
A
P
TER 2
(L
e
c
tu
re
s
li
de
s
)
•
Sensation: The immediate and direct response of the sensory organs to
stimuli
o
eyes, ears, nose, mouth, fingers……to basic stimuli……such as
light, colour,sound, odour, and texture
o
Our world is a tapestry of stimulation
o
Are selected, organized and interpreted
•
Perception: The process by which an individual selects, organizes, and
interprets stimuli
o
Marketers contribute to the wild array of stimulation
o
Ads, radio, billboards, packaging

--

media is everywhere…
•
Most times the brands we choose reflect our personalities
•
Brand Personality: imagine Harley Davidson as a person
o
When brands work hard to give their brands a personality we can
imagine certain products as people
•
Decision Making process

–

we weigh pros and cons before making a
o
More research shows that we don't make rational decisions
o
Ex: Dan Ariely asked regular people if they liked chocolate and
showed them two different chocolates (Lindor and Kisses)
o
Most people know that Lindor tastes better and is better quality
o
If Lindor was 15 cents and kisses was one cent 73% chose Lindor
o
He did this multiple times and people still chose Lindor
o
Then he changed the price and made LIndor 14 cents and kisses
o
31% chose Lindor and 69% chose kisses
o
In terms of pricing it only went down by one cent but yet most
o
If you were a rational decision maker and you chose Lindor initially
then you should choose the Lindor again
•
Reference Group (Dissociative) (class poll)
o
10 oz vs 12 oz steak most were okay with ordering the 10 oz
o
But if the 10 oz was called ladies cut they didn't want to order
You're Reading a Preview
Unlock to view full version
Only half of the first page are available for preview. Some parts have been intentionally blurred.
o
But if the 10 oz was called chefs cut they would order
o
This was because men did not want to be associated with
femininity
–
this describes the dissociative reference group
•
The green boxes are sensations
•
The orange circles are perception
•
Colour and Mood : the way we interpret different colours relate to the
decisions were going to make
o
Warm colours: Activity and excitement
- Red: creates feelings of arousal and stimulate appetites
o
Cool colours: restful and calming
- Blue: more relaxing
o
Color provokes and influence emotion
o
Reaction to color is both biological and cultural
•
Symbolic value and cultural meanings
•
Color in packaging design is critical
•
Trade dress: colors associated with specific companies
•
Older people see colors in a dull cast and prefer white and brighter tones
•
Mature consumers likely choose a white car
o
Lexus makes 60% of their vehicles in white
•
Container size can influence the amount we consumer
o
Consumers ate 45% more popcorn from large as compared to
medium popcorn buckets
o
Tend to pour over 30% more into the shorter, wider glass than a
taller glass
You're Reading a Preview
Unlock to view full version
Only half of the first page are available for preview. Some parts have been intentionally blurred.
o
Consumers eat more from smaller packs of candy when multiple
small packs are available
o
College students ate more M&Ms when given bowls that have ten
vs. seven colors of M&Ms
o
Our responses to scent result from early associations that bring to
mind good or bad feelings
o
One study found the smell of fresh cinnamon buns induced sexual
arousal in males
o
Scent marketing: from cars to fragrances
•
Smell and buying: Pleasant-smelling environments have a positive effect
on shopping behavior
o
Sound affects behavior: airline passengers move to their seats
faster with an
up
-tempo playing
o
Individual sounds called phonemes might be more or less preferred
by customers (an i-sound would be lighter than an a-sound)
•
Music and shopping behavior
o
Slow tempo: encouraging leisurely shopping, more relaxing
o
Fast tempo: allowing greater turnover, more stimulation
o
Music in factories can reduce absenteeism
o
Certain high pitched sounds only teens can hear, allow ring tones
that their parents wont hear
o
Depending on how touched, feeling stimulate or relaxed
o
Consumers who are touched by a salesperson are more likely to
have positive feelings; to evaluate both the store and salesperson
positively
o
Waiters who touch patrons get bigger tips
•
Heptic senses: touch is the most basic of senses, we learn this before
vision and smell
•
Touching affects product experience
- Touching an item forms a relationship with the product
You're Reading a Preview
Unlock to view full version
---
Loved by over 2.2 million students
Over 90% improved by at least one letter grade.