---
ACCTG 101 Lecture Notes - Lecture 11: Tax Shield, Compound Interest, Cash Flow
---
Professor
Glenn Rechtschaffen
---
This preview shows pages 1-2. to view the full 6 pages of the document.
Reading an Annual Report
• Maket apitalisatio: = Nue of Shaes  Shae Pie
• Book alue: = alae sheet figue
• Diffeee = itagile assets eg. opight,
goodwill from sale, brand name); future vs past
• Stateet of aoutig poliies = keepig ith stadads fo
comparability
•
Group vs Subsidiary

accounts: group = parent + subsidiary
• Idepedet auditos epot epesses faiess stateets should e peseted i a
true and fair
view) eg. Deloitte
–
Auditing resolves conflict of interest

between shareholders and directors of a company
–
An unqualified opinion is a good thing - tue ad fai = GAAP, IF'S oplied ith
-
Does not detect fraud

eg. Enron
BUDGETING
Used for evaluating business performance through benchmarks.
• ONLY SHOW T'ANSACTIONS 'ELEVANT TO THE
OPERATING PERIOD.
find more resources at oneclass.com
find more resources at oneclass.com
Only pages 1-2 are available for preview. Some parts have been intentionally blurred.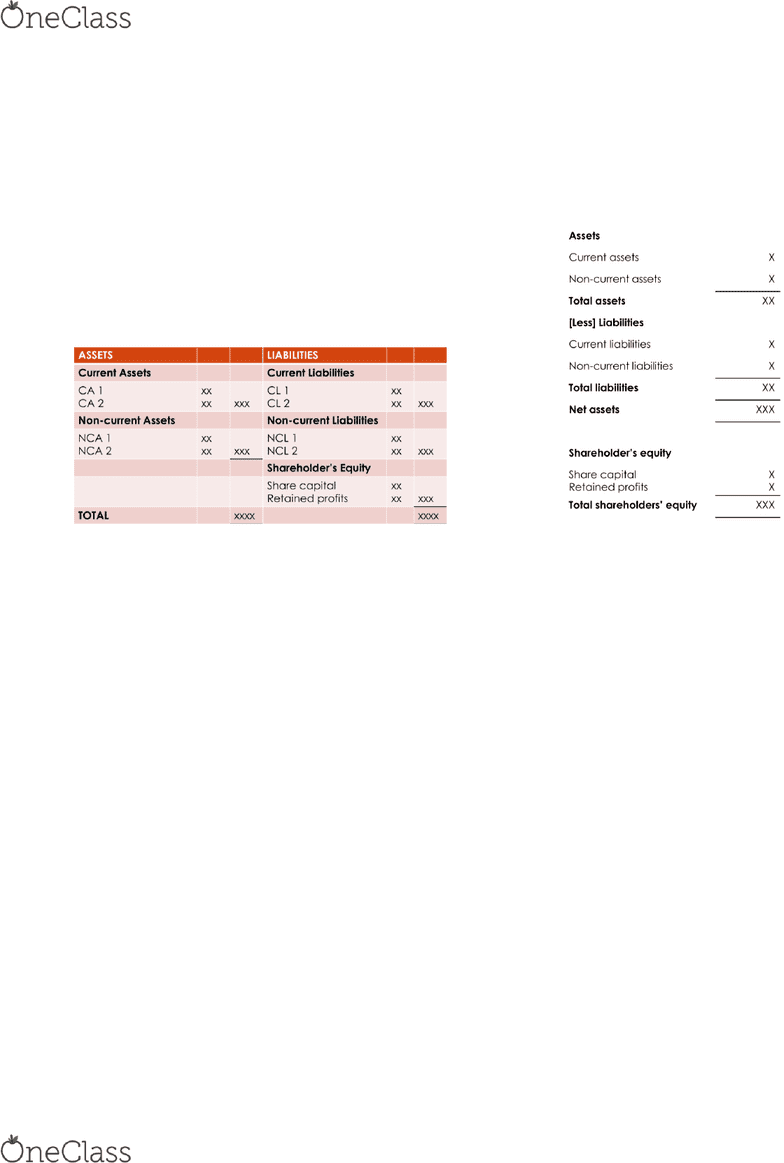 Balance Sheet Basics
➢
Assets = Liabilities + Equity
• Notio of etit / Aoutig etit
• Moeta uit / Moeta easuee
nt
T-shape format
Long format
• Aoutig peiod / Peiod epotig
• Aual aoutig / Aual asis
• Eaig ad eodig eeues
➢
Assets = Liabilities + Equity + Net Income
Net Income = Revenues - expenses
Inventory System
PERPETUAL
•Cotiuous eod
•'euies eodig tasatios
PERIODIC
•Calulated COGS
(Beg inventory + purchases
–
Ending inventory)
•'euies stoktake
-
For ASSETS and LIABILITIES: PAST / PRESENT / FUTURE
-
For REVENUES and EXPENSES: INCREASE / DECREASE of ASSET / LIABILITY
find more resources at oneclass.com
find more resources at oneclass.com
You're Reading a Preview
Unlock to view full version
---