HD FS 102 Lecture Notes - Lecture 4: Psychosexual Development, Theory Of Multiple Intelligences, Silent Treatment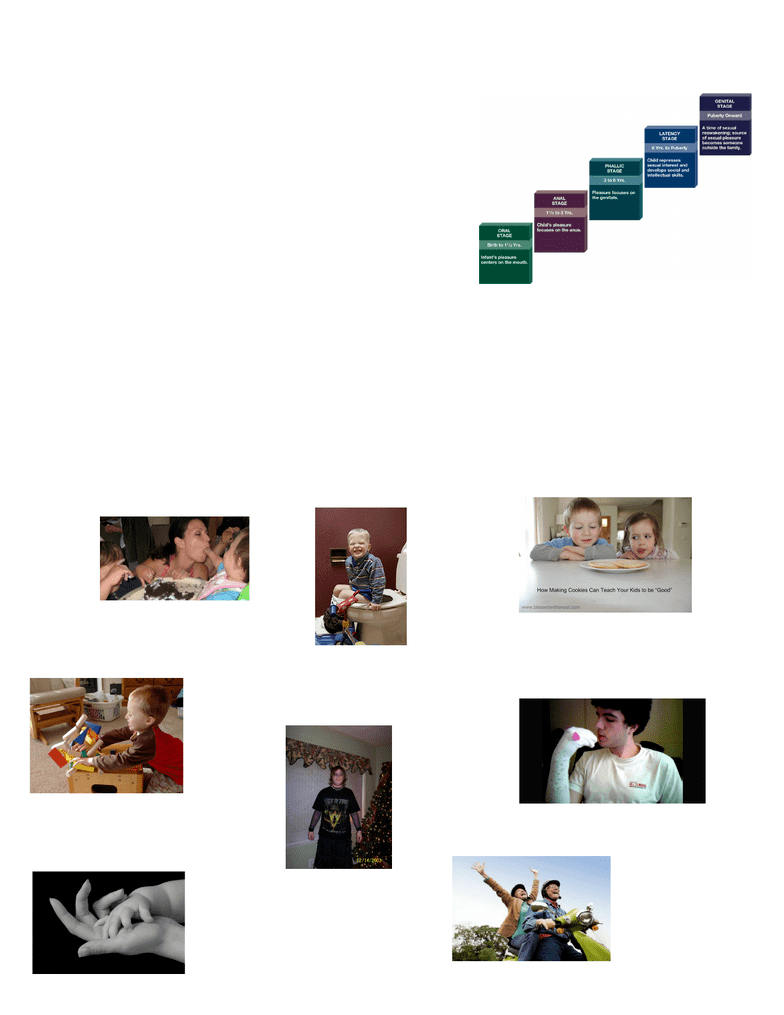 trust vs. mistrust
oral sensory stage
birth-2yrs
Autonomy vs. shame
"Can I do things myself or
am I reliant on the help of
others?"2yrs-4yrs
industry vs. inferiority
5yrs-12yrs
identity vs. identity confusion
intimacy vs. isolation
20yrs-39yrs
generativity vs. stagnation
integrity vs. despair
65yrs-death
FREUD:
Psychoanalytic theory
: Freud's theory of
psychosexual
development
We all have these unconscious/subconscious drives
Early experiences are important
Oedipal Complex- the original drive that provides young children
with the sexual drive for the opposite sex.
Personality structure:
-id (pleasure principle) –ex) wanting to eat a big piece of cake –
the devil in the situation—brings pleasure
-ego (reality) –ex) you eat a little piece of cake instead—your
personality, the person you are, balance the id and super ego
-superego (conscience) –ex) cake has a lot of calories and you
already ate—the angel in the situation- calms down the situation
ERIKSON:
Erikson's theory of psychosocial development (how we develop socially and emotionally)
Learning theory- all the stages are good things vs. bad things/options
-Learning theory: the theory of human behavior based on classical and operant conditioning.
-
operant conditioning- a pattern of behavior that your body has control over of. Ex) potty training. If you
give a kid a sticker each time they go to the bathroom, they will go. Reward and punishment
-
Classical conditioning experiments- things you're not in control of. Biological responses Ex) each time
Pavlov rang the bell, the dog would salivate.
Social learning theory
-in developmental learning, kids will reciprocate and imitate what adults do
Observation, modeling, imitation
Cognition, behavior and environment have reciprocal influence
PIAGET
- Cognitive Theory
-intelligence- learning related=
adaptation
(schema)
Sensorimotor: (Birth-2)
1)
object permanence- if an object is out of sight, the child thinks it is permanently gone.
2)
mental representation- the child eventually learns what the object is.
-memory assimilates things slowly, and coordination starts to happen
4-7 months, they realize their relationship with their environment
7-10 months, connecting memory with emotional, starts to make discoveries outside of the world, start to make
mental representation.
-when infants are building mental pictures (categorization, inclusiveness [how children fine tune, and learn
Pre-operational: (2-7)
"knowledge is not what you know but how you think"
-do not understand reversibility
-do not understand classification (to divide or separate objects ex) iPhone & android)
-do not understand conservation (pouring water in taller glass and thinking it's bigger)
-can not understand animism
Concrete operational: (7-11)
1)
Classification (classifying things)
2)
Class inclusion (recognition that one group can be part of another group)
3)
Serration
(arranging
items
due
to
a
particular
property)
ex)
putting
a
yellow
chocolate,
then
a
sliver chocolate, then a yellow, then a silver and on and on in a specific sequence.
4)
Transitive inferring- comparing two groups of relationships to each other.
Trans-moving inference-thinking/making an educated guess.
5)
Reversibility- actions can be reversed
6)
Concrete operational stage is where kids start to take off in their thinking
-more than 1 view point
Formal Operational: (11 and beyond)
-when you start integrating emotions into your thought processes
- Can think of the world in hypothetical, symbolic, abstract terms, transcending space and time.
-you can do math problems
-abstract concepts/thoughts (integrating emotions, or thinking of extraordinary things).
-can see the relationships in things
-reasons theoretically