AJ 4 Lecture Notes - Lecture 4: Cesare Lombroso, Determinism, Twin Study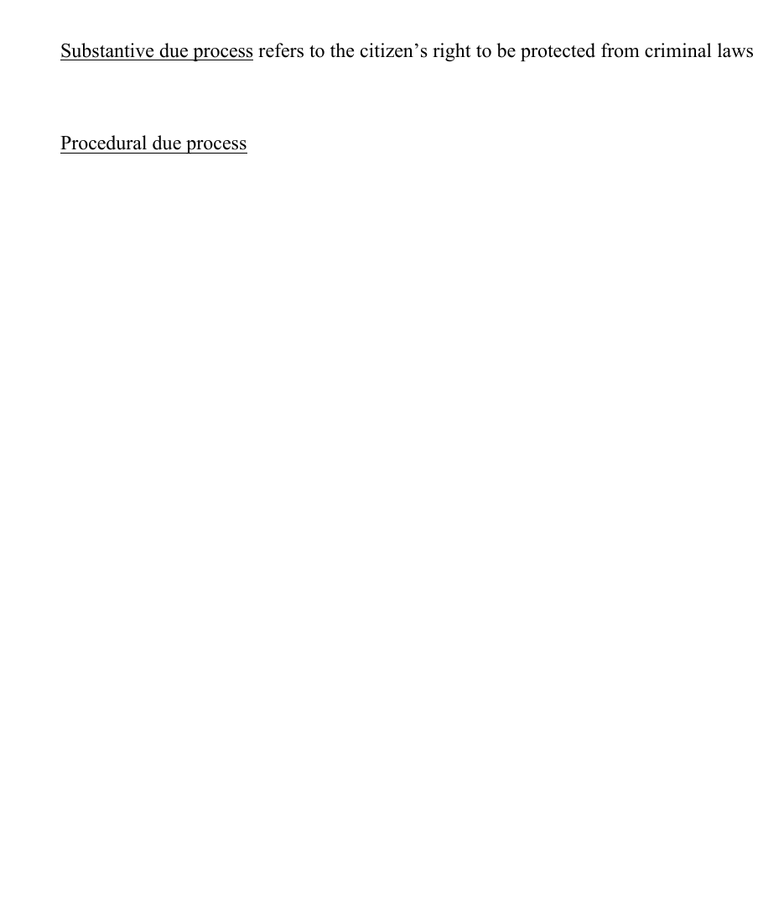 Jeff Koo
AJ 4
Criminal Law
Fall 2018
4 Units
Due Process of Law
●
S
ubst
a
nti
ve
due
proc
e
ss
r
e
fe
rs
to
the
c
it
ize
n's
r
ight
to
be
pr
otec
ted
fr
om
cr
i
mi
na
l
l
a
ws
that may be biased, discriminatory, or otherwise unfair. 2003
Lawrence v Texas
: laws
banning sodomy were unconstitutional in that they violated the due process rights of
citizens because of their sexual orientation.
●
P

roc

e

dura

l du

e

proc

e

ss

seeks to ensure that no person will be deprived of life, liberty, or
property without proper and legal criminal process. Includes: prompt notice of charges, a
formal hearing, the right to counsel, opportunity to respond to charges, to confront and
cross examine witnesses and accusers, free from self incrimination, opportunity to
present own witnesses, a decision based on substantial evidence and facts, a written
statement of reasons, and an appellate review procedure.
What are the findings from Twin studies?
whether similarity in the propensity for criminal behavior is greater for identical twins than
fraternal twins-identical higher then fraternal
What are Beccaria's criteria for punishment?
swift and certain punishment by law
What is the idea of Determinism?
the idea that criminal behavior is a product of biological, psychological and/or social forces that
are beyond a persons control
What is characterized by deprivation or the failure to provide for a child's basic needs?
Neglect is characterized by deprivation or the failure to provide for a child's basic needs, and can
also be categorized in three ways: physical, educational and emotional
positive school
●
20 century-focus on criminal such as courts and corrections-treatments and rehabilitation-
determinism
Cesare Lombroso(1835-1909) applied scientific method to offenders-born with criminal
traits-physical stigma-influence evolution=scientific method
●
passion-prolonged/chronic
●
emotion=explosive/unexpected