MGT 4173 Lecture Notes - Lecture 1: Vivarium Inc., Imaginary Number, Negative Number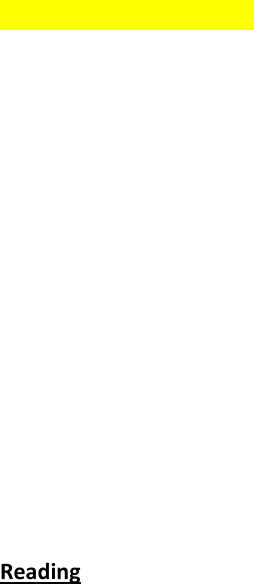 © 2018 Clay Cooper. All rights reserved. Reproduction or dissemination without consent is strictly prohibited. Any
use of thi
s document other than for the direct, intended recipient's personal study is strictly prohibited.
SAT Concept Review Quiz
For every multiple-choice section of the SAT
–
Reading, Writing, and Math
–
we have compiled
a list of the most important topics to master. Below are twenty-five concepts each for the
Reading and Writing sections and fifty concepts for the Math section, representing the
proportions of your SAT score which each section comprises.
Students who are serious about achieving the highest score they can on the SAT should seek to
master every item on this list. Each of these items is explained in our SAT Live Online Flagship
course. If you have not mastered a particular item, find its explanation in the recordings of your
class's live sessions and pra
ctice that concept until you are confident that you can apply it on
test day.
These one hundred topics are drawn directly from an in-depth analysis of all nine published
SATs that use the modern format. I have analyzed every question of all nine tests and sorted
them by question type, concept tested, and motif; the one hundred concepts below represent
the one hundred concepts that are most frequently tested on the SAT. A student who masters
these one hundred concepts is statistically extremely likely to do very well on the SAT.
1.
What BOSSing is and how to use it.
2.
What to do when your BOSS doesn't match any of the answer choices.
3.
What kinds of questions you should not BOSS on

–

and how exceptionally rare they are.
4.
The extreme importance of understanding that every question on the Reading section is
just as objective as a math question: there is exactly one answer choice that is correct,
and it can be proven; there are exactly three that are incorrect, and they can be proven
incorrect. If you cannot fi
nd proof for any answer, it is not because that proof doesn't
exist
–
you just haven't found it yet.
5.
The extreme importance of treating each passage and its questions like an open-book
quiz: refer back to the text constantly to find proof for each answer that you choose;
don't guess at the questions based on what you remember from what you read before.
6.
The importance of annotating a passage: taking notes on what each part of the passage
says helps you answer main point questions (the most common question type) and it
saves you time when you need to find a particular item within the passage.
7.
How to execute the complete CHUNK approach

–

practice it until you can do it
effortlessly and without having to think about it.
8.
The definition of a line-cited question (any question that refers to a specific part of the
passage).
9.
The definition of a broad question (any question that is not line cited).
10.
What a Command of Evidence question looks like; that COE questions are almost always
broad.
11.
How to approach Command of Evidence question: answer the question it refers to first,
by finding proof of the correct answer in the passage, so that when you arrive at the
© 2018 Clay Cooper. All rights reserved. Reproduction or dissemination without consent is strictly prohibited. Any
use of thi
s document other than for the direct, intended recipient's personal study is strictly prohibited.
Command of Evidence question, you have already answered it (only do the questions in
reverse order if you are unable to answer the first question).
12.
The difference between making assumptions (not based on evidence from the passage;
bad) and drawing inferences (based directly on evidence from the passage; good).
13.
The exact four-step procedure for interpreting data in the Reading section.
14.
How to answer purpose questions (that ask you about the author's purpose in using a
particular word, phrase, sentence, device, or paragraph): ask yourself how that
particular item affected your understanding of the author's ideas.
15.
The importance of interpreting everything you read literally and specifically (except in
the literature passage).
16.
Which passages topics are easiest for you and which are hardest (and how to prioritize
between them if you usually run out of time in the section).
17.
How to set appropriate pacing benchmarks in Reading (thirteen minutes per passage; do
not time yourself on a question-
by
-question basis).
18.
The procedure to follow in attacking dual passages (a simplified version of the CHUNK
approach).
19.
What it means when a

question says "According to the author…", "The passage
indicates…" or "According to the passage…".
20.
How to Challenge Answer Choices: look for any inaccuracies in an answer choice to
eliminate answers when you don't know what the answer is (when your BOSS do
es not
match an answer choice).
21.
How to attack Vocab-

in

-Context questions: refer back to the word in context and reread
it; BOSS the question by substituting in your own word; and plug the answer choices
directly into the sentence and reread it with the new word to see which one fits best.
22.
What to read in real life to improve you reading comprehension.
23.
Which items are most important in each type of passage (e.g. in Science passages: the
structure of an experiment or theory, the conclusions drawn and their implications).
24.
The importance of always reading the introductory information before each passage.
25.
What to do if you are running out of time and have not finished the section.
1.
Definition of a clause, an independent clause, and a dependent clause
2.
How to create a dependent clause from an independent clause and a subordinating
conjunction.
3.
Definition of a subordinating conjunction, coordinating conjunction, and
conjunctive/transitional adverbs and phrases. Know what each of these types of words
can d
o

–
join clauses (what kind of clauses?), what punctuation is needed, what a
sentence containing these words looks like.
4.
How to recognize clauses is sentences

–

start by finding verbs, then find each verb's
subject.