PSY 201 Lecture Notes - Lecture 4: Behaviour Therapy, Anxiety Disorder, Mental Disorder
11/8
Clinical Psych
CH 15
Abnormal Behavior and Therapy:
What is a mental disorder?
●
A variety of cognitive, emotional, and behavioral symptoms that:
■
EX: someone has died, and you feel that you talk/see them sometimes. Is
this person hallucinating, or is this culturally normal for them to report
seeing, hearing the dead.
●
OR… the APA's (american psychiatric association)

definition
○
Distress: bother the individual to feel this way
○
Disability: negatively affects your ability to function every day
○
Danger: depression, thoughts of suicide,
EX: imagine you see a man raising his hands to the sky, shaking his fists and shouting. He
claims that beings from outer space speak to him and that he can talk to them.
○
walking into church this is common
EX: a person you know begins crying excessively, withdraws socially, and is not acting like
him/herself at all. For two weeks, this person does not leave the house except to go to work and
stops talking to friends
EX: imagine you see a person in the grocery store. In the middle of the aisle, this child drops his
pants, takes off his shirt, and begins running around laughing hysterically
○
normal, young child being silly
"Individuals with mental disorders are different than others in degree, not in kind"
●
EX: Depression: people are sad and moody for very long periods of time….. But an
average person still feels the same feelings as depression. Depressed people have the
same feelings as a normal person, just have a more extreme version of it.
find more resources at oneclass.com
find more resources at oneclass.com
What causes mental disorder
●
Demonic model: evil spirits in the body
●
Medical model: mental illness is a purely physical disorder requiring medical treatment
○
Insane asylums, surgeries, drugs
○
Challenges: there is not a single mental illness where we have pinpointed a
biological marker
○
Broad view of psychopathology: in order to develop a mental health problem
○
Mu
st have both a biological predisposition to a certain disorder (diathesis)

and
significant environmental stressors
●
Abnormal Behavior has 3 Major Aspects:
○
Biological (genes, anatomy, neurotransmitters)
○
Psychological (learning history stress)
○
Social (cultural context society)
Diagnostic and Statistical Manual of Mental Disorders (5th ed.)
○
Age, Gender, Developmental Characteristics
●
Psychosocial and Contextual Conditions
Designates lists of observable symptoms needed to warrant a particular disorder
●
Prevalence, course, onset
●
Construct: can't see it but can do tests to describe it
●
"You either have it or you don't"
●
Atheoretical document:

doesn't take

a stance on WHY the person has it
●
Adopts a categorical (present/ absent) model
●
Does not explain causes of disorders
●
Criticized for many reasons
○
The more disordered there are ,the more drugs needed aka the more profit from
the pharmacies
find more resources at oneclass.com
find more resources at oneclass.com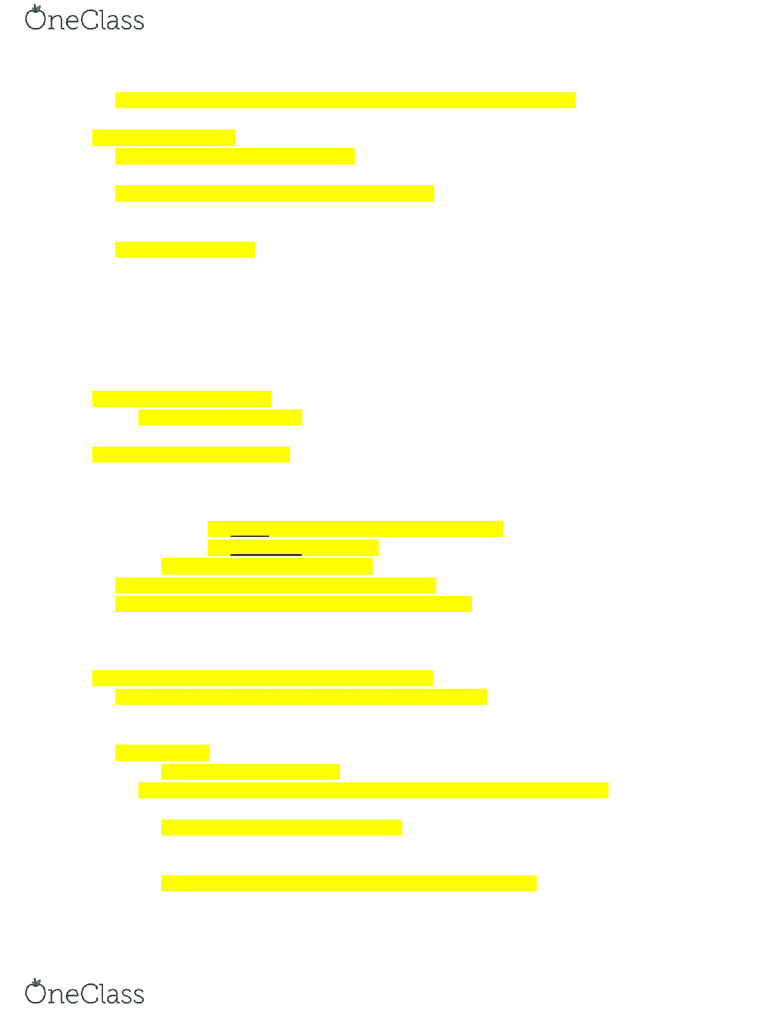 ●
Presence of more than one psychological disorder in the same person
●
Criteria for some disorders overlap
○
Being very irritable, trouble sleeping, trouble at work (Could be two things)
●
One disorder increases vulnerability for another
○
Having qualities for a certain disorder could put you at risk for another
■
EX: being depressed therefore they drink to cope
●
Common diathesis for different disorders
○
Having low levels of serotonin: could have anxiety and depression
●
Common stressors for different disorders
○
EX: mugged in an alley: may develop PTSD for alleyways, couple become
depressed
****Most people come in thinking they have one disorder, but actually have multiple***
Intensive Exposure Therapy:
●
Overcoming Agoraphobia: putting individual in elevator and having panic attack
History of Treatment in America
●
1700/1800s: Patients wandered streets, jailed
○
Many people who were schizophrenia's ended up homeless
○
Mental asylums (1773): 2 diagnostics
■
Mania: showing extremes forms of behavior
○
Patients "chose to be irritated"
●
Poor living conditions, confinement, little activity
●
sedating drugs, bloodletting, restraining devices, ECT
○
Bloodletting: heat up rim of cup to place on patient and drain out blood to get
blood levels even
Mid 1800's: "Moral Management" and "Custodial Care"
●
Hospitals= custodians of people who could not be cured
○
Brain shape= personality
●
Lobotomies: defective nerves would reform as normal nerves after being cut (Mid
○
Dr. Walter Freeman's lobotomobile
●
Today..treatments have improved considerable
○
They are more humane and based on scientific research
find more resources at oneclass.com
find more resources at oneclass.com