PSY 306 Lecture Notes - Lecture 12: Common Cold, Relative Risk, Natural Selection
What is a close
relationship?
○
Feelings of caring and affection
○
Interdependent: need and influence each other
○
Lives overlap, have mutual existence
○
Relationship is indefinite: commitment
○
Expectation of other's good intentions: trust
○
Shared knowledge, extensive and personal
Wh
y
care about close relationships?
●
Important across age groups
●
Important across cultures
●
Have been important across time
Relationships and
Well-Being
●
In a 1971 survey of more than 2000 Americans, the best predictor
of overall life satisfaction:
○
Marriage and family life
●
The single consistent predictor of well-being in 42 countries
studied:
○
Quality of close relationships
●
Happiest people (top 10%), had one thing in common
○
Good relationships (romantic and other), necessary (but
not sufficient) condition for happiness
Relationships and
Mental Health
●
Seven most common presenting problems for psychotherapy
○
Troubled relationships 31%
○
Role performance, work 18%
○
Withdraws, avoids relationships 17%
Relationship and Stress
●
Interpersonal Conflicts and Problems 20%
●
Death of Significant Others 30%
●
Economic/Legal/Work Problems 14%
●
Health Problems (self or other) 23%
Close Relationships and Mortality
●
6,928 randomly selected adults from Alameda County in 1965
as
sess
ed social integration (marriage, friends/family, groups
○
Followed up with them 9 years later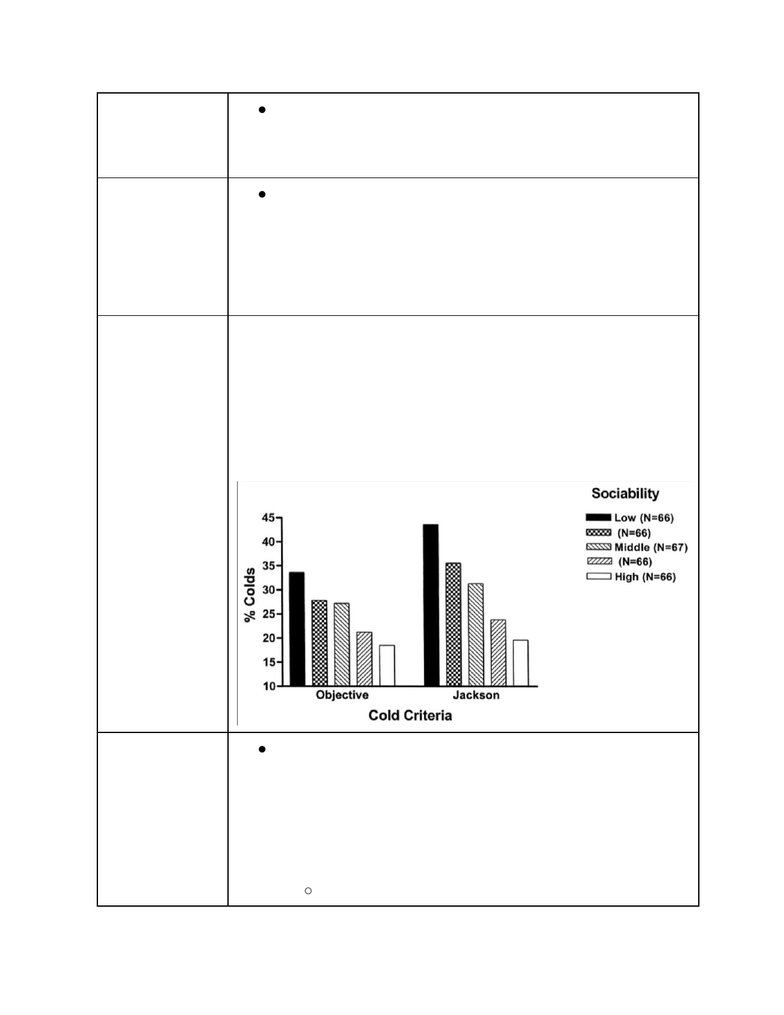 ●
Age-adjusted relative risk ratio of isolation: 2.3 for women! 2.8
for men!
○
Other studies have reached remarkably consistent
conclusions
●
87 pioneers stranded in Sierra Nevada mountains in winter of
1846-47
●
After age and gender, social connections, within group predicted
survival
○
Similar analyses conducted on Mayflower diaries, same
conclusions
The Common Cold
●
159 men and 175 women were sociability measured 2-4 weeks
before study; number of people and time socially interacting
○
Quarantine day 0: exposure to virus
○
Quarantine days 1-5: symptoms measured
○
Subjective
—
using Jackson scale
●
Sociability significantly reduced risk of the common cold (by both
objective and subjective criteria)
○
"Human beings have a fundamental need to form and
maintain a minimum quantity of lasting, positive, and
significant interpersonal relationships"
Fundamental Need
●
Does the need for close relationships…
○
Produce strong effects under all but the most adverse
conditions?
○
Have emotional consequences?
○
Direct cognitive processing?
○
Lead to ill effects if not met?
Understanding
Relationships:
Cultural Context
Understanding
Relationships:
Basic Biology
●
Evolutionary Influences
○
Natural selection for adaptive mechanisms
○
Men and women faced different reproductive challenges
Evolutionary Psychology
●
Intersexual selection (M vs. F; F vs. M): preferential choice of
what is desirable in mates
○
Triver's parental investment theory: women invest heavily
in each offspring so maximize mate value
○
Men invest very little and should therefore maximize
mating opportunities
●
Intrasexual competition (M vs. M, F vs. F): members of the same
sex compete with each other for resources in order to attract mates
Evolutionary Concerns
●
Males will try to monopolize resources in order to:
○
Make women more dependent on them
○
Make themselves more attractive
●
It is in male's interests to:
○
Control women's sexual behavior
○
Form coalitions against out-group males