BIOL 206 Lecture Notes - Lecture 1: Theodosius Dobzhansky, Epigenetics, Chloroquine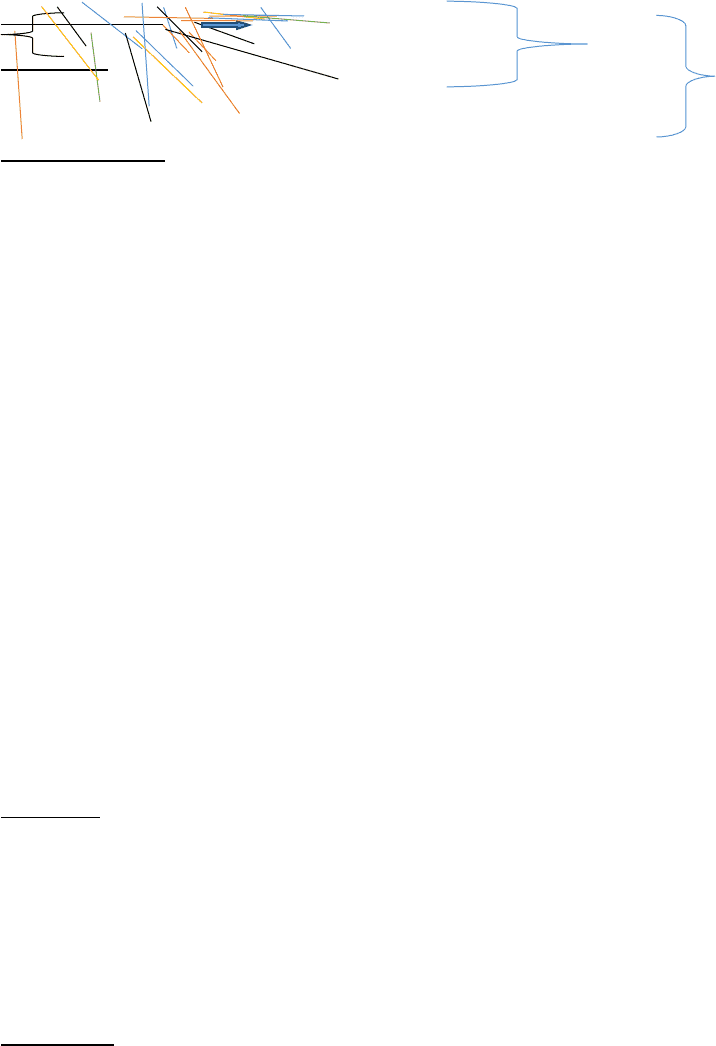 Jamica Cooper
8/25/2015
T. Dobzhansky
•
Was geneticist, he says "nothing makes sense".
Evolution- define as slow change. The living world is always changing and it changes
very slowly.
•
Microevolution-change w/in species
•
Macroevolution- the appearance of new species and disappearance of new ones
1890-Inheritance of acquired characteristics
1858-Natural Selection (Darwin's Idea)
•
Survival of the fittest and reproducing.
1900-Mutation
1930-Synthetic Theory=NeoDarwinism
French Revolution led to the raise of Neapolitan. Neopolian appointed scientists to take
care of the zoo.
Lamarck
Animals change over time.
Ex: Giraffes that stretch their neck. (Use to have a short neck) He was wrong.
You can't alter your DNA that something you do in your lifetime.
Weismann
Decided to test Lamarck theory. Did this by testing mice by cutting their tails off. Proved
Lamarck wrong.
Epigenetics- study of protein and molecules that turn your DNA on and off. (what kind of
prove Lamarck theory right.)
Ex: Pregnant mother going through famine.
Charles Darwin
Did reading of Lamarck, Malthus and Lyell. They influenced Darwin thinking. Darwin
was responsible for Artificial Selection.
Malthus
Human population tend to increase. Population get to big and run out of resources.
Lyell
Geological change is very slow and created by natural processes. The Earth is old and
change can be gradual.
Ex: Mountains and Earthquakes.
Natural Selection (Darwin)
1.
Natural Resources are limited (M. Contribute)
2.
Fertility rates are high more = offspring are produced than the environment can
support. (M. Contribute)
3.
Competition for limited resources.
4.
All individuals are not identical. Variability exists and is heritable.
5.
Some individuals will be better competitors than others.
6.
Better competitors leave more offspring.
7.
Competition of the next generation will change.
Lyell's Contribution
8.
Earth is old, many generations have passed.
9.
Gradual accumulation of small changes.
10.
Slow, qualitative change.
Wallace sent Darwin a letter about Natural Selection. (both contributed to natural
selection)
Mendel
Contribute to the pea plant. Explains inheritance.
Mutation alter evolutionary change. This is where variability comes from.
Ex: Flys getting zap with x-rays.
Fisher and Haldane
Synthetic Theory
•
Mutation provides variation
Symbio genesis- variations in genetics besides mutations. (Margulis)
Ex: Likens
Eldredge Proposed
Punctuated equilibrium-not composed of a steady gradual change. (look in notes for
pictures)
8/27/2015
Zoology-study of animals.
1.
How do cells come together as tissues?
o
How do cells come together as tissues?
2.
Where did multicellular come from?
o
How do multicellular develop?
3.
How do you become multicellular but develop properly?
o
Ex: as in you (human body)
Tissue-cells and cell products specialized for particular function.
4 Categories of Tissues
Epithelial-cover surfaces and line cavities
Connective-hold and connect body parts together
Ex: skeleton