---
EDPS410 Final: EDPS Final Exam
---
Department
Education - Policy Studies
---
This preview shows pages 1-2. to view the full 8 pages of the document.
Jaffe et. All- Sexual Abuse/Assault
What is supposed to help stop sexual assault- Policy and PD
Stereotypes- Heavy on male side. The stigma around female
teacher-male student abuse. Encouraged by peers.
Sexual abuse in schools is bad because it violates the position
of trust. Attendance is mandatory. Consequences- damage
intimate and trust relationships, academic achievement and
Need to create awareness of the issue.
Fixated Abusers: Usually Males in elementary schools who are
perceived as wonderful teachers by everyone. Have awards
and are well liked and trusted. Groom the victim by
complementing. Are supported in accusations, keeps people
from coming out and reporting.
Opportunistic Abusers: Take advantage of the situation, try to
become friends with students.
Impact- Depression, suicide, low self esteem, not attending
school, avoiding teachers, experience of loss of trust with
adults, difficulty forming a healthy relationship.
Professional boundaries- More access students have to
teacher's opens doors for inappropriate responses
Mackay & Burt Gerrans- Student Expression and
Greater good vs. the Individual Expression. Safety wins over
Blanket stereotypes and profiling
Who do we take seriously or not? EBJ- he was being bullied,
Think that he was going to commit crime, not that it was a
story to express himself.
Can students truly write about violence in schools?
Maybe there needs to be more conversation in class, not just
Violent content can be a warning signal of violence, be a
student expressing violence they are experiencing, signal of
Need to take these things very seriously. If all is fine, then
must reconcile and work on dialogue.
Children are viewed as right bearing individuals while at the
same time being under protection and authority of adults.
Chapter 2: Sexual Assault/ Assault
-
Pg 43: identifying legal framework. Criminal Code-
Section 151,152,153. Punishment.
-
Cautious when touching students
-
Pg 49- 153 of the criminal code
Davidson(2009)- Powers of Principals
-
Principal's right to ban parents from schools
-
Parents can be removed at any point in time
-
This is within the School Act
Howard(2013): Social Networking in Schools
Benefits vs. protecting yourself and children's
Balance to access all of the internet vs. schools restrictions on
school grounds. Should we do that? Or should we just have
How much of an internet presence do we want children to
Helping children know how to behavior on social med
ia
- Need
Bill C-13. Federal government bill. Set of guidelines for
schools and the right to restrict technology.
-
Talking to parents through email- gives you a paper
trail
-
Have to know when to pick up the phone. Watch
miscommunication, easy to happen.
-
Paper trail can be used against you.
-
Establishing Professional boundaries
-
Don't be afraid of the telephone
Eisentat (2013): Physical Force in Schools
Allen (2010): Bullying in the Classroom
find more resources at oneclass.com
find more resources at oneclass.com
Only pages 1-2 are available for preview. Some parts have been intentionally blurred.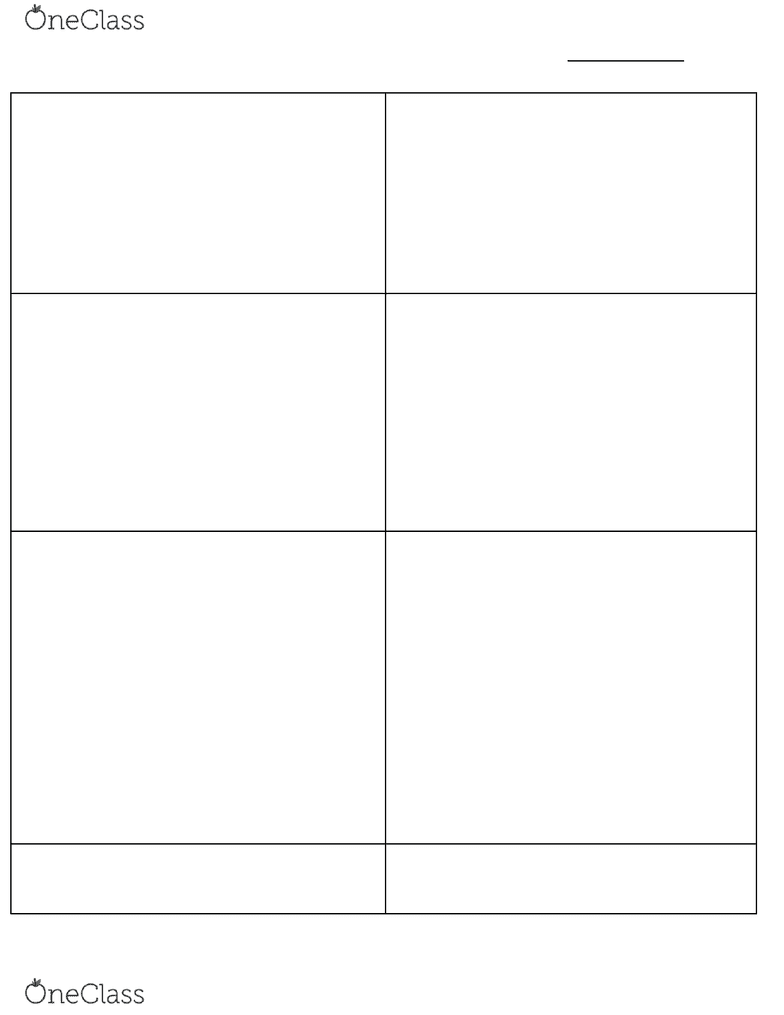 Section 43 of the Criminal Code: It is allowed as long as it is
reasonable, for purposes of correction, cannot leave permanent
mark or injury and it must be suited to the pupils age
Section 7 Security of persons, Section 12 Cruel and unusual
punishment, Section 15 equality rights
Courts recognize that teachers may need to use corrective
What does reasonable force look like?
Need to be defined better.
Reasonable under the circumstances
Bullying in the classroom- students, teachers and colleagues
Repeated negative actions define bullying
Think about how you want to be treated.
Clear idea about what you are going to do when students
Section of disruptive behaviour- Walking around the room,
reinforcing good behaviour, redirecting, read the class, being
consistent. Try to avoid power struggle. Try not to do it in
front of other students. Takes the wind out of their sails.
Chapter 3 pg 79-98: Balancing Students and Teachers
-
88- middle paragraph teacher duty and
responsibilities. Balance of students expression and teachers
-
Dress codes- Likely to be on final
-
Student publication and censorship
La Forest- Fiduciary Relationships
Teachers occupy positions of trust and confidence and exert
considerable influence over their students. They have the
duty to act in that person's best interests
Off duty conduct- Teachers have to uphold the values,
beliefs and knowledge sought to be transmitted from the
When a poisoned environment is traced back to off duty
conduct, there is a problem
Loss of public confidence in the teacher and the school
system, loss of respect for teachers, controversy in the
Kiedrowski et al: Cell Phones / Disturbances
Substantial disruptions- Have to be widespread. Have to
cause emotional disturbance of many people.
Freedom of expression for students vs. responsibilities of
Tinker Test- Freedom of expression should be allowed
provided such freedom is not disrupting the orderly operation
of the school or interfering with the rights of others.
Determine the extent that a disturbance has happened. When
is it appropriate to infringe on freedoms
Searching a phone- Need to have reasonable suspicion.
Searching for one thing, cannot search for other things.
Use phones for education instead of just banning them
Clarke(2010)- Parental Rights and Education
Charter: Section 2(a), Section 7
Minimal autonomy
: Enough space for kids to make their
own decisions, but also have teachers to guide them.
Identifying the importance of critical thinking and tolerance
Chamberlain case: School board banned Same sex school
books even though it was within the curriculum to be
included. They were banned because parents put pressure on
the school board. Teacher won because it was within
curriculum and parents don't have that
power.
Experiencing differing points of view is in the child's best
Children have interest in their education, just as their parents
BILL 44- Parent's right to opt them out of instruction for
religion, sexuality, sexual orientation.
Waddington (2011)-Controversial Issues
Bill 44- Have the right to have pull children out of scheduled
lessons that are controversial.
Increasing awareness of LGBTQ
GSA- Gay Straight Alliances
find more resources at oneclass.com
find more resources at oneclass.com
You're Reading a Preview
Unlock to view full version
Only pages 1-2 are available for preview. Some parts have been intentionally blurred.
Morin case - Controversial video clip on Christian
fundamentalism. Principal claimed it wasn't age appropriate
Supreme court- Teacher was allowed to bring in the video
Knowing the context that you are teaching within
Professional autonomy for curriculum decisions. Principal
infringed on his. But he still didn't renew his teaching
Have to make sure that they are CURRICULAR! Why is it the
best way to teach the lesson? Have to make sure that you
follow the rules. If it is in the curriculum, you
don't need
principal permission. Still good to let them know what is going
on in the class, need to have the justification. Are the students
mature enough? Is it grade appropriate?
Pg 71- If a principal nix your lesson, they need to have a legal
framewor
k to fall back on as to why you can't.
Children are allowed to be introduced to controversial
concepts to develop their critical thinking skills
Pg 77- professional autonomy
How do we get grassroots movements on inclusion? As
children are coming into the classroom, we treat them with
respect, kindness, and like human beings. Do not ignore them.
Have equal opportunity to everything. All students have the
ability to all jobs. Demonstrate to the class that you are
treating people equally. Try to make sure that all students are
represented. Showing diversity in the human population. Do
not jump on a bandwagon for anything. Watch the words and
Ontario guidelines. Pg 51. Rebuking against the government.
Policies for GSA and gender rights.
Safe and nurturing environment where they are accepted for
Charter rights section 2, and School boards constitution rights
Grace & Wells (2005)-Gay vs. Church Rights
Importance of positionality. Biases are recognized right off the
Normativity of heterosexuality. Heterosexual is the norm.
Watching what you say as a teacher, you might unknowingly
Keeping queer privatized- not in the front ground.
Halloween letter- Queer individuals were privatized as they
were not able live as full Catholics the right to live as whole
persons in their sexuality. Church condemns homosexuality.
Separation of church and state- Catholic tradition cannot
prevail over the Charter. Protect the sexual lives of queer
people in public spaces like schools.
Marc Hall wanting to take his bf to Prom.
Clarke & Trask (2004)- Restricting Teacher Speech
Can teachers criticize school programs that they are in?
Danger of restricting curricular speech of teachers
Evans case: Not renew her contract because of complaints
against lessons. Trying to teach about censorship. Her court
case claiming she was unjustly fired was squashed because
the court ruled that she was hired speech and did not have the
power to just say anything.
Power and influence that teachers have
Parents complained- thats why they got in trouble
Controversial topics aren't a bad thing
Free speech is okay unless it causes substantial disruption or
infringes on the rights of other. Has to be curricular and age
-
Infringement on freedom of religion, safety of school.
-
Kirpan in Schools in Quebec. Similar to the cross.
-
Airports are simply short term infringement. Justified
for the greater good.
-
In School it is a long term infringement, ruled in
favour than the individual. Full understanding of what the
kirpan is and how it is used.
-
It cannot just be drawn at whim, or it cannot just
simply fall out. It is safely wrapped up.
In Quebec, there was an attempt to bring in a focus of a
variety of religions instead of just Roman Catholicism?
Parents were pissed about this, did not agree that other
religions were being taught instead of simply Roman
Is there room for a world religion course?
find more resources at oneclass.com
find more resources at oneclass.com
You're Reading a Preview
Unlock to view full version
---