---
KRLS 207 Study Guide - Comprehensive Final Exam Guide - Disability, Stroke, Memory
---
Department
Kinesiology, Recreation, Leisure, and Sport
Professor
Dr. Nancy Spencer-Cavaliere
---
This preview shows pages 1-3. to view the full 39 pages of the document.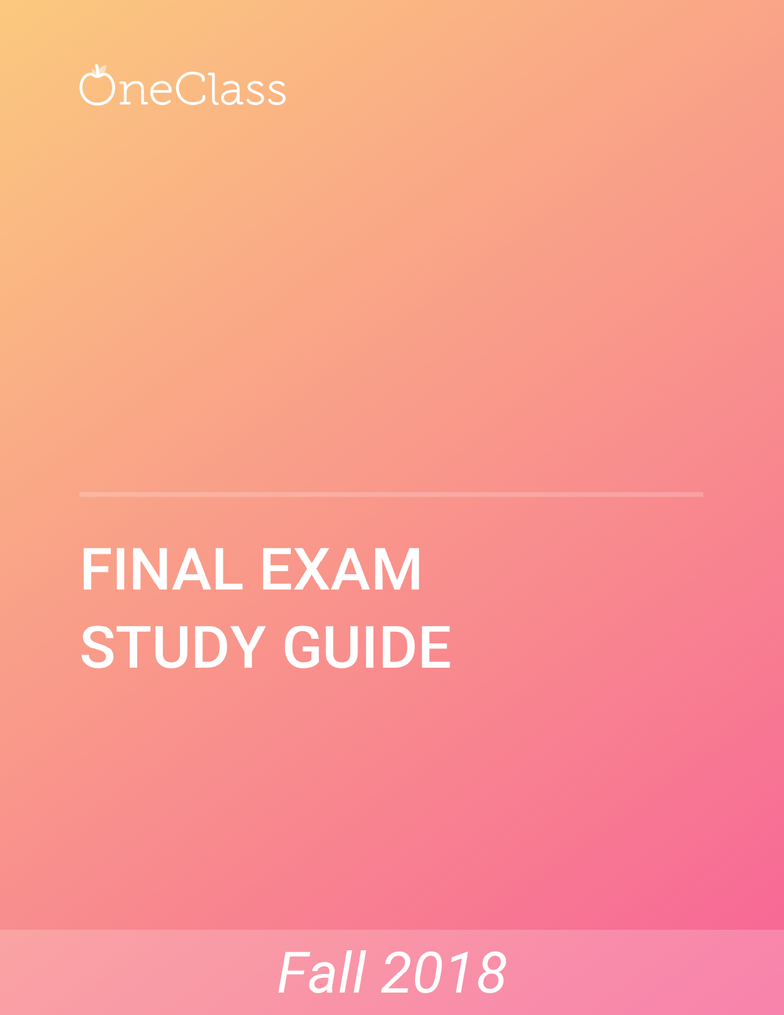 KRLS 207
Only pages 1-3 are available for preview. Some parts have been intentionally blurred.
Only pages 1-3 are available for preview. Some parts have been intentionally blurred.
Septe
m
ber
6t
h
:
A
t
t
i
t
ud
es
(
L
ec
. 2
)
•
Learned predisposition to approach or avoid: favorably or unfavorably thought
•
About self, others, issues or objects ( + or - ): affect how we treat people, willingness to change,
our policies
•
Hierarchy of Preference
•
factors contribute to our comfort level towards disability
People without impairment have different emotional reactions to impairment based on the following:
1.
Visibility of impairment

- ex. someone being in a wheelchair vs. someone with a learning disability;
visuals can cue us to understand and be more comfortable
–
people tend to be more comfortable to
physical impairments than intellectual
2.
Interference with communication - more negative feelings when communication isn't going smooth
3.
Associated social stigma

- intellectual impairments is associated with stigma is the most - we avoid these
4.
Reversibility
- has the ability to change so we feel more comfortable (ex. crutches with a broken leg)
5.
Extent of functional differences

- the greater degree of differences equals the great negative attitudes
(ex. limp vs dragging foot)
6.
Perceived responsibility - we see people at fault for their injury with less compassion (ex. drunk driver

–
feel bad for victim but negative attitude towards driver)
Attitudes of athletes with impairments toward certain types of impairments vary:
•
The Social Construction of Disability in a Society of Normalization:
A social constructionists account of disability:
-
"to understand disability in relation to socially established standards for socially created tasks"
-
"the emergence of a notion of normalcy is what, then, creates the "problem" of the disabled person"
-
The idea of what we hold is normal is abnormal
-
Normal creates disability
o
How the notion of "normal" came about…
·
applied "law of error" method (= the average aka normal) that astronomers used to locate a star, to human
·
Physical characteristics (height, weight, strength, etc.), moral and social behaviours
·
Standard deviation = how many people fall into the specific category which created a value between
"better/normal" and "worst/abnormal"
·
central tendency is the average - if you're not in the average - considered incompetent and abnormal
•
If over average - considered successful and normal
•
Room for improvement if below average
o
What if there was no normal? (example of Martha's Vineyard)
•
Disability is absented despite the presence of physical impairment
•
Many people in the community were Deaf but almost everyone used sign language
•
the point at which you vary from the norm becomes a disability depends on the society in which
the standard of normality is generated
•
"Deaf" is difference than "deaf"
o
3 Attitude Theories - How to change and develop attitudes?
•
each theory can be used to make recommendations to improve attitudes toward persons with
disabilities
•
Change through increased contact: people become more comfortable the more they contact; and
the nature of this contact is critical:
•
Equal relationship status
•
Planned and structured interaction
find more resources at oneclass.com
find more resources at oneclass.com
You're Reading a Preview
Unlock to view full version
Only pages 1-3 are available for preview. Some parts have been intentionally blurred.
•
cooperative goals that promote respect
•
comfortable social climate
2) Persuasive Communication Theory:
•
Use persuasion (ex. lectures)
1.
Direct persuasion: persuasion techniques
2.
Indirect persuasion: might not even know it's happening to us
•
Stimulation Theory: controversial - what we're hoping happens (using a wheelchair for a day

-
being more sensitive and changing attitudes towards a positive way)
1.
Raises awareness of marginalization and barriers
2.
Heightens sensitivity and empathy
1.
Doesn't capture lived experience of disability

- may trivialize it
2.
Discomfort of participants when identifying with negative emotions assumed (stereotyping public
stares)
3.
Offending members of the disability community
4.
Reinforce negative assumptions
3) Social Cognitive Theories:
•
Influence of the social environment:
1.
Group dynamics theory - our peers influence what we do
2.
Experimental and observational theory - through life experiences, it affects our attitudes and how
we think and behave -
Why are attitudes important? (relating to disability)
•
Affect how we behave and treat others
find more resources at oneclass.com
find more resources at oneclass.com
You're Reading a Preview
Unlock to view full version
---