ECON 201 Study Guide - Final Guide: Average Cost, Average Variable Cost, Marginal Revenue
CHAPTER 9 - International Trade
Equilibrium without trade
Price adjusts to balance domestic supply and demand
World price and comparative advantage
Price prevailing in the world - world price
If world price is higher than domestic, the country will export the good.
If world price is lower than domestic price, the country will import the good.
Comparing world and domestic prices before trade indicates whether a country has a comparative advantage in producing a good.
Domestic price reflects opportunity cost: if it's low, the country has a low opportunity cost, therefore a comparative advantage.
Small economy: little effect on world markets - price takers (assumptions made from small economies are simplified but can be applied to
(Canadian economy: 2% of world GDP).
Trade: world price = domestic price
Price before trade is below world price
Demand curve is perfectly elastic (small economy can buy as much as it wants at world price)
*Domestics producers are better off and domestic consumers are worse off.
*Trade raises economic well-being of a nation as the gains of the winners exceed the losses of the losers.
Price before trade is above world price
Supply curve is perfectly elastic
*Domestic consumers of the good are better off, and domestic producers of the good are worse off.
*Trade raises economic well-being of a nation as the gains of the winners exceed the losses of the losers.
Note: The winners could compensate the losers and still be better off, so trade
can

make everyone better off. But in practice,
compensation for the losers from international trade is
rare

. Without such compensation, opening up to international trade is a policy that
expands the size of the economic pie, while perhaps leaving some participants in the economy with a smaller slice.
*Irrelevant when country is an exporter
*Raises the price of imported goods above the world price by the amount of the tariff.
*Domestic suppliers can now sell their textiles for the world price plus the amount of the tariff.
*Price of the good
—
both imported and domestic
—
rises by the amount of the tariff
*Price is now closer to the price that would prevail without trade.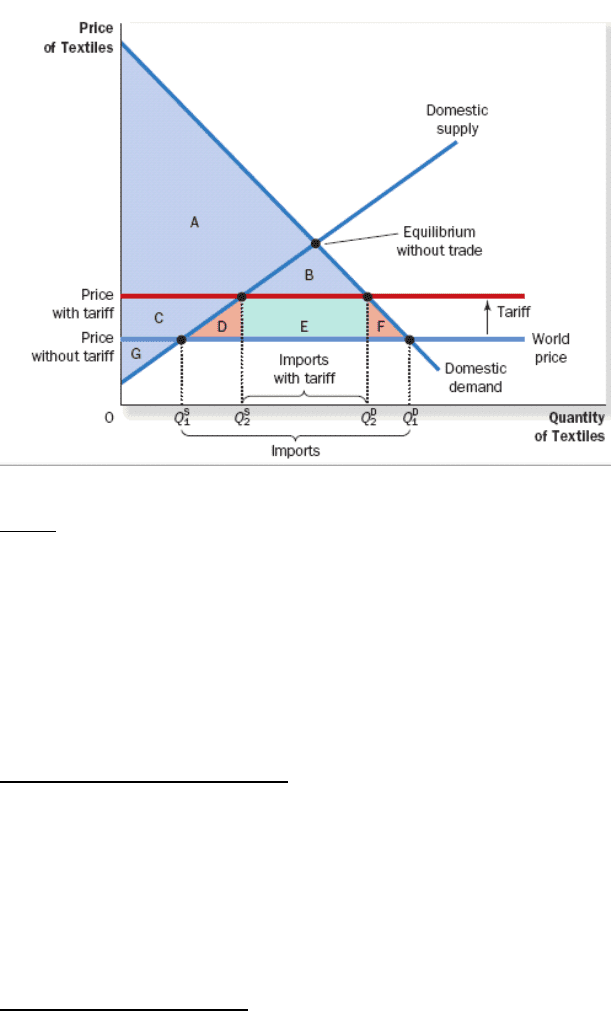 Tariff reduces the quantity of imports and moves the domestic market closer to its equilibrium without trade.
reduce the quantity of imports
raise the domestic price of the good
decrease the welfare of domestic consumers
increase the welfare of domestic producers
* Import quotas are much like tariffs:
Tariff raises government revenue, whereas an import quota creates surplus for those who get the licences to import.
The profit for the holder of an import licence is the difference between the domestic price and the world price.
Other Benefits of International Trade
Increased variety of goods
Lower costs through economies of scale: Some goods can be produced at low cost only if they are produced in large quantities
—

a
phenomenon called economies of scale. A firm in a small country cannot take full advantage of economies of scale if it can sell only in
a small domestic market. Free trade gives firms access to larger world markets and allows them to realize economies of scale more
Increased competition: Opening up trade fosters competition and gives the invisible hand a better chance to work its magic.
Enhanced flow of ideas: The transfer of technological advances
Arguments for Restricting Trade
Opponents of free trade often argue that trade with other countries destroys domestic jobs.
Yet free trade creates jobs at the same time that it destroys them.
Although the transition may impose hardship on some workers in the short run, it allows a country as a whole to enjoy a highe
r
The gains from trade are based on comparative advantage, not absolute advantage. Even if one country is better than another
country at producing everything, each country can still gain from trading with the other.
Workers in each country will eventually find jobs in the industry in which that country has a comparative advantage.
The National-Security Argument
When an industry is threatened with competition from other countries, opponents of free trade often argue that the industry is vital
For example, considering free trade in steel, domestic steel companies might point out that steel is used to make guns and tanks.
Free trade would allow the country to become dependent on foreign countries to supply steel. If a war later broke out, it might be
unable to produce enough steel and weapons to defend itself.
The Infant-Industry Argument
New industries sometimes argue for temporary trade restrictions to help them get started. After a period of protection these
industries would mature and be able to compete with foreign firms.
Similarly, older industries argue that they need temporary protection to help them adjust to new conditions.
Canada's "National Policy," 1878: attempt to protect the infant Canadian manufacturing sector from foreign (especially U.S.)
competition. This protection from foreign competition lasted for 110 years, until the Canada
–

U.S. Free Trade Agreement of 1989.
The owners of the firms should be willing to incur temporary losses to obtain the eventual profits. Protection is not necessary for an