PATH 3610 Midterm: Practice Questions
UNIT 1
Starvation can lead to the development of fatty liver.
True
Apoptosis refers to:
programmed cell death
The release of cytoplasmic enzymes from necrotic cells may be useful diagnostically.
True
Elevated conjugated serum bilirubin levels are most likely caused by:
obstruction of the biliary tract
Cloudy swelling is the result of:
intracellular accumulation of fluid and electrolytes
Chronic over-consumption of alcohol can lead to fatty liver due to:
increased activity of hepatic enzyme systems, leading to increased conversion of fatty acids to
triglycerides
Triglyceride accumulation in the cytoplasm of parenchymal cells (such as the liver) is
termed:
fatty degeneration
The most definitive microscopic evidence of cell necrosis is:
nuc
lear pyknosis and karrhyorhexis
Bilirubin is:
water soluble when conjugated
Hypoxia, leading to impaired energy production by the cell, may be caused by:
Anemia
Free radicals can impair cell membrane function by causing:
lipid peroxidation
A myocardial infarct is seen as a dry, well demarcated area of pale tissue. This would be
described as:
coagulation necrosis
The colour changes in a bruise are related to:
breakdown of hemoglobin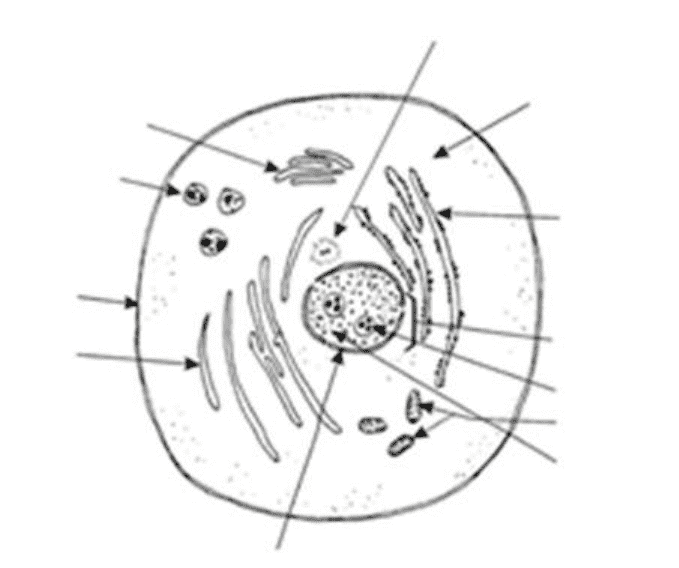 A thick, viscous fluid matrix situated between the cell membrane and the nucleus, in which
inorganic substances, carbohydrates, proteins and lipids are either dissolved or in colloidal
suspension is the definition of the:
Cytoplasm
Mitochondria are membra
ne
-bound rod-shaped cytoplasmic organelles whose main function
is:
to produce energy from nutrients and oxygen for cell function
The cell membrane is best described as:
a semipermeable boundary between the environment and the cytoplasm, best described as a protein-
lipid-protein sandwich, with some movement of protein molecules
The basic functions of epithelial tissues are:
to form a protective covering for surfaces
to form an absorptive lining for internal surfaces
to form glands (secretory structures)
to
increase the surface area of absorptive surfaces
all of the above
Which of the following statements about the nucleus is not true?
it contains large amounts of RNA
Fill in the labels for the parts of the cell indicated below:
Which of the following microscopic features is the best indicator of necrosis?
nuclear pyknosis, karyorrhexis or karyolysis
Which of the following is not a post-mortem change?
hemorrhage
Local death of a cell or cells due to injury is known as:
necrosis
Which of the not true of jaundice?
it is a disease of the liver
The switch of cells from aerobic to anaerobic metabolism can cause:
damage to lysosomal membranes, potentially worsening cell injury
Which of the following is not a cause of impaired cell energy production?
hyperglycemia
Apoptosis refers to:
programmed cell death to remove "old" cells
Swelling of mitochondria caused by impaired cell energy production can cause:
cloudy or vacuolar cytoplasmic changes
Free radicals generated within cells are unstable and can lead to:
degradation of nucleic acids
Alcohol consumption can lead to fatty liver changes by:
induction of enzymes to increase fatty acid conversion into triglycerides
UNIT 2
Shock becomes irreversible shock when:
metabolic acidosis furthers injury to cells, so they can no longer produce energy
Shock, whatever its cause, is characterized by:
generalized reduction in tissue perfusion
Ischemia refers to:
a reduction or failure of blood supply to tissues