PSYC 2330 Study Guide - Final Guide: Long-Term Potentiation, Conditioned Taste Aversion, Nmda Receptor
WEEK 9- MULTIPLE MEMORY SYSTEMS



when you have an experience in life, there will be various learning & memory
systems that are active at the same time.
o
some will tap on certain systems more than others.
o
all these learning systems will be active at the same time.
Declarative Memory System (S-
S)

The amnesic patient H.M

.
o


In 1933, Henry M. had a bicycle accident and was unconscious for 5
min. Three years later he began to have minor seizures. By 21, he would
have 10 minor attacks per day and 1 major per week. No medication
worked.

In 1953 (Henry was 27), Dr. Scoville performed a

bilateral

medial

(epilepsy related to temporal lobe)

-if something goes wrong in temporal lobe, it spreads to
rest of the brain (is the 'beginning'). if you eliminate this
area, you could possibly reduce the spread (of seizures).

-they cut out the temporal lobe on both sides of the brain, but they
couldn
't be selective (and weren't trying to be).



the fold of cortex removed had the HIPPOCAMPUS.
o
Seizure activity was greatly reduced, but he developed major memory loss



unable to create new learning/memories

-living 'moment to moment.'

-intellect intact, see's everything as others do, but
every moment feels like a 'first awakening' and the
first experience of everything.



it was selective of where it went (only temporal lobe).

if it was results of a disease, other things would
have been affected as well such as the frontal lobe.
not him, his affect was not altered, he was aware of

- participated in social activities

- watched TV and solved crossword puzzles

- never asked for food or beverage, or to go to bed

- aware of his memory disorder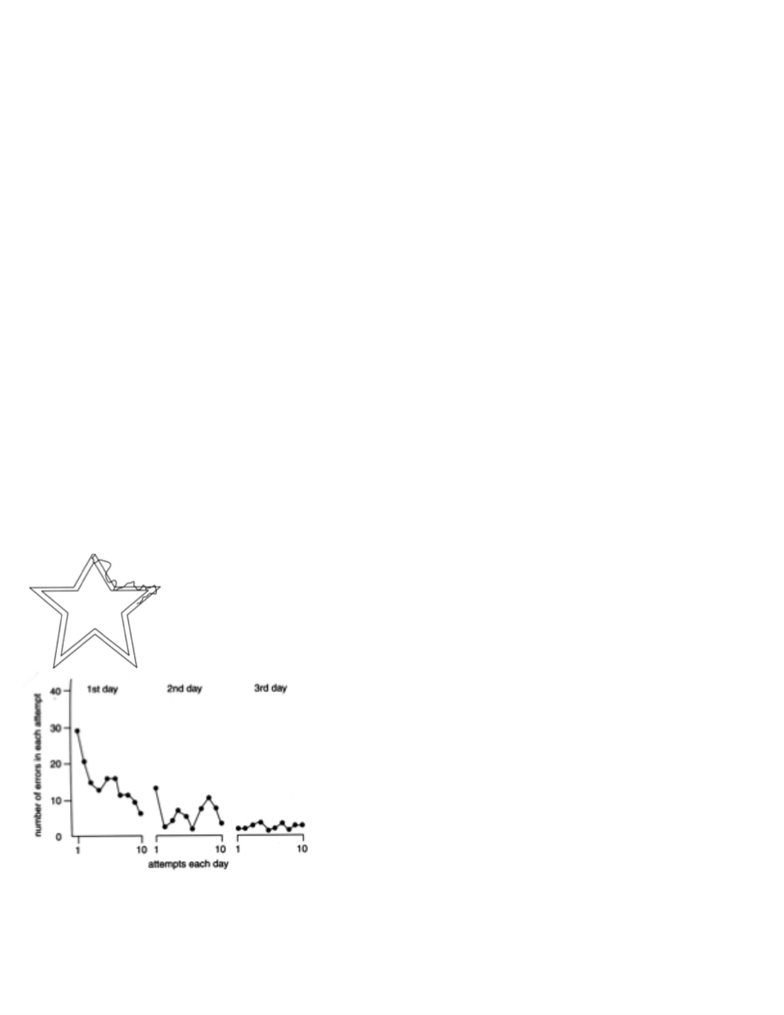 
- John McDonald (video)

when confronted with the diary, refuses that he wrote in the
diary, gets very angry because he is perfectly lucid but can
not have knowledge of himself doing it.
o
H.M. memory disorder was

selective

in five important ways

(1) Higher-order perceptual, motor, and cognitive functions not
affected

- recognizes and names common objects

(2) Loss the capacity for new learning

-He scored 0 on tests that assess the

persistence of his
memory
for stories, lists of words and numbers, pictures,
or any of a large range of other material.

(3) The span of short-term memory was normal, but devastated by
delays

-could repeat series of numbers back to you, but then would
look at the instructor and have no idea who he was, and
completely forget he was learning numbers.

(4) Spared remote memory

-

mo

st remote (prior) memories were spared. Selective
problem in learning only new information.

(5) Spared other domains of learning and memory capacity

Sensory-motor learning (Star-Mirror Drawing task)
o
-draw star inside a star, then only watch
yourself drawing through a mirror, and try to
draw line in between the 2 lines.
o
going left makes you go right & reverse. you
see that with time people get much better.
(learning the task)



HM was able to learn the task, and was even
saving memory day to day.