---
TOX 4000 Study Guide - Final Guide: Endocrine Disruptor, Testicular Cancer, Alkylphenol
---
---
This preview shows pages 1-2. to view the full 8 pages of the document.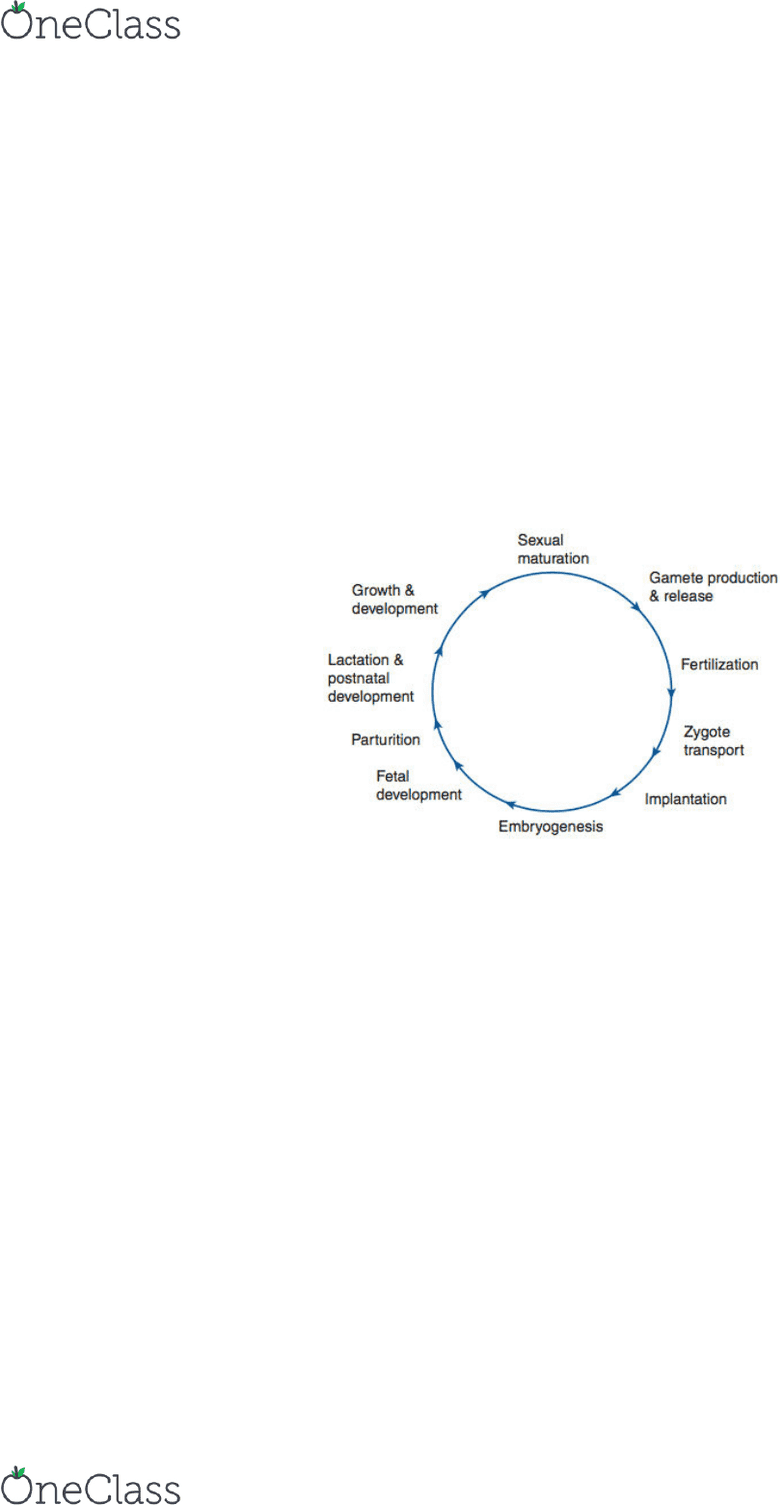 Medical Toxicology
Reproductive Toxicology
Lecture 18 | Reproductive Toxicology
Any evaluation of toxicity to reproduction will have as an important consideration that
events may not only be on the adults having impact on their likelihood to have children, but
also impact the viability and quality of life of their potential offspring and feasibly even
affect later generations.
That chemicals can adversely affect reproduction in males and females is not a new concept,
only one has to look at the importance of drugs as contraceptives to realize how sensitive
the reproductive system can be to external chemical influences to disrupt this process.
Stages of reproduction and development:
(i)
Mature organ systems toxicology
(ii)
Reproductive toxicology (mother and father)
(iii)
Developmental toxicology (developing fetus/child)
Reproductive Development and Sexual Differentiation
During early human development, there is a short period immediately prior to sexual
differentiation when the gonad is sexually indifferent and it is not until the seventh week of
gestation that male and female morphological characteristics begin to develop.
In rodents, the embryo remains sexually indifferent and possesses both male and female
reproductive tract primordia until embryonic day 13.5 regardless of its genetic sex.
Gonadal differentiation is dependent on signals from the Y chromosome, which contains the
genes necessary to induce testicular morphogenesis. One of these signals is the SRY gene,
which is the sex-determining region on the short arm of the Y chromosome, and acts as a
switch to initiate transcription of other genes, which contribute to testicular
find more resources at oneclass.com
find more resources at oneclass.com
Only pages 1-2 are available for preview. Some parts have been intentionally blurred.
organogenesis. In the absence of the SRY protein, the gonad remains indifferent for a short
period of time before differentiating into an ovary.
The gonads are responsible for the production of sex hormones, and for the production of
quality gametes;
toxicants can target any point along this pathway

.
These primary effects can either be direct or indirect:
Direct


hormone and gamete production
Indirect


mating behaviour
So what is a reproductive toxicant and what are its targets within the reproductive
system?
Interference with the normal function of the reproductive system:
(1)
Production of sex hormones
(2)
Production of quality germ cells
▪
Ethanol and EGME decrease sperm counts
(3)
Mating behaviour, libido or performance
▪
Drugs of abuse (ethanol), anabolic steroids
(4)
Implantation of fertilized egg
▪
Hormonal changes to alter uterus, and cause asynchrony between embryo and
uterus
Endocrine Disruption
Endocrine disrupting compounds (EDCs) are exogenous substances or mixtures that alters
the function of the endocrine system and consequently causes adverse health effects in an
intact organism or its progeny.
find more resources at oneclass.com
find more resources at oneclass.com
You're Reading a Preview
Unlock to view full version
Only pages 1-2 are available for preview. Some parts have been intentionally blurred.
Currently, the potential effects of endocrine disrupting chemicals on human health and the
proven effects of EDCs on wildlife are a major focus among the scientific community.
Recent findings have contributed to these concerns; for example, it has been suggested that
in utero exposure to environmental estrogens, antiandrogens or chemicals like phthalates,
or 2,3,7,8-TCDD could be responsible for the reported 50% decline in sperm counts in some
areas and the apparent increase in cryptorchid testes, testicular cancer, and hypospadias.
Natural/Synthetic Hormones
Constituents of many vegetables
Fungi that contaminate crops
Widespread industrial POPs
Component of polycarbonate plastics
The original focus for the discussion of endocrine disrupters was research on toxicants
reported to possess estrogenic activity, with little consideration given to other mechanisms
of endocrine toxicity; mechanisms that, in fact, may be of equal or greater concern.
Furthermore, the basic tenet of toxicology from Paracelceus 19 that dose alone
determines the poison is too limited for some EDCs because the timing of exposure dictates
not only the effect, but also whether the effects are adverse or beneficial. Even when
administered during adult life, drugs with EDC-activity can simultaneously have a beneficial
effect on one tissue and an adverse effect on another.
Mechanism(s) of Action
Endocrine disrupting compounds (EDCs) act by disrupting the hypothalamus-pituitary-
gonadal axes or by direct effects on target tissues.
Two Important Concepts:
(1)
Bioaccumulation: The accumulation of (toxic) substances in living organisms
(2)
Bioconcentration/Biomagnification: The tendency for (toxic) substances to increase
in concentration up the food chain (a particular case of bioaccumulation)
Environmental Considerations
Many of the endocrine disruptors are organochlorides (pesticides e.g., DDT), which have
very strong chemical bonds. Due to their long half-life and widespread use, there is a
dramatic bioaccumulation of these EDCs in the environment.
Humans and wildlife have not evolved mechanisms to detoxify and excrete these products.
There is an accumulation of EDCs in lipid and fatty tissue of exposed animals and humans.
find more resources at oneclass.com
find more resources at oneclass.com
You're Reading a Preview
Unlock to view full version
---