PSYCH339 Study Guide - Comprehensive Final Exam Guide - Variance, Job Performance, Hawthorne Effect
PSYCH339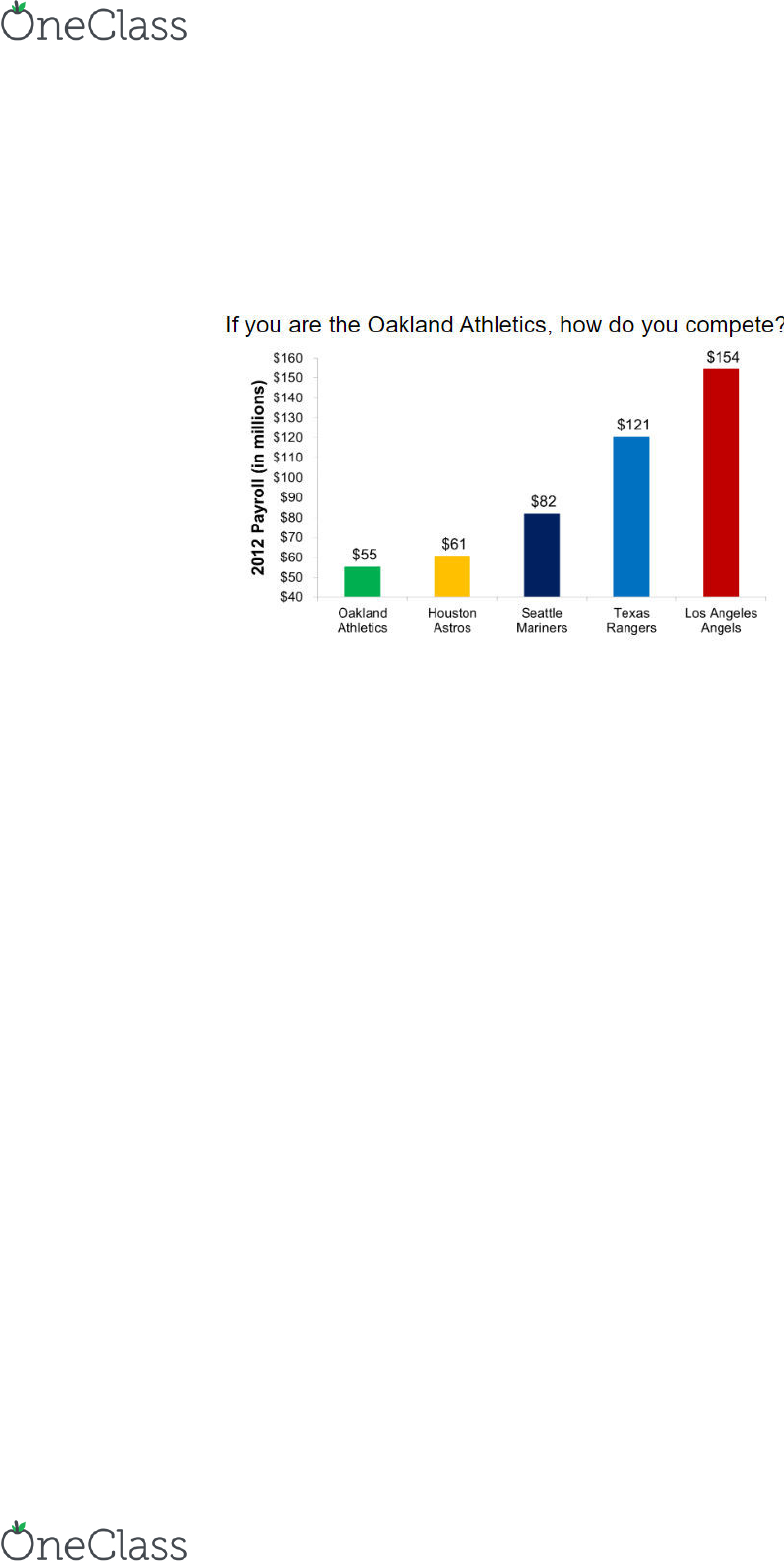 Lecture 1
•
Personnel and industrial psych are the same thing
•
Org psych is diff because it deals with teams, satisfaction, leadership
•
Personnel deals with selecting workers, defining requirements, training
•
Moneyball Movie = story of manager of sports team.
In the movie they weren't able to pay as much for the best players. So how do they compete
with fewer resources
The manager takes a scientific approach. He uses diff predictors than other teams. So, he
buys out players that are good with his predictor, but not with competitions predictors.
You hae to aept soe error to iiize error, ause ou o't e right eer tie. E.
Accepting grad students based on GRE scores, not recommendation letters (might be some
errors, but successful in the big picture)
•
Must consider the organization's goals
o
Must hire and train people well, to make the org perform well
o
To get the high performers, we need to hire the right people
o
What do we need to know?
•
How well a person is likely to perform
o
What info do we have at time of hire?
•
We have to make predictions and be able to accept some error because people are
too complicated to guess perfectly every time
•
We will be looking at scatter plots in this course trying to predict performance using some
predictors (this is what our assignment is about)
•
You end up making more mistakes the more accurate you try to be with every aspect (where they
try to predict every aspect possible)
•
Scientific systematic personnel selection work swell in aggregate over long term. May not work for
hiring only one single person or in the short run
•
Frederick Taylor came up with this in early 1900s. He wanted to improve workers. Looked at the
workers like a machine
find more resources at oneclass.com
find more resources at oneclass.com
o
Measured the optimal amount of dirt in a shovel to create highest gains per hours (law of
diminishing returns!!!!)
•
WW1 = suddenly need to place thousands of people into army jobs very quickly. They used
cognitive tests (GMA tests)
•
Hawthorne Studies = they changed some aspects of the work context and measured how
productivity was affected
o
Sometimes just the fact that there was a change improved prod, not the aspect that was
changed itself
o
Ex. introducing breaks to reduce fatigue. They had them working less and less and they kept
producing more and more. And after implementing all these break tests and then returned
to baseline, there was still an increase in productivity
o
The workers liked that bosses were watching them work so they had to improve
productivity to make the boss approve
o
So, these tests were sort of a failure
o
People have feelings and thoughts, not the same as a machine
o
So

, there is a point for using science at work, but there is also certainly a place for psych at
work
Lecture 2
VARIANCE
•
We need successful people to have a successful organization. So how do we predict which people
will be successful?
o
In this course we will be dealing with a lot of numeric info
o
A tool for understanding the data
o
can help us understand relationships between data pieces
o
We can use them to make decisions with statistical evidence
o
Frequency = count of occurrences
o
Central tendency = mean and median
o
Variance = how much spread there is between what's typical
•
Mean is more influenced by outliers than median
find more resources at oneclass.com
find more resources at oneclass.com