BIOC32H3 Study Guide - Midterm Guide: Electrophysiology, Neurotransmitter, Opioid Epidemic
BIOC32
Prepared by: Hassan Alibhai
Lecture Notes
Semester: Fall 2019
Lecture #
Topic #
Topic Name
Page Numbers
Associated Quiz
1
1
Organization of the Nervous System
2 – 7
Week 1
2
1
Organization of the Nervous System
8 – 12
3
1
Organization of the Nervous System
13 – 16
Week 2
4
1
Organization of the Nervous System
17 – 22
5A
1
Organization of the Nervous System
23 – 25
Week 3
5B
2
The Electrophysiology of Neurons
26 – 28
6
2
The Electrophysiology of Neurons
29 – 34
7
2
The Electrophysiology of Neurons
35 – 40
Week 4
8
2
The Electrophysiology of Neurons
41 – 45
9
2
The Electrophysiology of Neurons
46 – 52
Week 5
10
2
The Electrophysiology of Neurons
53 – 58
11
3
Synapses and Neurotransmitters
60 – 69
Week 6
12
3
Synapses and Neurotransmitters
70 – 77
13
3
Synapses and Neurotransmitters
78 – 85
Week 7
14
3
Synapses and Neurotransmitters
86 – 92
15
3
Synapses and Neurotransmitters
93 – 100
Week 8
16
3
Synapses and Neurotransmitters
101 – 108
Disclaimer: All images and information provided in this document is the sole copyright of Dr. Jason
Brown, the instructor of this course in Fall 2019. Although this document has been made in an attempt
to cover all of the course content, there may be a few minor discrepancies based on human error.
Any text in red is only provided as context (not directly stated by Dr. Brown, not on tests)
University of Toronto – Scarborough
Page HP-1
The second midterm
is focused on lectures
11 – 16 inclusive, but
fundamental concepts
from the other 10
lectures may
be required
BIOC32
Prepared by: Hassan Alibhai
Lecture Notes
Semester: Fall 2019
L
e
c
tu
r
e
1
1
–
T
o
p
i
c
3
–
S
y
n
ap
s
e
s
an
d
N
e
u
r
otr
an
s
mi
tte
r
s
•
Our focus until now was communication within neurons, we will now jump to how exactly
communication between neurons works
•
Communication between/across neurons
•
"Joining" neurons together
◦
There is no physical connection between
two neurons in most places, there's just a
physical space between the two neurons
called the
synaptic cleft
•
The terms pre/post synaptic membrane/neuron are only relevant to the

s

yn

ap

s

e

u

n

d

er
consideration
=> "terms of convenience" when talking about a particular synapse
•
The synaptic cleft is just one part of the synapse, there are two other parts are the

p

r

e

s

yn

ap

ti

c
neuronal membran
e
and the
postsynaptic neuronal membrane
=> 3 parts make up synapse
◦
Action potentials arriving at the axon terminals trigger the release of neurotransmitters,
which then get released via
e
xoc
ytos
i
s
and are taken up by receptors on the postsynaptic
membrane of the postsynaptic neuron via
d
i
ffu
s
i
on
◦
Hence the important role of the pre and post synaptic membranes because they are the sites
of vesicles containing neurotransmitters and neurotransmitter receptors respectively
University of Toronto – Scarborough
Page HP-60
This is a depiction of the most common type of
synapse, the chemical synapse.
fluid-filled space
Sender of
information
Synapse
Presynaptic Membrane => Synaptic Cleft =>
Postsynaptic Membrane
Receives
information
In the PNS, you
can also have an
effector as
post-synaptic
"neuron"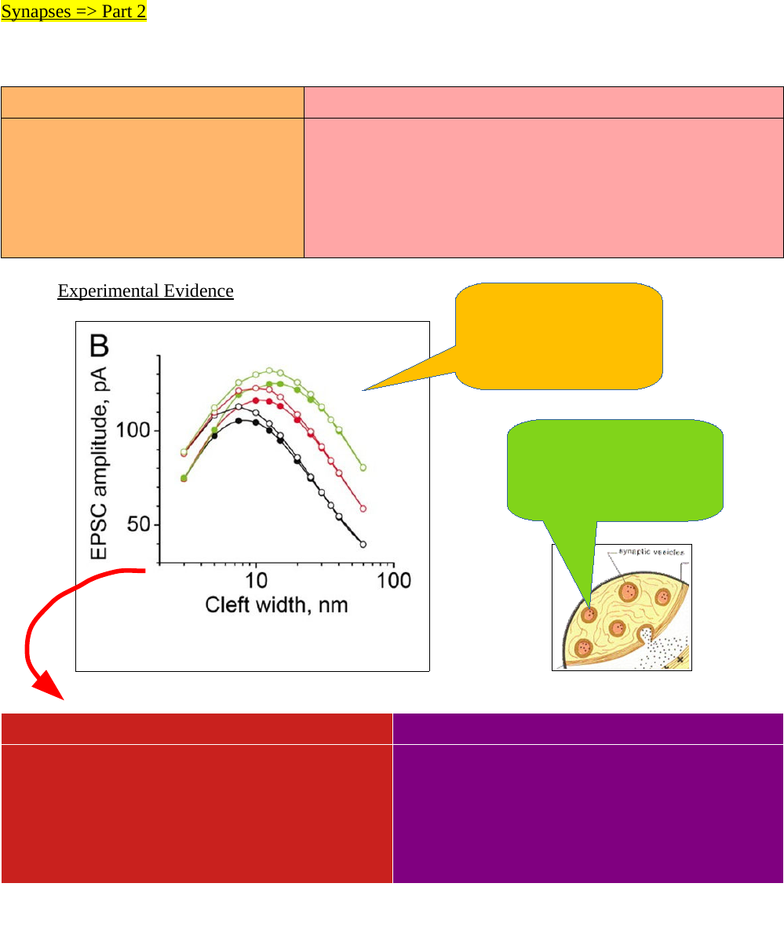 BIOC32
Prepared by: Hassan Alibhai
Lecture Notes
Semester: Fall 2019
•
This is an issue that very few neurophysiology or human physiology textbooks talk about in
general, and so Dr. Brown believes that it would be great to know!
Question Answer
•
Why are synapses generally
structured this way?
•
Why is there a synaptic cleft?
interact in a more direct kind
of way?
•
Parallel to the dendritic spine situation => by
modifying the width of the spine, you can modify how
excited the dendrite gets
◦
One of the reasons there is a synaptic cleft is that
by
modifying its width
, we can alter the post-
synaptic activation that occurs at the synapse
Very Narrow Cleft, Reduced Excitability
Very Wide Cleft, Reduced Excitabilit
•
When we make the cleft very narrow, we
greatly increase the resistance of ions
flowing inside the cleft trying to get to the
open-gated channel
◦
Physically making it harder to flow
through the cleft to get to neuron
1.
The wider the cleft, the more its volume
2.
Decreases concentration of the
neurotransmitters released into the cleft
3.
Binding of a neurotransmitter to its vesicle
is less effective (less potent)
4.
Likelihood of excitation is reduced
•
It is therefore in our best interest to have an indirect (as opposed to direct) neuron-to-neuron
connection as it allows for complexity when regulating excitatory potential
University of Toronto – Scarborough
Page HP-61
As the cleft width changes, you get more or
less excitation that occurs!
This may allow the
nervous system to
modulate its
excitation capacity
The more concentrated a
neurotransmitter, the more
effective it is at binding to
surface receptors
Recall => ability of ions to
flow through the axon
depends on internal
membrane resistance!