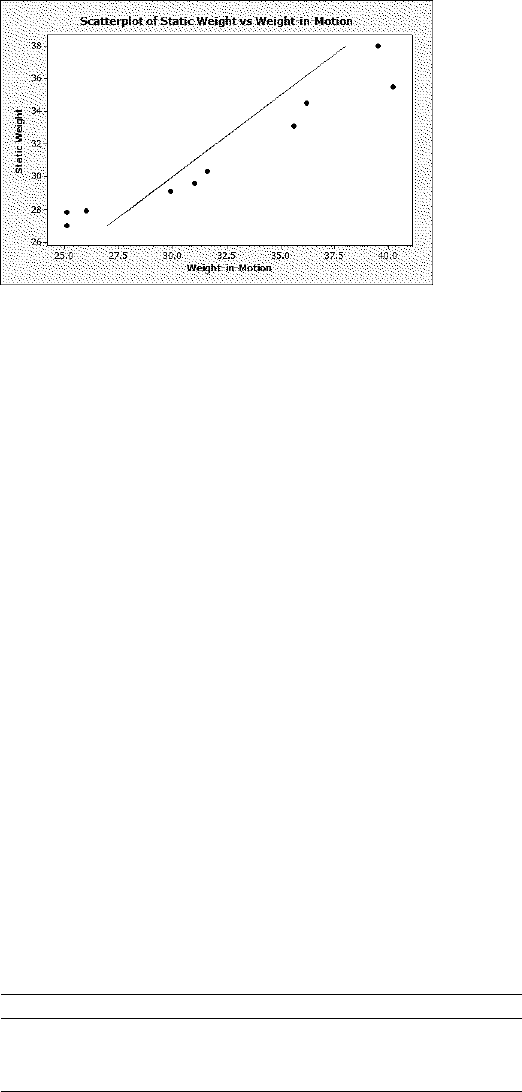 effectiveness of the "weight-in-motion" method, 10 trucks were each weighed using both methods.
All
weights are measured in thousands of pounds.
A scatterplot of the results is shown below.
Superimposed on the scatterplot is the line that the data
would follow if the weight-in-motion was always equal to the static weight.
Use the scatterplot to
answer this question and the one following.
How would you describe the positive association?
(a)
not useful since the data are not close to the line
(b)
* approximately linear
(d)
no association of note
The line on the plot is a bit of a distraction, because the points form a more or less linear
pattern, just not around the line shown.
(The trend in the points is not obviously a curve,
at least).
4.
Question 3 described some data on two methods of weighing trucks.
The Minnesota Department of
Transportation wants to predict the static weight of trucks from the weight-in-motion.
Which of the
following statements best describes what they can do?
(a)
* taking the weights-in-motion and modifying them in some linear way would accurately predict
the static weight.
(b)
The weights-in-motion can be used to predict the static weights, but a non-linear transformation
would have to be applied to do it.
(c)
The static weight is accurately predicted by the weight-in-motion itself.
(d)
There is no way to use the weights-in-motion to predict the static weight.
Since there is a linear association (just not of the form
y
=
x
), the static weight can be
predicted reasonably well from the weight-in-motion,
by multiplying the weight-in-motion
by something and adding something else — that is, by using the linear regression equation.
5.
A factory hiring people to work on an assembly line gives job applicants a test of manual agility.
This test involves fitting strangely-shaped pegs into matching holes on a board.
In the test, each job
applicant has 60 seconds to fit as many pegs into their holes as possible.
For one job application cycle,
the results were as follows:
Male applicants
Female applicants
Mean pegs placed
17.9
19.4
SD of pegs placed
2.5
3.4
The factory wishes to see if there is evidence for a difference between males and females.
Which is
more appropriate, a matched-pairs
t
-test or a two-sample

t

-test?

Using the more appropriate test,
what P-value do you obtain?
3