BIO130H1 Final: BIO130H Notes I
For unlimited access to Study Guides, a Grade+ subscription is required.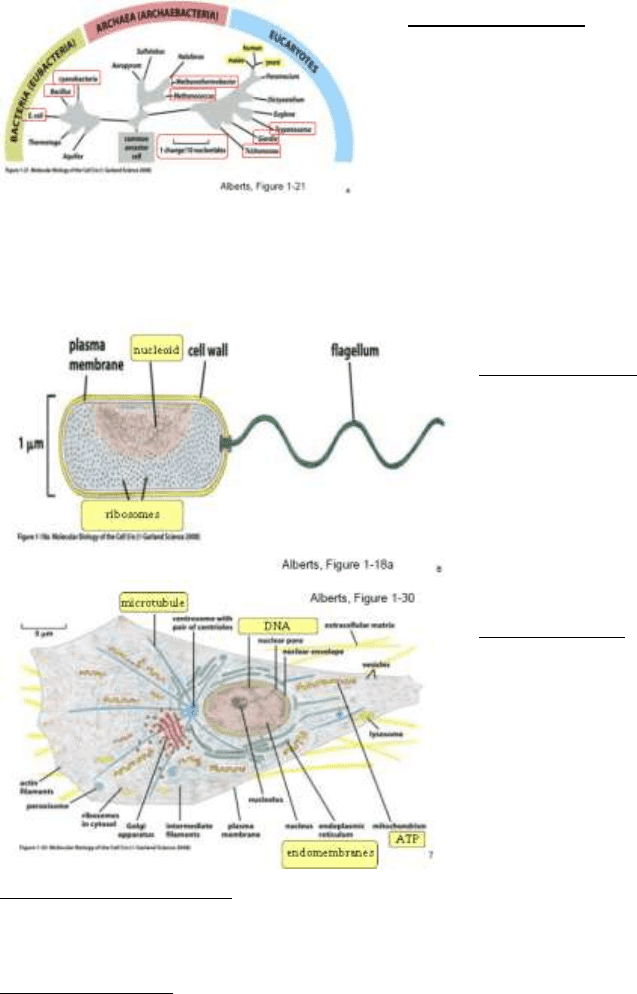 Notes by Michael Liu
Distribution of these notes is permitted as long as no alterations are made.
BIO130H1 Spring 2013 MOLECULAR AND CELL BIOLOGY
Required Textbook: Alberts et al. (2008
) "
Molecular Biology of the Cell
" (roughly $1
20 from
the U of T bookstore)
Lecture 2: Introduction to Cells and Diversity
3 Domains of Life
E. Coli: model organism
Cyanobacteria: photosynthetic
Bacillus: soil bacteria
Methanococcus: found in hydrothermal vents
Methanothermobacter: in anaerobic, acid conditions
Giardia: water contaminant
Trichomonas: vaginal parasite
Trypanosoma: causes African Sleeping Sickness
Prokaryotic Cell
no nuclei, single-celled, includes eubacteria
and archea
Nucleoid: irregular shaped region of genetic
material
* Not all prokaryotic cells have a cell wall or
flagellum
nucleus, single or multi-celled
Microtubule: part of the cytoskeleton
Origins of mitochondria: Anaerobic ancestor engulfs aerobic eubacteria and forms symbiosis.
Evidence: mitochondria has a double membrane and its own genome
Model Organisms

Synechocystis

(cyanobacterium)
Notes by Michael Liu
Distribution of these notes is permitted as long as no alterations are made.
The genetic code is a set of rules specifying the correspondence between codons and animo acids
(AAs). The consequence of a degenerate genetic code is:

All 20 AAs are encoded by DNA

There are opportunities for the synthesis of novel AAs

Base-pairing between codon and anti-codon occurs more easily

Random mutations resulting in AA changes are reduced
Nucleic acids are the organism's blueprint.

Pentose sugar (scaffold for base, ribose and deoxyribose differ by an O)

Nitrogenous base (ACGTU)

Phosphate group (backbone)
Double ringed bases (AG) are purines.
Single ringed bases (UCT) are pyrimidines.
Uracil (RNA) and Thymine (DNA) differ by a
methyl group on the Thymine.
Nucleoside = sugar + base
Nucleotide
=
sugar + base + P
i
Central Dogma

mRNA: the RNA to be translated (not all RNA are single stranded)

tRNA: transports AAs and synthesizes proteins (contains the anticodon)
Notes by Michael Liu
Distribution of these notes is permitted as long as no alterations are made.
Genome: set of DNA sequences
Transcriptome: set of RNA sequences
Pr
oteome: set of proteins
Interactome: set of molecules interactions
Metabolome: set of metabolites
Phenome: set of phenotypes
Chapter 1
–
Cells and Genomes
All cells store their hereditary information in the same linear chemical code (DNA).
All cells replicate their hereditary information by template polymerization.
All cells transcribe portions of their hereditary information into the same intermediate form
(RNA).
All cells use proteins as catalysts.
All cells translate RNA into protein in the same way.
Th
e fragment of genetic information corresponding to one protein is one gene.
Life requires free energy.
All cells function as biochemical factories dealing with the same basic molecular building blocks.
All cells are enclosed in a plasma membrane across which nutrients and waste materials must
pass.
A living cell can exist with fewer than 500 genes.
Cells can be powered by a variety of free energy sources.
Some cells fix nitrogen and carbon dioxide for others.
The greatest biochemical diversity exists among prokaryotic cells.
The tree of life has three primary branches: bacteria, Achaea, and eukaryotes.
Some genes evolve rapidly; others are highly conserved.
Most bacteria and Achaea have 1000-6000 genes.
New genes are generated from pre-existing genes.
Gene duplications give rise to families of related genes within a single cell.
Genes can be transferred between organisms, both in the laboratory and in nature.
Sex results in horizontal exchanges of genetic information within a species.
The function of a gene can often be deduced from its sequence.
More than 200 gene families are common to all three primary branches of the tree of life.
Mutations reveal the functions of genes.
Molecular Biologists have focused a spotlight on
E. Coli
.
Eukaryotic cells may have originated as predators.
Modern eukaryotic cells evolved from a symbiosis.
Eukaryotes have hybrid genomes.