Management and Organizational Studies 3367A/B Study Guide - Comprehensive Final Guide: Shell Corporation, Cash Register, Fiduciary
Western
Management and Organizational Studies
3367A/B
FINAL EXAM
STUDY GUIDE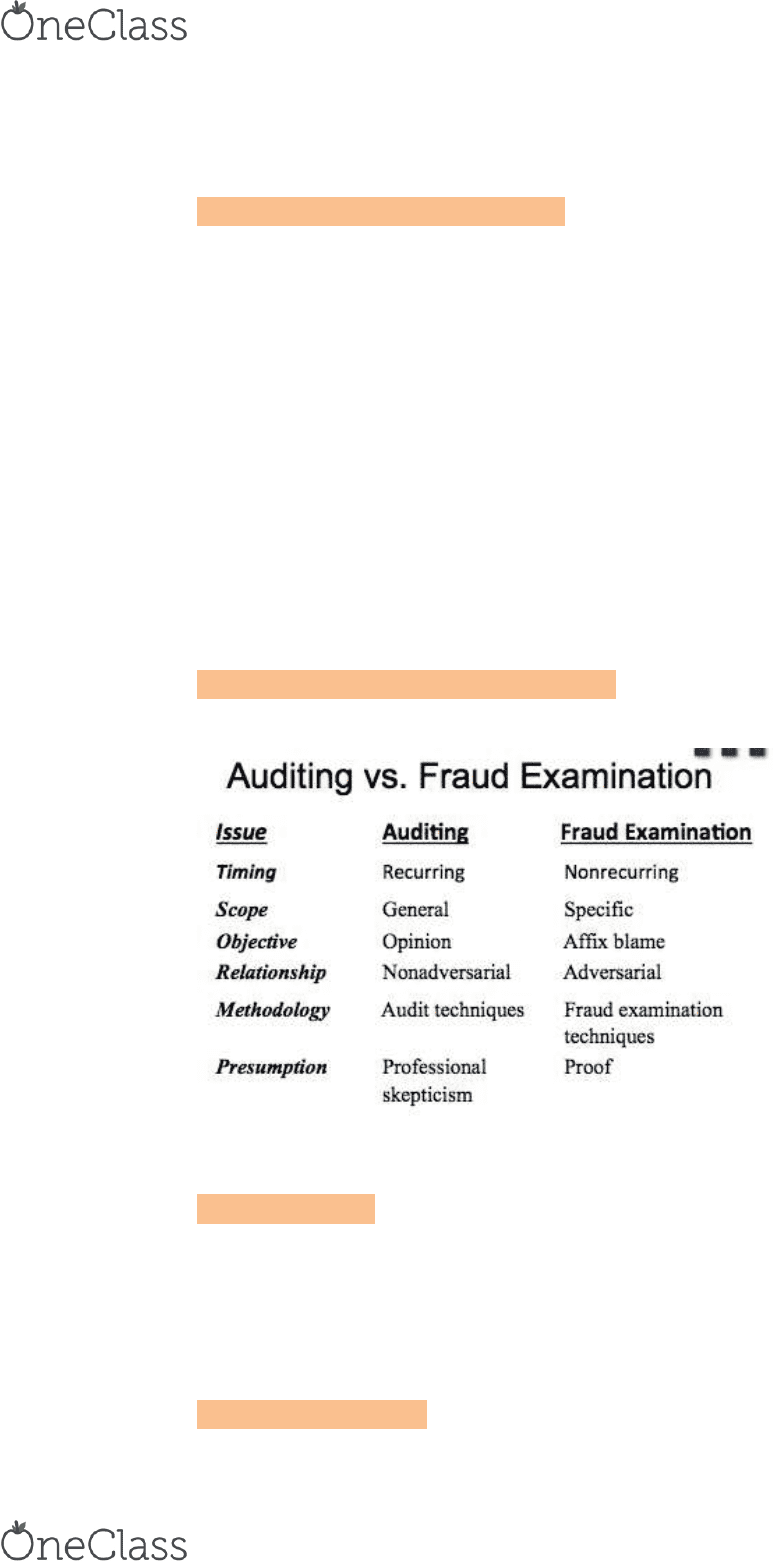 Chapter 1 Introduction
Define Occupational Fraud and Abuse

The use of one

'

s occupation for personal enrichment through the deliberate
misuse or misapplication of the employing organization
'
s resources or assets

All fraud examinations must be based on proper prediction
Discipline of Fraud Examination

Writing investigative reports

Assisting in the detection and prevention of fraud
Forensic accounting VS. Fraud examination
Elements of Fraud

A material false statement

Knowledge that the statement was false when it was uttered

Reliance on the false statement by the victim

Damages resulting from the victim's reliance on the false statement
Note* : 4 elements must be present for a fraud to occur
Fraud Theory Approach
find more resources at oneclass.com
find more resources at oneclass.com

Create a hypothesis ( worse case)

Test the hypothesis ( what if )

Refine and amend the hypothesis
Tools used in Fraud Examination
*Document analysis ---> Neutral Third-party Witnesses---> Corroborative
Witnesses ---> Co-conspirators ---> Target
What is Fraud?
o
There was a taking or carrying away
o
Money or other property of another
o
Without consent of the owner
o
With the intention to deprive the owner of its use or possession
(stealing)
o
Ex.

Taking the computer chips from the warehouse and selling them
to a third party, the employee clearly demonstrated intent to
deprive his employer of the ability to possess and use those chips.
o
A person commits a conversion when he takes possession of property
that does not belong to him and thereby deprives the true owner of the
property for any length of time
o
In order for an embezzlement to occur, the person who stole the
property must have been entitled to possession of the property at the
o
Acquired possession lawfully

Breach of Fiduciary Duty
find more resources at oneclass.com
find more resources at oneclass.com