[CAS CH 203] - Midterm Exam Guide - Comprehensive Notes for the exam (54 pages long!)
For unlimited access to Study Guides, a Grade+ subscription is required.
BU
CAS CH 203
MIDTERM EXAM
STUDY GUIDE
CH 204 Exam #1
Chemistry of Alcohols RXNS:
SN1:
3 alkyl halide R-X , bad nucleophile leaves on its own no backside attack
Backside attack
Breaks double bond adds OH to less substituted side
Acid catalyzed hydration of an alkene
: breaks double bond adds to most substituted side, creates a carboncation.
HCL, H2O H2SO4
Osmulstion of an alkene
: OsO4 ( the martian that drops OH's)

breaks double bond adds diols to both sides of double
bond, they are cis to each other and pushes most hindered side back.
Darzens reaction (SOCAL and pyr) SOCl2 and Pyr
Primary and secondary alcohols only: reacts with SOCL2 and pyr to remove the OH and replace it with CL
(
ALWAYS
) . The Pyr is protonated becomes Hpry and and SOCl2 becomes SO2 +Cl- But that's junk.
*basically remove the OH and add Cl in backside attac , essentially and SN2 reaction.
On a tertiary Alcohol: reacts with HCl
and follows SN1 but it has to be sp3. Basically you use the same thing replace
OH with Cl but in this case we react with HCl not SOCl2 or pyr . we do create a carbon cation so wa
tc
h out for
rearrangement which can only happen on 3, 4, & 5 carbon rings.
*basically the OH is protonated by the H+ in HCl, H2O drops and CL- moves into that spot, however if its on a peak
remember carboncation rearrangement, a ring may form .
find more resources at oneclass.com
find more resources at oneclass.com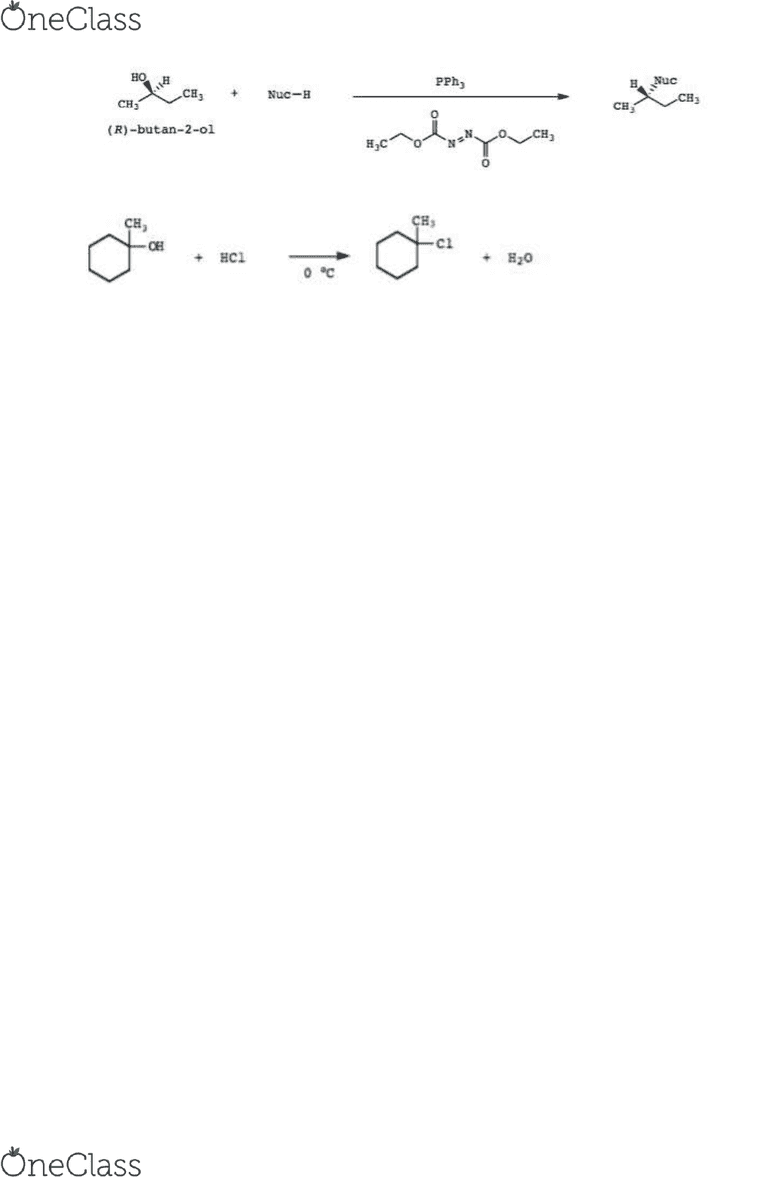 Sulfonate
R-OH becomes R- OSO2Z
Mitsunobu Reation:
AKA PPH3
SN2 Process carried out by dissolving 1
st
and 2
nd
Alcohols with a Pka < 14 moderately acidic (H-Nucleophile
PPH3 will basically kick out OH and add Nuc with an SN2 Backside Attack
However there are limitations:
1)
The nucleophile has to be Pka< 14 more likely will be (H-OCOR) Phenols (H-Oar) and thiols (H-SR) but H2O
2)
Highly hindered alcohols give poor yield.
Example:
Williamsons Ethers AKA C-O-C
This one we look at the alcohol not as a leaving group but as the nucleophile. An OH on an sp3 carbon is weak but once
we add it to a strong base such as NaH these alcohols are converted to a powerful nucleophile anion O-. Doent have to
be Just NaH could be (LiH, NaH, or KH)
ArOH where Ar =a benzene ring are more acidic than R-OH these can be converted simply by weak bases such as
Na2CO3 or amines R3N.
* basically the R-
OH gets deprotonated by a strong base let's say NaH the H takes over the OH's H to become H2 and
the O is left as an anion O- the next step bring in a nucleophile attached to some R value which that then becomes a
good leaving group in the end we are left with just the nucleophile.
** keep in mind what I said at the end is referred to the sulfonate esters witch can react let's say R R= CH3O in this
case the SO2-CF3 becomes a good leaving group and in the final product we are only left with OCH3 in another case
let's say the second step after we have deprotonated the alcohol we have a benzene ring with a halide, the halide is
kicked out and the carbon cation attached to the benzene ring attaches to the O- anion.
Acid Catalyzed dehydration of an alcohol:
Ok so we have basically used substitution aka SN2, and SN1 but lets talk about E1 elimination a good way to spot is
elimination is when we have non-nucleophilic acids such as H2SO4 and H3PO4 this is dehydration or the elimination
of water, and the product of an alkene (=). Usually the double bond forms on the carbon that bore the OH group called
find more resources at oneclass.com
find more resources at oneclass.com