[PSC 207] - Final Exam Guide - Ultimate 25 pages long Study Guide!
Marshall University
PSC 207
FINAL EXAM
STUDY GUIDE
8/30/16
What is Comparative Politics?
4 Main Fields:
1.
American Politics: (National, State, and Local); Looks specifically at everything
American.
2.
International Relations: Goes along Comparative Politics, studying other countries and
their politics.
3.
Comparative

Politics: Studying other country's politics and comparing into the "real
4.
Political Theory: Empirical, you observe and test hypotheses; Go into the "real world."
What is Comparative Politics?
-
Empirical science works with variables
–
studies causation.
-
Independent variable Dependent variable
Four main Empirical Methodologies
1.
Experiment: Hypothesis, always ("2" groups)
-
Ethics and Practically; are very important when making an experiment. Hypothesis must
carry out experiment to make sense. (Quantitative).
2.
Statistical: Cases/ what you are studying. It shows results and the data is there. The
sample and data is bigger. You get a broader view. Though negatively, you may have a
shallow view of the cases.
–
May not see everything or understand the full case.
3.
Comparative: Comparison of (2-3) 2-8 cases (qualitative)
Most similar systems: Causes must be very intentional/ not random. (It has a similar
framework as experiment).
4.
Case Studies: A single case (qualitative); Full of a lot of data, information.
-
Theory generating: When you gather data/information for testing.
-
Theory testing: Most likely case study: Individual case, most likely to show that one
negative/ no variable in the case. Less-Likely case study: A single case that shows why it
is likely something should not happen but one factor/variable of yes makes/ changes the
case.
find more resources at oneclass.com
find more resources at oneclass.com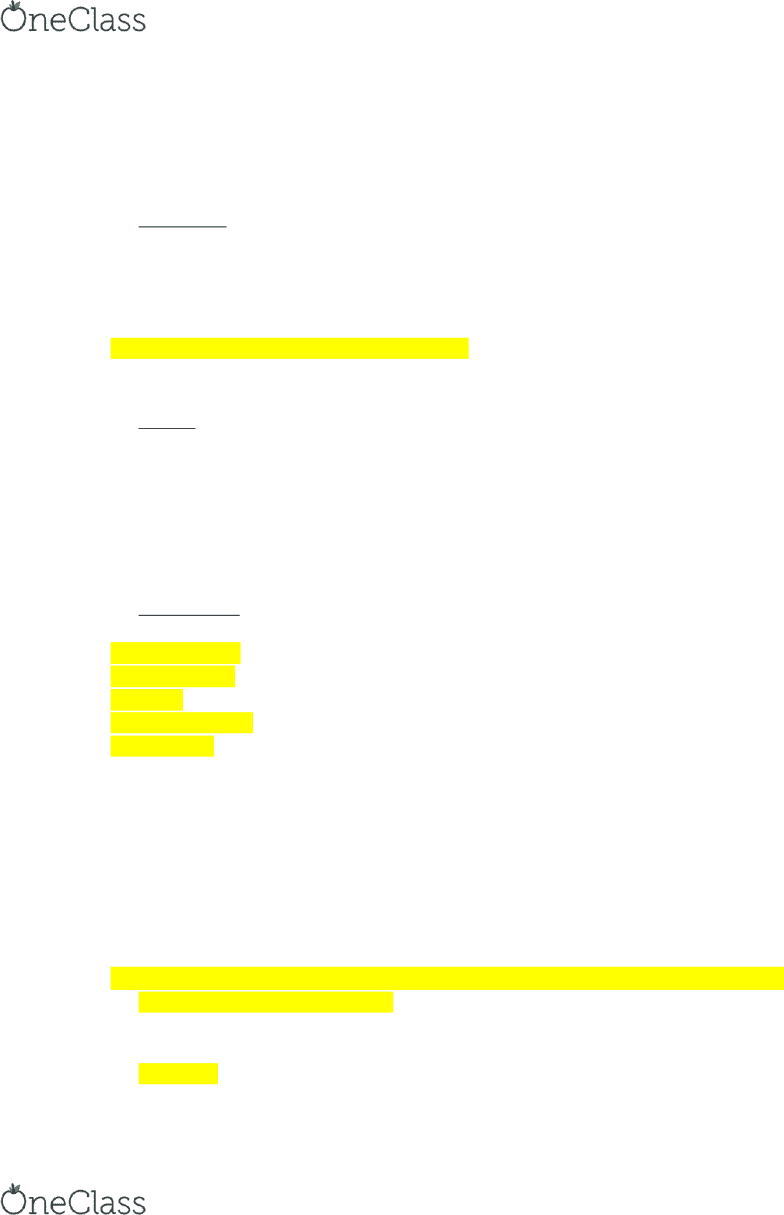 9/6/16
1.
The State: The organization that runs the show.
Kings were in control. They had support from aristocrats; Why? They needed land, military,
money, and war was happening.
Commoners: Paid taxes which benefited the king. More of an economical protection.
-
There was no economic nationality identity!
The State did not do much of anything.
-
Then, France by early 1800s pushed for a centralized bureaucracy; they were the first to
have a bureaucracy!
-
Military at a national level instead of going to aristocrats.
French Nationalism: Identity in French languages, culture, etc. The Industrial Revolution starts
(1800s-1900s)
–
the state has more of a role on this economic change since they needed more
change.
-
Why they do this stuff?

–

We demand this stuff in our economy! Such as:
d.
Mancur Olsen- The Logic of Collective Action. Why we do very badly at getting things
done or coordinating?
-
Olsen argue that toll goods are natural monopolies.
-
Non-excludable, Non-Rival: These are public goods; defense, lighthouses.
-
Non-excludable, Rival: Common Pool Resources.
-
Excludable, Non-Rival: Toll Goods such as toll roads, toll bridges; these are sunk costs
and natural monopolies.
-
Excludable-Rival: Private Goods; these are anything you own. (electronics, food,
clothing, etc.)

When we have a collective action problem, they are mostly public goods and common
pool resources
–
Non-Excludable.
The Collective Action Problem: Plays out in two ways:
-
Free Rider: Public Goods; Underproduction problem.
find more resources at oneclass.com
find more resources at oneclass.com