[HUMAN 1B] - Midterm Exam Guide - Everything you need to know! (15 pages long)
For unlimited access to Study Guides, a Grade+ subscription is required.
UC-Irvine
HUMAN 1B
MIDTERM EXAM
STUDY GUIDE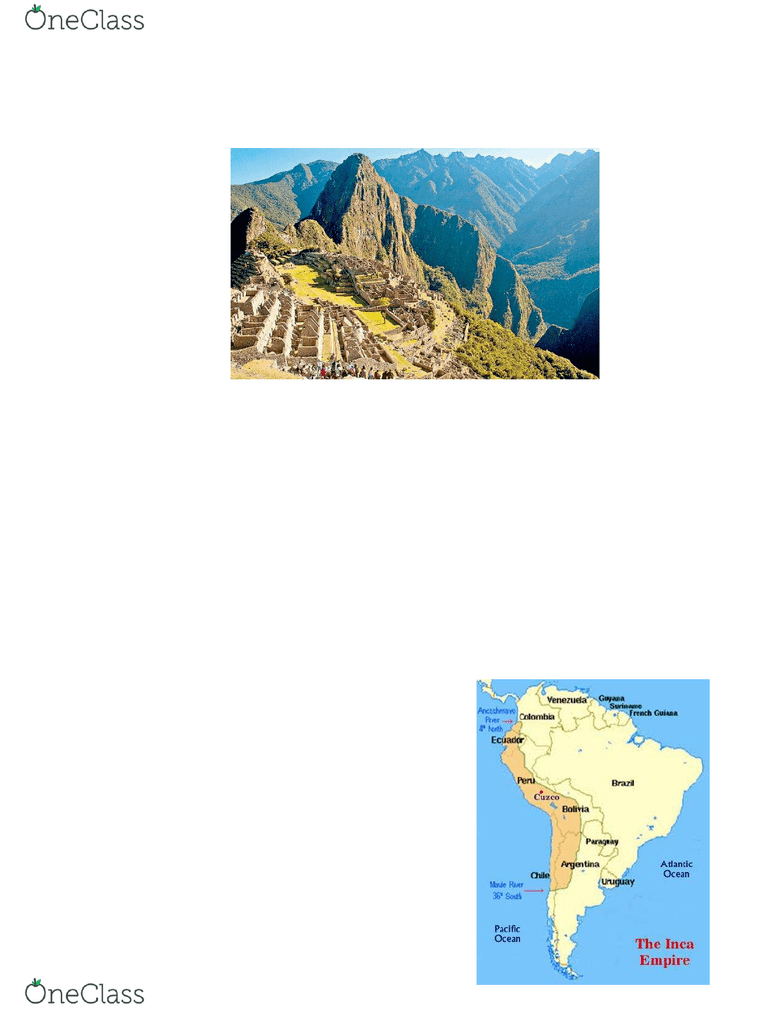 Machu Picchu
= Old Peak. (1400s Inca temple and fortress in today's Peru)
Inca
= the empire / the king
Quechua
(language) = the king ruled the kings
Andes = mountains
Colonialism
~ study of indigenous people, 1st World People's
The indigenous people are still here today; they are survivors
Colonization is not for the weak of heart. It is a painful process.
Conquest: action, Colonization: what comes afterwards
Machu Picchu
was not forgotten, but "was left for a white adventurer to discover it"
History is an action, it is agency
History is something indigenous people claim, create, and do.
We were born to make history
Conquest
are stories that Empires tell themselves
-
Who tells which story of which conquest
-
The USA tells itself a story
-
The Inca told itself a story
It's not about what the story is but how the story is told
Peru
(Colombia, Ecuador, Bolivia, Argentina, ______)
Slide Shot copy placeholder
Methods of History
a.
Time: earyly 1400s to early 1500s
b.
Inca Empire, Cuzco, ____
find more resources at oneclass.com
find more resources at oneclass.com
a.
"Vertical Archipelago" of ecological zones
b.
The Andes was a challenging place to farm
c.
Little rain, mountainous, harsh sun
d.
Exploited ecological zones = people had to farm what their land did best
e.
Also potatoes came from the Andes and they freeze dried them!
Slide Shot copy placeholder
You got fed in the Incan empire
II.
Evidence and Argument
Primary sources include Garcia De La Vega's journal: was created during this time.
Secondary Source "Heaven, Hell, and Everything in Between"
Historians tell information to relate evidence to make a claim.
The Incas were the ass kickers of the Andes.
How did the Inca Rule?
-
Recording knot system, quantities of goods, how many troops sent, food
-
If you become a part of our empire you will be fed and we have an accounting system to
back us up
-
All men had to work a given amount of days every year for the Inca empire :
M'ita Work
-
Went to work in the fields
find more resources at oneclass.com
find more resources at oneclass.com