ENGR 183EW Study Guide - Winter 2019, Comprehensive Midterm Notes - Order Of Australia, Information Age, Veterans Day
ENGR 183EW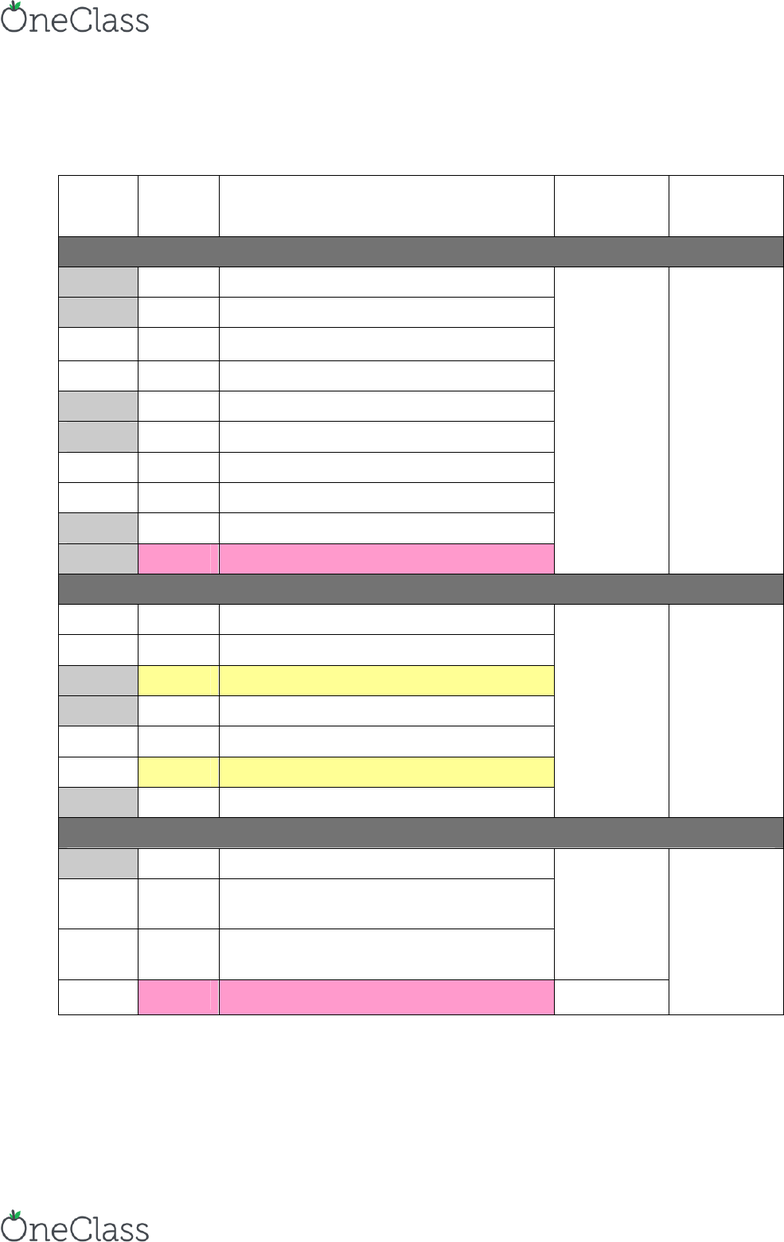 Engr 183EW Engineering and Society
Fall 2018 Lecture & Reading Schedule
Lecture
Number
Date Lecture Topic
Poel &
Royakkers
Reading
Additional
Reading
Module 1 Ethical and Societal Background
1
Oct 1
Introduction and Overview
2
Oct 3
Bases of Morals & Ethics
3
Oct 8
Ethical Philosophies
4
Oct 10
Effective Teams and Leadership
5
Oct 15
Ethical Projects & Case Studies I
6
Oct 17
The Process of Industrialization
7
Oct 22
Building the Information Age
8
Oct 24
Ethical Case Studies II
9
Oct 29
Ethical Case Studies III
Oct 31

Midterm Examination
Intro &
Chapters
G. Orwell
G. Hardin
Module 2 Societal/Technical/Ethical Issues
10
Nov 5
Population Growth and Resource Ethics
11

Nov 7

Environmental Ethics
Nov 12

Veterans' Day Holiday – No Lecture
12
Nov 14
Bioengineering Ethics
13
Nov 19
Computing Ethics I
Nov 21

Thanksgiving Eve – No Lecture
14
Nov 26
Computing Ethics II
Chapters
6-10
Module 3 Ethical Engineering Practice
15
Nov 28
Military Engineering Ethics
16
Dec 3
Ethical Decision Making & Ethical Case
Studies IV
17
Dec 5
Personal Ethics, Ethical Case Studies V and
Continued Learning
find more resources at oneclass.com
find more resources at oneclass.com
[Wk1.Mon] Introduction of Ethics for Engineers
find more resources at oneclass.com
find more resources at oneclass.com
George Orwell, "Politics and the English Language," 1946 (Abridged)
Most people who bother with the matter at all would admit that the English language is in a bad
way, but it is generally assumed that we cannot by conscious action do anything about it. Our
civilization is decadent and our language -- so the argument runs -- must inevitably share in the
general collapse. It follows that any struggle against the abuse of language is a sentimental
archaism, like preferring candles to electric light or hansom cabs to airplanes. Underneath this
lies the half-conscious belief that language is a natural growth and not an instrument which we
shape for our own purposes.
Now, it is clear that the decline of a language must ultimately have political and economic
causes: it is not due simply to the bad influence of this or that individual writer. But an effect can
become a cause, reinforcing the original cause and producing the same effect in an intensified
form, and so on indefinitely. A man may take to drink because he feels himself to be a failure,
and then fail all the more completely because he drinks. It is rather the same thing that is
happening to the English language. It becomes ugly and inaccurate because our thoughts are
foolish, but the slovenliness of our language makes it easier for us to have foolish thoughts.
The (modern) writer either has a meaning and cannot express it, or he inadvertently says
something else, or he is almost indifferent as to whether his words mean anything or not. This
mixture of vagueness and sheer incompetence is the most marked characteristic of modern
English prose, and especially of any kind of political writing. As soon as certain topics are
raised, the concrete melts into the abstract and no one seems able to think of turns of speech that
are not hackneyed: prose consists less and less of
words
chosen for the sake of their meaning,
and more and more of
phrases
tacked together like the sections of a p
r
e
fabricated henhouse.
The point is that the process is reversible. Modern English, especially written English, is full of
bad habits which spread by imitation and which can be avoided if one is willing to take the
necessary trouble. If one gets rid of these habits one can think more clearly, and to think clearly
is a necessary first step toward political regeneration: so that the fight against bad English is not
frivolous and is not the exclusive concern of professional writers. I will come back to this
presently, and I hope that by that time the meaning of what I have said here will have become
clearer. I list below, with notes and examples, various of the tricks by means of which the work
of prose construction is habitually dodged:
Dying metaphors
. A newly invented metaphor assists thought by evoking a visual image, while
on the other hand a metaphor which is technically "dead" (e.g.
iron resolution
) has in effect
reverted to being an ordinary word and can generally be used without loss of vividness. But in
between these two classes there is a huge dump of worn-out metaphors which have lost all
evocative power and are merely used because they save people the trouble of inventing phrases
for themselves. Examples are:
Ring the changes on, take up the cudgel for, toe the line, ride
roughshod over, stand shoulder to shoulder with, play into the hands of, no axe to grind, grist to
the mill, fishing in troubled waters, on the order of the day, Achilles' heel, swan song, hotbed
.
Many of these are used without knowledge of their meaning (what is a "rift," for instance?), and
incompatible metaphors are frequently mixed, a sure sign that the writer is not interested in what
find more resources at oneclass.com
find more resources at oneclass.com