RNT1 Study Guide - Fall 2019, Comprehensive Final Exam Notes - Gravity, Net Force, Acceleration
RNT1
1/20
Chapter 1
What is Physics?
Physics attempts to explain the universe and how it works by breaking it into its smallest
possible components and, given the interactions among them, deduce how the universe works at
all levels.
For us for the time being: Physics is the study of motion.
How physics (and science) is done.
The Scientific Method.
1. Observation — Newton sees an apple fall
2. Hypothesis — A force called gravity pulled the apple to the Earth
3. Prediction — Same force of gravity holds the Moon in orbit about the Earth
4. Experiment — Measure the motion of the Moon
5. Conclusion — If the prediction and the result of the experiment disagree within experimental
uncertainty then the hypothesis is rejected. If the prediction and the experimental result agree
within the uncertainty, the hypothesis is supported.
The ultimate decision as to the validity of a scientific idea is how well it predicts the results of
experiments.
Note: The scientific method as described above is an ideal. No single scientist or group of
scientists follow the method as described. However science follows the
spirit

of the scientific
method—no idea is accepted unless it is supported by experimental evidence.
International System of Units (SI)
Unit of Distance: meter
Originally: One ten-millionth of the distance from north pole to equator
Original Standard - platinum-iridium bar with two finely engraved lines one meter apart.
Current: the meter is defined so that the speed of light is
find more resources at oneclass.com
find more resources at oneclass.com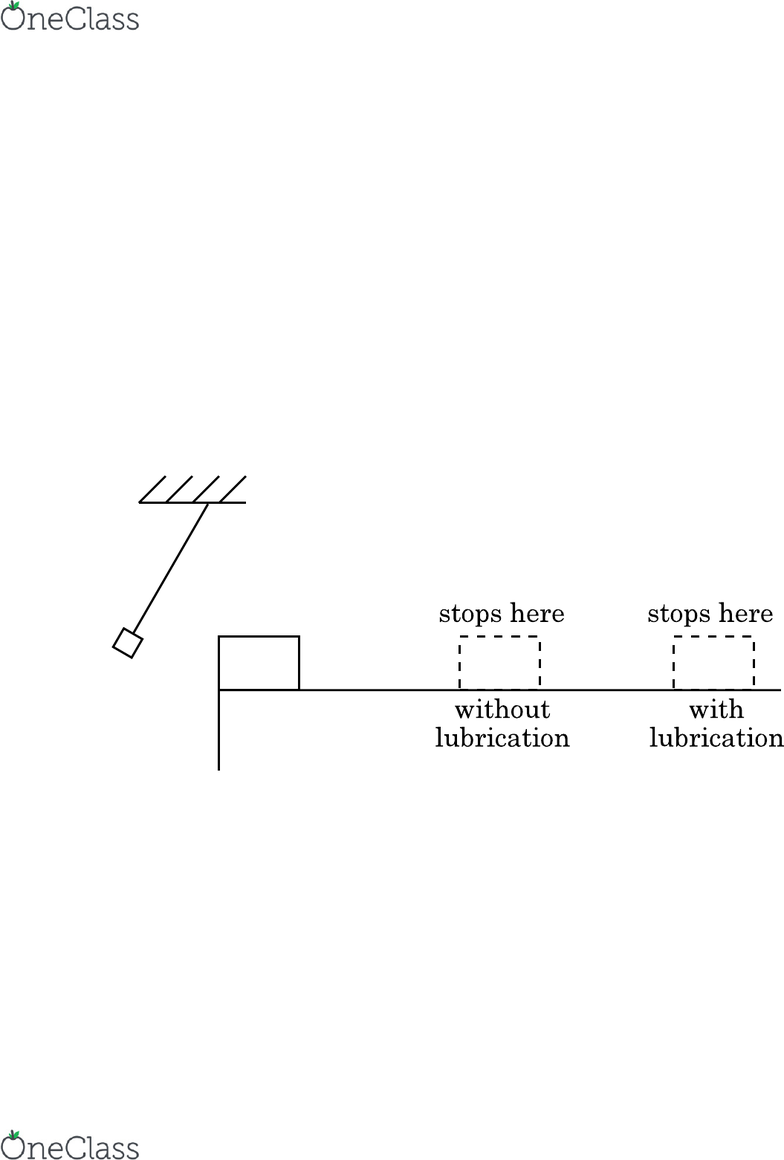 299,792, 458 m/s
Unit for Time: second
Originally based on the length of the year.
Current Standard – atomic clock — so many oscillations of cesium atoms.
Chapter 2 — Newton's First Law of Motion — Inertia
Ancient Greeks: Natural state of motion is one of rest.
Galileo tested this idea. He applied a given impetus to a block and measured how far it would
slide along a horizontal surface.
Found that a body given the same impetus would slide different distances before coming to rest
depending on how lubricated the surface was. Note: the pendulum below is used to provide the
same impetus to the block in each trial.
He concluded that a body sliding on a perfectly frictionless surface would slide at constant speed
in a straight line forever.
Galileo: Natural state of motion is constant speed in a straight line.
Why don't all bodies maintain constant speed in a straight line? Forces!
Force: A physical push or pull that can cause the motion (speed and/or direction) of a body to
change. Think of pushing or pulling a grocery cart.
Note that the word force has some different meanings in everyday life: the bank robber forces the
teller to give him money by pointing a gun at her. This is not a physics force.
A body without forces applied to it will not change its motion.
find more resources at oneclass.com
find more resources at oneclass.com