---
LIFESCI 2D03 Chapter Notes - Chapter 8: Stotting, Lasius
---
---
This preview shows pages 1-2. to view the full 6 pages of the document.
Chapter 8: Antipredator Behaviour
8.1 Animals Modify Their Behaviour To Reduce Predation Risk
1.
Cryptic Coloration:

morphological colouration that matches the colour of the
environment to reduce detection by predators.
PREY TAKE EVASIVE ACTION WHEN DETECTED
2.
When a predator initiates an attack, prey often flee in an effort to escape. This
predator-prey interaction can be very dramatic, as when a Canadian lynx chases
a showshoe hare, or when a hawk chases a squirrel.
3.
Other species cannot flee because they move slower than heir predators, and in
these cases, we see different kinds of antipredator behaviour.
1.
For example,

in the dark of an Arizona night, a fascinating behavioural
interaction occurs between big brown bat preators and their prey, tiger moths,
which fly much more slowly.
1.
Bats hunt by sound. They emit sonic pulses and find flying insects such as
moths by hearing the sonic pulses that bounce of of their prey.
2.
This sonar system is a highly effective way for bats to pinpoint the
location and size of potential prey in the dark night sky.
3.
Moths' ears can also detect the sonic pulses, so they know when bats are
hunting nearby. They then fly in a more erratic pattern in an attempt to
evade the fast-moving bat.
8.2 Many Behaviour Represent Adaptive Trade-Offs Involving
Predation Risk
4.
A world without predators would allow animals to concentrate their behaviour on
activities that maximize their fitness, perhaps by increasing time searching for
mates. In that light, the existence of predators represents a cost to animals: they
modify their behaviour to reduce the probability that they will be killed.
5.
Behavioural Trade Off:

sacrificing one activity for another.
INCREASED VIGILANCE DECREASES FEEDING TIME
6.
Vigilance Behaviour:

a behaviour in which an animal scans the environment for
predators.
7.
This head-down position usually results in a reduced visual scanning rage.
Vegetation, such as grasses or other plants, can also increase the obstruction of
an animal's scanning range.
VIGLIANCE AND PREDATION RISK IN ELK
8.
Another strategy is to move to a safe location before eating food. Lima and
colleagues hypothesized that food carrying might represent a trade-off between
feeding in safety (in a tree) and obtaining high-energy intake rates.
9.
Energy Intake Rate:

the energy acquired while feeding divided by total feeding
time.
1.
The model assumes that a squirrel's fitness increases as energy intake rate
increases and the probability of being killed decreases.
Only pages 1-2 are available for preview. Some parts have been intentionally blurred.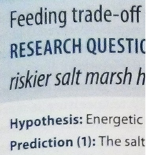 2.
It also assumes that a squirrel is at risk od being killed while one the ground
but safe while in a tree.
10.
Handling time:

the amount of time to manipulate a food item so that it is ready
to eat.
ENVIRONMENTAL CONDITIONS AND PREDATION RISK IN FORAGING
REDSHANKS
PREDATION RISK AND PATCH QUALITY IN ANTS
11.
Nonacs has studied predation risk-foraging trade-offs in Lasius, a common ant in
western North America. Much as in the study on redshanks, Nonacs asked
whether ants will trade off higher predation risk for feeding in a richer food
patch.
12.
In order to demonstrate that Lasius ants respond to the threat of predation by
Formica ants, Nonacs set up a simple experiment with Larry Dill.
13.
The researchers offered a Lasius colony two-food patches that contained identical
food. This food was solution of sugar, proteins, vitamins, and nutrients and was a
preferred ant food. The two food patches were identical distances away from a
You're Reading a Preview
Unlock to view full version
---