---
ECN 104 Chapter Notes - Chapter 13: Marginal Product, Opportunity Cost, Production Function
---
Professor
Tsogbadral Galaabaatar
---
This preview shows half of the first page. to view the full 3 pages of the document.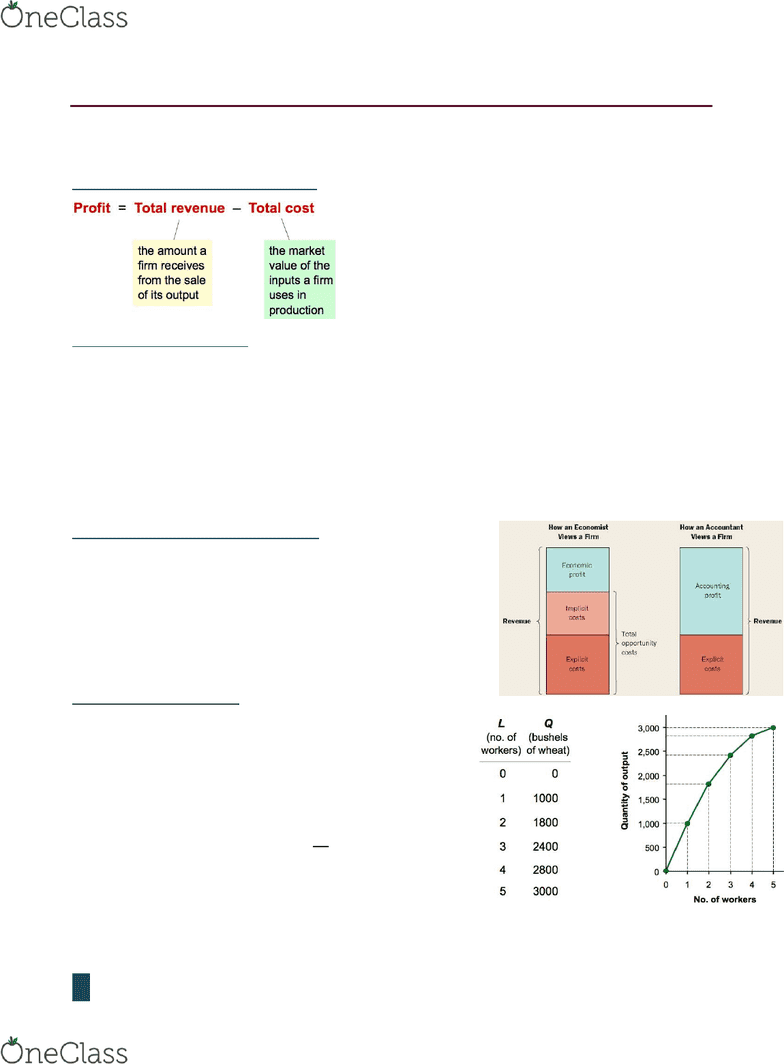 Parmida
Chapter
13
–
The Cost of Production
WHAT ARE COSTS?
Total Revenue, Total Cost and Profit
Cost as Opportunity Costs
Explicit costs
–
require an outlay of money, e.g. paying wages to workers
Implicit Costs
–
do't euie a cash outlay, e.g. the oppotuity cost of the oe's tie
You need $100,000 to start your business and the interest rate is 5%. Use 40k of your savings,
borrow the other 60k.
-
Explicit cost = 3k (5%) interest on loan
-
Implicit cost = 2k (5%) foregone interest you could have earned on your 40k
Economic Profit vs Accounting Profit
Accounting Profit
= Total revenue

–

Total explicit cost
Economic Profit
= Total revenue

–

total costs (explicit +
implicit)
PRODUCTION AND COSTS
The Production Function
-
Shows the relationship between the quantity of
inputs used to produce a good and the quantity of
output of that good
-
Can be represented by a table, equation or graph
Marginal Product
–

the increase in output arising from an
additional unit of that input
 


Diminishing marginal product
–
the MPL of an input
declines as the quantity increases
find more resources at oneclass.com
find more resources at oneclass.com
You're Reading a Preview
Unlock to view full version
---