GMS 200 Chapter Notes - Chapter 3: Most Favoured Nation, Foreign Direct Investment, Insourcing
Department
Global Management Studies
Week3
Global Dimensions of Management
Management and Globalization
-
New economy is characterized by worldwide interdependence of resource flow
-
Countries and people are interconnected in a globalized economy
-
Globalization

–

process of growing interdependence among element of the global economy
-
Global Economy

- Resource supplies, product markets and business competition are worldwide
rather than purely local or national in scope
-
International management

–

organizations with business interests in more than one country is
rapidly becoming the norm
-
This has fueled the emergence of global managers
-
Global management

involves managing operations in more than one country
-
Global Managers

are culturally aware and informed on international affairs
-
Profits

–

greater profit potential
-
Customers

–

new market to sell products
-
Suppliers

–

access to needed products/services
-
Capital

–

access to financial resources
-
Labor

–

lower labor costs
-
Market entry strategies

involve the sale of goods and services to foreign markets. Don't require
expensive investments
-
Global Sourcing

–

purchasing materials, manufacturing components, or business services around the
world
-
Importing

–

selling locally made products in foreign markets
-
Exporting

–

buying foreign made products in domestic market
-
Licensing agreement

–

foreign firms pay a fee for rights to make or sell another company's products
in a specified region
-
Franchising

–

form of licensing in which foreign firms buy the rights

to use another's name and
operating methods in home country
Dir
ect
I
nvestmen
t S
trat
egies
-
Major capital commitments, create rights of ownership/control
-
Foreign Direct Investments

–

building/buying all/part ownership of a business in another country
-
Insourcing

–

job creating though foreign direct investment
-
Joint Ventures

–

operates in a foreign country through co-ownership by foreign local partners
-
Global Strategic Alliances

–

partnership in which foreign and domestic firms share resources and
knowledge for mutual gains
-
Foreign Subsidiaries

–

local operating completely owned by foreign firm, set up by

Greenfield
I
nvestments
where an entirely new operation in a foreign country is built
Glo
b
al Busine
ss E
nvir
onmen
ts
-
Legal & Political Systems
o
Political risk

; potential loss in value of a foreign investment due to instability and political
changes in the host country (terrorism, civil war, armed conflicts)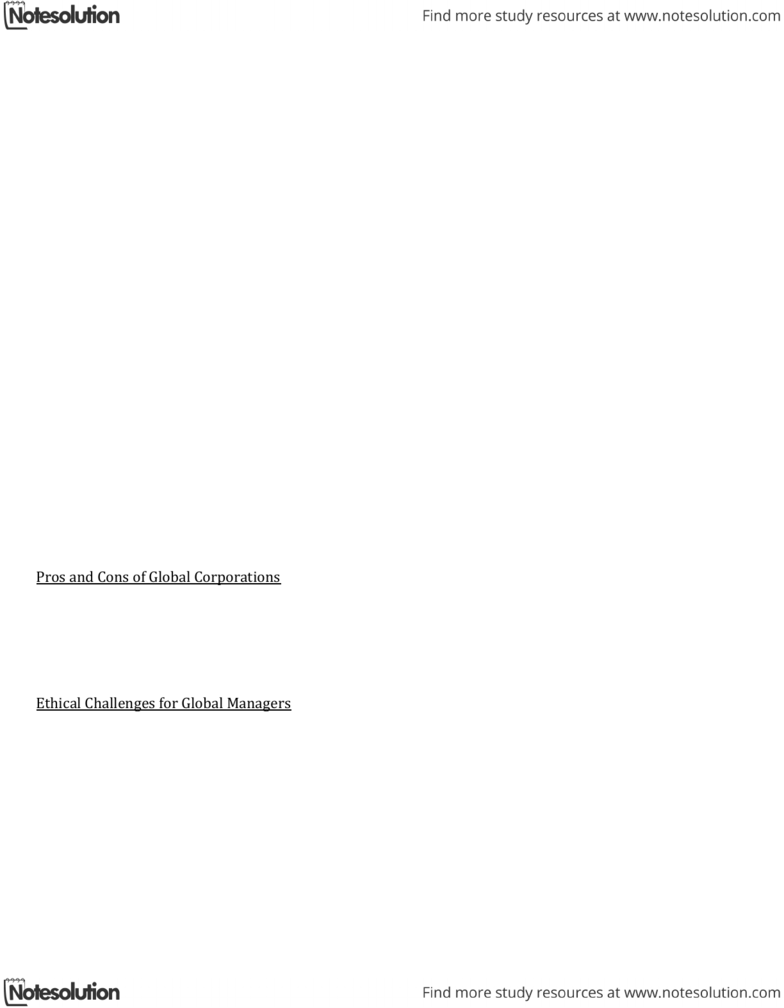 Week3
o
Political Risk Analysis

–

Tries to forecast political disruptions that can threaten the value of a
foreign investment
o
Abide by laws of the host country
-
Trade Agreements and Trade Barriers
o
World Trade Organization

–

member nations agree to negotiate and resolve disputes about
tariffs and trade restrictions
o
When businesses feel mistreated in foreign counties. Or if foreign competitors are
disadvantaging locals. WTO gets involved
o
Most favored nation status

–

gives a trading partner most favorable treatment for
imports/exports
o
Tariffs

–

taxes government imposes on imports
o
Protectionism

–

call for tariffs and favourable treatments to protect domestic firms from
foreign competition
-
Regional Economic Alliances

Greater cross-border trade, benefits to farm exports, greater productivity of
manufacturers, reform of the Mexican business environment

Disadvantage

–

loss of jobs, lower wages, lack of protection over Canadian fresh water
o
European Union

–

27 countries support mutual econ growth
o
APEC (asia pacific economic cooperation)
Global Businesses
-
Global Corporations, or MNCs, are multinational businesses with extensive operations in more than
one foreign country
-
Transnational Corporations

–

MNCs that operate worldwide (borderless)
Pro
s an
d
C
ons of
Glo
b
al
C
or
p
or
at
ions
-
Mutual benefits

for host and MNC; shared growth, income, learning and development opportunities
-
Host country complaints

about MNC; excessive profits, domination of local economy, interference
with local gov, hiring the best of local talent, limited technology transfer, disrespect for local customs
-
MNC complaints

about host; profit limitation, overpriced resources, exploitative rules, foreign
exchange restrictions, failure to uphold contracts
E
thica
l C
hallenges fo
r
G
loba
l M
an
ager
s
-
Corruption

–

illegal practices that further one's business

interests
-
Sweatshops

–

employing workers at low wages for long hours an in poor working conditions
-
Child labor

–

full time employment of children for work otherwise done by adults
-
Sustainable development

- meeting current needs without compromising future needs
Culture and Global Diversity
-
Culture

–

shared set of beliefs/values/patterns of behavior common to a group of people
-
Culture Shock

- confusion ad discomfort a person experiences when in an unfamiliar culture
-
Ethnocentrism

–

tendency to consider on

e's culture superior to others
-
Cultural Intelligence

- Ability to accept and adapt to new cultures
S
ilen
t L
a
ngu
ages of
C
ult
ur
e
-
Capacities to listen, observe, and learn
o
Low-context cultures

; emphasize communication via spoken/written word
o
High-context cultures

; rely on nonverbal and situational cues as well as on spoken or written
works in communication
o
Monochronic

; people tend to do things one thing at a time
o
Polychronic

; time is used to accomplish many different things at once
o
Proxemics

; how people use space to communicate
V
alues a
nd
Nat
iona
l C
ul
tur
es
-
Hofstede's Cultural Dimensions
1.
Power Distance

–

The degree to which society accepts unequal distribution to power
2.
Individualism/Collectivism

–

degree to which a society emphasizes individual and their self-
interests vs. collective accomplishments and the interests of groups
3.
Uncertainty Avoidance

–

degrees to which a society tolerates risk and uncertainty
4.
Masculinity/Femininity

–

degree to which society values assertiveness and materialism
5.
Time Orientation

–

degree to which society emphasizes short-term or long-term goals
Geocentric:
value talent and best practices from all over the world
Document Summary
New economy is characterized by worldwide interdependence of resource flow. Countries and people are interconnected in a globalized economy. Globalization process of growing interdependence among element of the global economy. Global economy- resource supplies, product markets and business competition are worldwide rather than purely local or national in scope. International management organizations with business interests in more than one country is rapidly becoming the norm. This has fueled the emergence of global managers. Global management involves managing operations in more than one country. Global managers are culturally aware and informed on international affairs. Customers new market to sell products. Market entry strategies involve the sale of goods and services to foreign markets. Global sourcing purchasing materials, manufacturing components, or business services around the world. Importing selling locally made products in foreign markets. Exporting buying foreign made products in domestic market. Licensing agreement foreign firms pay a fee for rights to make or sell another company"s products in a specified region.