---
BUS 272 Chapter Notes - Chapter 8: Organizational Commitment, Hierarchical Organization, Job Satisfaction
---
Department
Business Administration
---
This preview shows pages 1-2. to view the full 8 pages of the document.
272 CH8 POWZER AND POLITICS
Definition of power
-
Refers to a capacity that A has to influence the behavior of B, so that B acts in
aodae ith As ishes
-
Power makes people uncomfortable, but it also has positive influence within
-
Power satisfies the thirst for choice and choice quenches the desire for power because
each replenishes a sense of control
Bases of power
Formal power
-
Based o a idiiduals positio

in an organization
-
Power that is based on fear
-
Eg A has coercive power over B if A can dismiss, suspend, or demote B
-
People in an organization who has

data or knowledge

others need can make others
dependent on them
-
Power that achieves compliance based on the ability to distribute rewards that other
view as valuable
-
Eg financial or

non-financial

, eg recognition, promotions, interesting work assignments
-
Power that a person receives as a result of his position in the

formal hierarchy

of an
organization
-
People will obey those who appear to have legitimate authority, even in questionable
circumstances
Personal power
-
Coes fo a idiiduals uiue haateistis
-
The influence based on expertise, special skills or knowledge
-
Become a powerful source nowadays as the world become more technologically
-
Influence based on possession by an individual of

desirable resources

or

personal traits
-
Develops out of admiration of another and a desire to be like that person
find more resources at oneclass.com
find more resources at oneclass.com
Only pages 1-2 are available for preview. Some parts have been intentionally blurred.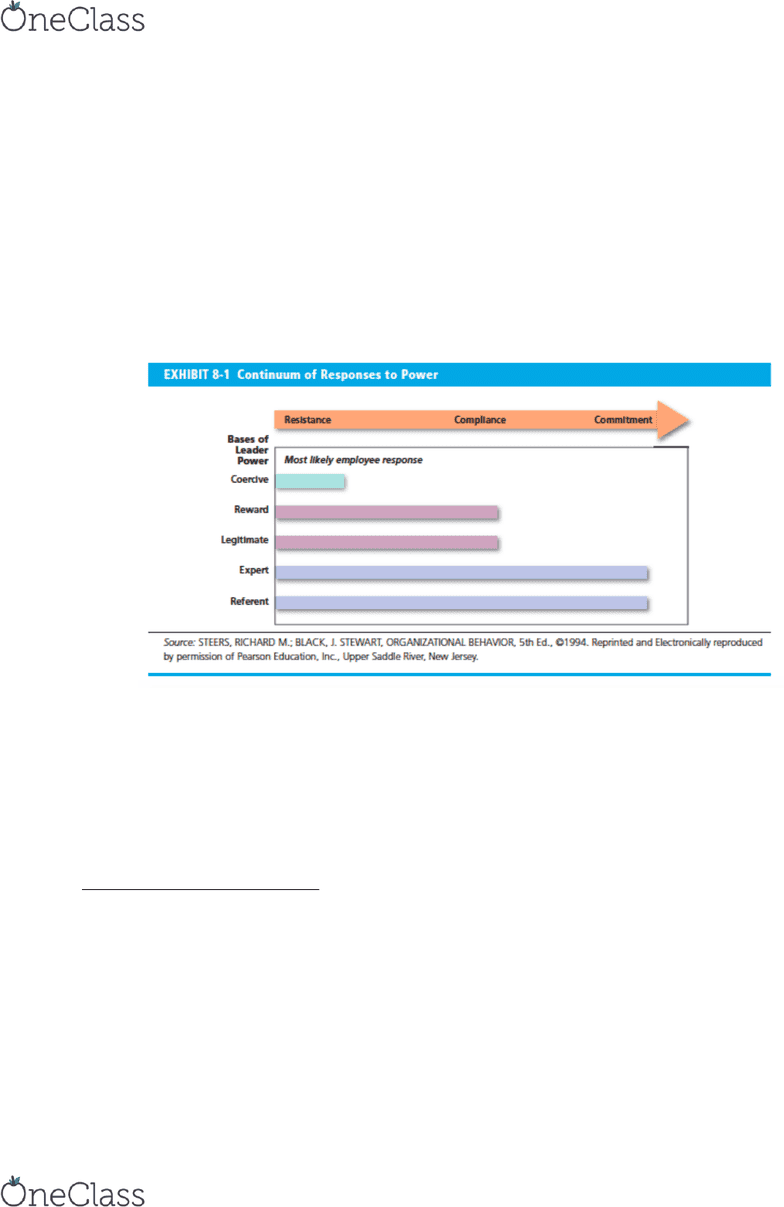 Responses to the bases of power
Response to the base of power:
-
Commitment:

the person is enthusiastic about the request, and shows initiative and
persistence in carrying it out
-
Compliance:
the person goes along with the request grudgingly, puts in minimal effort,
and takes little initiative in carrying out the request
-
Resistance:
the person is opposed to the request and tries to avoid it with such tactics
as refusing, stalling, or arguing about it
-
Coercive power



resistance and increased mistrust



affect employee satisfaction
-
Reward power



compliance if the rewards are consistent with what individuals want
-
Legitimate power



compliance, but not result increased commitment
-
Expert and referent powers



commitment



employee satisfaction and
organizational commitment

performance
-
Most often used

: coercive, reward and legitimate (but least effective)
Dependency: the key to power
-
Dependence: Bs elatioship to A when A possess something that B requires
-
The greater Bs depedee o A, the greater the power A has o B
-
who eeds who?

(the person who has most need is the one most dependent on the
-
Eg within large organizations, the

IT group

often has considerable power, because
everyone (even CEO) is dependent on their technical expertise
-
Dependence

is inversely proportional to the

alternative sources of supply

(eg in the
iles of the supe ih, oey doest esult i poe
find more resources at oneclass.com
find more resources at oneclass.com
You're Reading a Preview
Unlock to view full version
Only pages 1-2 are available for preview. Some parts have been intentionally blurred.
-
To create power, the thing you control must be perceived as important
-
Varies among organizations and over time
-
a resource must be perceived as scarce to create dependence
-
eg how low-ranking employee gain power if they have important knowledge not
available to high-ranking employees
;
eg the bargaining power of finance faculty allows them to negotiate higher salaries
because the market for finance professors is tight
-
The fewer substitutes there are for a resource, the more power comes form control
over that resource
-
Eg when a union goes on strike and management is not permitted to replace the striking
eployees, the uio has osideale otol oe the ogaizatios aility to ay
out its tasks
Influence tactics
-
Operates up, down, and across the organizational hierarchy
-
soft (personal sources of power)/ Hard (position power
1.
Rational persuasion

:

using facts and data to make a logical or rational presentation of
2.
Inspirational appeals: appealing to values, ideals, and goals when making a request
3.
Personal appeals:

appealing to loyalty and friendship when making something
4.
Consultation:

gettig othe ioled to suppot oes ojeties
5.
Ingratiation:

using flattery, creating goodwill, and being friendly prior to making a
request
6.
Legitimacy:

claiming the authority or right to make a request, or showing that it
supports organizational goals or politics
7.
Pressure:

using demands, threats, and reminders to get someone to do something
8.
Coalitions:

getting the support of other people to provide backing when making a
request
9.
Exchange:

offering favors or benefits in exchange for support
-
Rational persuasion, inspirational appeals, and consultation

are the

most effective

;
pressure
is the
least effective
-
You can also use

2 or more tactics together

to increase your chance of success
Factors that affect the effectiveness of influence tactics
find more resources at oneclass.com
find more resources at oneclass.com
You're Reading a Preview
Unlock to view full version
---