---
PSYC 102 Chapter Notes - Chapter 9: Language Development, Behaviorism, Validity
---
---
This preview shows pages 1-2. to view the full 8 pages of the document.
Chapter 9 Summary:
language
: A system for communicating with others using signals that are combined
according to rules of grammar and convey meaning.
grammar
: A set of rules that specify how the units of language can be combined to produce
meaningful messages.
Complexity of human language differs from other animal
signalling systems in 3 ways:

Humans express a wide range of ideas and concepts,
generate infinite novel sentences

Words describe intangible things like democracy or unicorn

Language used to name, categorize, and describe things to
ourselves when we think, influencing how knowledge is
organized in the brain.
phoneme
: The smallest unit of sound that is recognizable as speech rather than as random
noise.
phonological rules
: A set of rules that indicate how phonemes can be combined to produce
speech sounds.
morphemes
: The smallest meaningful units of language.
Languages share a basic structure involving a set of sounds
and rules for combining those sounds to produce meanings.
Only pages 1-2 are available for preview. Some parts have been intentionally blurred.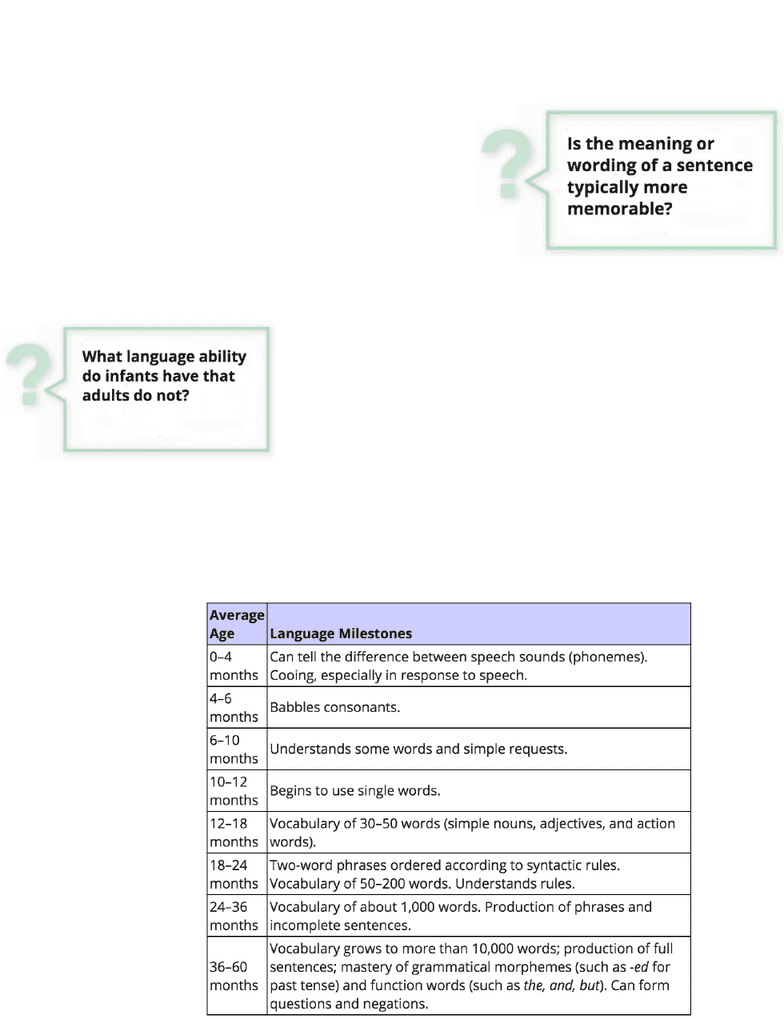 morphological rules
: A set of rules that indicate how morphemes can be combined to form
words.
syntactical rules
: A set of rules that indicate how words can be combined to form phrases
and sentences.
deep structure
: The meaning of a sentence.
surface structure
: How a sentence is worded.
After the deep structure is extracted, the surface
structure is usually forgotten. In one-study Participants
frequently confused sentences they heard with sentences
that had the same deep structure but a different surface
structure.
At birth, infants can distinguish among all of the contrasting
sounds that occur in all human languages. Within the first 6
months of life, they lose this ability, and, like their parents, can
only distinguish among the contrasting sounds in the language
they hear being spoken around them.
fast mapping
: The fact that children can map a word onto an underlying concept after only a
single exposure.
telegraphic speech
: Speech that is devoid of function morphemes and consists mostly of
content words.
You're Reading a Preview
Unlock to view full version
Only pages 1-2 are available for preview. Some parts have been intentionally blurred.
Yet despite the absence of function words, such as prepositions
or articles, these two-word sentences tend to be grammatical;
the words are ordered in a manner consistent with the
syntactical rules of the language children are learning to
speak.
Children make errors by overgeneralizing grammar rules while
they age, saying things such as "you eated" which is unlikely they
heard before
Theories of Language development:

behaviorist, nativist, and interactionist.
Behaviourist:

According to B. F. Skinner's behaviorist explanation of language learning, we learn to
talk in the same way we learn any other skill: through reinforcement, shaping,
extinction, and the other basic principles of operant conditioning

Vocalizations that are not reinforced gradually diminished however when an
infant makes a sound similar to 'Da-da" it is likely to be received with praise and
attention

This account is attractive because it offers simple account of learning

Parents don't spend time teaching grammar

Children generate more sentences then they've ever heard, showing
the ability to learn how to generate grammatical sentences,
instead of hearing surface structure, reinforced and imitated.

Children overgeneralize: behaviorist explanation would not predict
these overgeneralizations if children were learning through trial
and error or imitation.
Nativist:
nativist theory
: The view that language development is best explained as an innate,
biological capacity.
language acquisition device (LAD)
: A collection of processes that facilitate language
learning.

Noam Chomsky in reply to behaviorists

Language processes naturally emerge as the infant matures, provided the infant
receives adequate input to maintain the acquisition process.
genetic dysphasia
: A syndrome characterized by an inability to learn the grammatical
structure of language despite having otherwise normal intelligence.

Language can be acquired in restricted periods of development.

Criticized as skips 'how' language develops, only explains why
Interactionist
You're Reading a Preview
Unlock to view full version
---