---
BIOL 361 Chapter Notes - Chapter 3: Axon Hillock, Resting Potential, Axon Terminal
---
Professor
James( Jim) Cooke
---
This preview shows page 1. to view the full 5 pages of the document.
Week 3: Textbook Notes
Structural Diversity of Neurons pp. 157-157 and 180-183
Excitable cells:
can rapidly alter their membrane
potential by altering distribution of ions across the
membrane. They use the resulting changes in the
membrane potential as communication signals.

best-
known excitable cells: neurons
Neurons:
cells that are specialized to carry electrical
signals, often across long distances.
Motor Neuron:
neurons that communicate from central
nervous system to muscles.
•
Divided into four functional zones involved in (1)
signal reception, (2) integration, (3) conduction,
and (4) transmission

there are 4 functional
zones.
Dendrites (1):
fine, branching extensions of the neuron,
originating at the cell body; contains receptors and are
responsible for sensing incoming signals

converting
these signals to electrical signal in the form of a change in
membrane potential

transmitting the signal to the cell
body.
•
Mitochondria also found in dendrites (and axon
terminal)
Cell body or soma (1):
contains the nucleus and protein
synthetic machinery of the cell and most of the organelles.
•
Plasma membrane of cell body contains receptors
that can detect incoming signals.
Axon hillock (2):
located at the junction of the cell body
and the axon. Incoming signals from dendrites and the cell
body are conducted to the axon hillock.
•
If signal at axon hillock is sufficiently large


action potential
is initiated (action potential
occurs in axon, which is a long slender extension
leading off cell body at axon hillock.)
Axon (3):
specialized for signal conduction; each neuron
has a single axon but the axon may branch off into several
collaterals.
Myelin sheath:
vertebrate motor neurons are wrapped in
myelin sheath that will increase the speed of conduction
of electrical impulses to the axon terminals.
Axon terminals (4):
specialized for signal transmission to
target cells. End of axon branches to form multiple axon
terminals, which will form a synapse with the target cell.
•
Axon terminal of motor neuron, electrical signal
is transduced into chemical signal in the form of a
chemical neurotransmitter

neurotransmitter
diffuses across synapse and binds to specifi
c
receptors on muscle cell membrane

initiates
signal in muscle cell

muscle contracts
Resting membrane potential:
voltage difference across
cell membranes when the cell is not sending an electrical
•
Most neurons = -70 mV (inside of cell membrane
is more negative than outside).
Two factors required to establish potential difference
across membrane: (1)
concentration gradient

for an ion
and (2) a
membrane

that is permeable to that ion.
find more resources at oneclass.com
find more resources at oneclass.com
You're Reading a Preview
Unlock to view full version
Only page 1 are available for preview. Some parts have been intentionally blurred.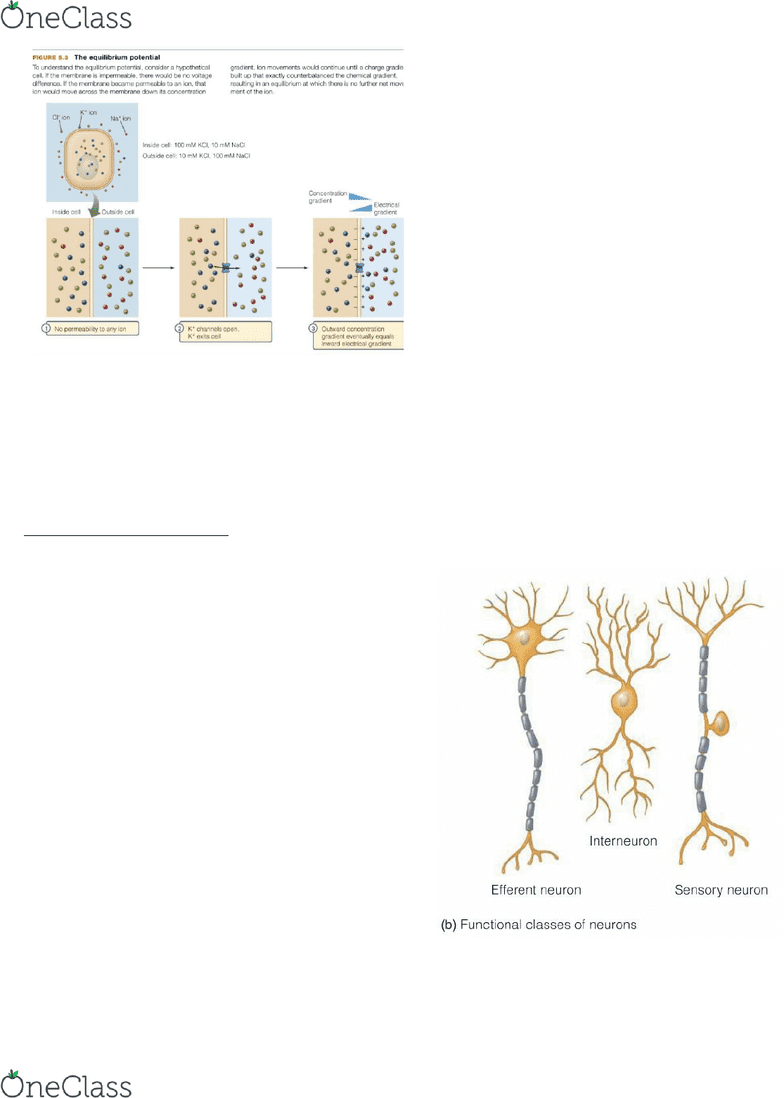 Interior of the cell contains 100 mM KCl and 10 mM
NaCl, exterior of the cell contains 100 mM NaCl and 10
mM KCl.
•
[] gradient for K+ (100 mM inside, 10 mM
outside) favours outward
•
[] gradient for Na+ (10 mM inside, 100 mM
outside) favours inward
•
no gradient for Cl-, 110 mM inside and out
Scenario: Insert K+ channel only
[] gradient will cause K+ to move out of the cell

creating local region of electronegativity on the inner face
of the membrane where K+ left

creating local region of
electropositivity on the outer face of the membrane where
K+ now appears
Excess negative charge inside generates electrical force to
draw positive charges back into the cell.
More K+ leaves the cell, electrical force gradually
increases until it balances the driving force from the K+ []
gradient.
K+ ions will continue to move across the membrane, but
inward and outward fluxes balance out.
Potential difference across membrane under equilibrium
conditions =
equilibrium potential

for that ion.
Neurons perform three distinct functions: (1) receive and
integrate incoming signals, (2) conduct these signals
through the cell, (3) transmit these signals to other cells
Different neurons can detect many kinds of incoming
signals in addition to chemical signals (neurotransmitters)
•
temperature, pressure, light, or environmental
chemicals
Mechanisms that neurons use to detect these different
signals are diverse, but one thing is the same: membrane-
bound receptors in the dendrites of the sensory neuron
receive the signal (regardless of what kind of signal) and
transduce it into an electrical signal in the form of a
change in the membrane potential.
Structure of a neuron relates to the function of that
particular neuron.
•
Neurons w/i mammalian brain typically have
large numbers of dendrites but may lack an
obvious axon (specialized for integrating
enormous number of incoming signals from other
neurons) whereas dendrites and axon of motor
neuron can be easily distinguished because the
axon is much longer than the dendrites
(specialized for rapid, long distance electrical
signalling)
Neurons can be divided into one of three classes:
•
Sensory (afferent) neurons:

convey sensory
information from the body to the CNS (which
consists of the brain and spinal cord)
•
Interneurons:

located within CNS and convey
signals from one neuron to another.
•
Efferent neurons:

convey signals from the CNS
to effector or organs.

motor neurons are
efferent neurons; the effector is always a skeletal
muscle for a motor neuron.
Substantial diversity in the structure of neurons, but most
of this diversity falls within one of three major structural
types:
•
Multipolar neurons:

have many cellular
extensions (or processes) that originate at the cell
find more resources at oneclass.com
find more resources at oneclass.com
You're Reading a Preview
Unlock to view full version
---