---
BIOB11H3 Chapter Notes - Chapter 11: Riboflavin, Frameshift Mutation, Leucine
---
Department
Biological Sciences
---
This preview shows pages 1-3. to view the full 11 pages of the document.
Chapter 11
–
Gene
Expression: From Transcription to Translation
11.1 The Relationship Between Genes and Proteins
- Archibald Garrod
–
1908: People have rare inherited disease caused by enzymes
–
alcaptonuria

(disease b/c urine
becomes dark when exposed to air)
Patients lacked enzymes in blood that oxidizes homogentistic acid
–
compound from breaking down a.a
(ohenlyalanine and tyrosine)
- George Beadle and Edward Tatum
–
1040:
NEUROPORA

–

Bread mould that forms in normal simple medium
(organic C-sour e, inorganic salts and biotin)
Some organisms should be sensitive to
enzymatic deficiencies
Irradiate mold spores and screen them for
mutation
–
tested for ability to grow in
minimal medium
2 cells unable to grow on minimal medium:
1
needed vitamin B6/pyridoxine and other
needed B1/thiamine
Gene carries information for construction
on particular enzyme
–
enzymes
composed of >1 polypeptide chain (each
encoded w/ own gene) =
"one gene
- one
- What is the molecular nature of the defect
in a protein cause by a genetic mutation
Mutation causing sickle cell anaemia
–
Hemoglobin (4 polypeptides)
Cleave preparation in normal and sickle cell
Analyzed peptide fragments by paper
chromatography
Of 30, 1 migrated differently in 2
preparation
–
substitution of valine
Overview of the Flow of Information through
the Cell
-
Messenger mRNA/ - Intermediate b/w gene and
polypeptide
Discovered by Francoise Jacob and Jacque Monod
Assemble d as complementary copy of 1 DNA
strand
- Transcription: Synthesis fo RNA

DNA
-
Used to allow cell to separate information storage
form information utilization
–
info imparted t
o
smaller mobile nucleic acid to cytoplasm
In cytoplasm
–
mRNA serves as template to
incorporate a.a to nucleotide sequence
- Also used to greatly amplify synthetic output
- Translation: Protein synthesis in cytoplasm
Requires participation of many components
–
RIBOSOMES
Ribosomes are nonspecific components of
translation machinery
–
can be programmed to translate information
- Ribosomal RNA/rRNA: Ribosomes with both proteins and RNA, each transcribed from 1 of DNA strands
Provide structural support and catalyze chemic rxn
- Transfer RNA/tRNA: Translate information
in mRNA to amino acid "alphabet"
Only pages 1-3 are available for preview. Some parts have been intentionally blurred.
-
RN
A gold to c
om
plex 3-D shape
RNA folding driven by formation of regions having
complementary ba se pairs
Ba
se-paired regions form double-stranded/helical
"stems" –
connected to signle0stranded loops
RNA contain nonstandard base pairs and modified
N-bases
- RNA important in cellular metabolism:
small
nuclear RNA/snRNA
,

small nucleolar
RNA/snoRNA, small interfering RNA/siRNA,
microRNA/miRNA
11.2 An Overview of Transcription
in Both Prokaryotic and
Eukaryotic Cells
- Transcription
–
DNA strand
provides info for synthesis of RNA
strand
polymerase/RNA Polymerase;
Responsible for transcription in
prokaryotes + eukaryotes
- Template
–
Strand RNA sequence complementary to 1 DNA strand
- RNA Synthesis:
1. Association of polymerase with DNA template
DNA site where RNA polymerase binds to is
promoter
Additional proteins called
transcription factors

–

Help RNA polymerase
RNA polymerase move in 3
1

5
1
direction

DNA unwinds, assembles
RNA
n
+ NTP



RNA

n

+ PP

I

;

NTP = Ribonucleoside trisphosphate substrates

–
2
nd
reaction

–
PP
I

NP

I
; catalyzed by pyrophosphatase, hydrolyze to inorganic
phosphate to make energy
2. Incorporate
complementary nucleotides in NRNA chain, only if able to for

m
proper base pair
3. When polymerase move past certain part of DNA

double helix reforms, RNA
chain doesn't associated w/ template as DNA
-RNA hybrid
4. RNA polymerase needs to remain attached over long stretches of template
(processive) but loose enough so it can move form nucleotide to the next
Transcription in Bacteria
- Bacteria have 1 type of RNA polymerase (5 subunits to make
core enzymes

)
- RNA polymerase formed by purified polymerase
- If purified accessory polypeptide called
sigma factors

added to RNA polymerase,
transcription begins at selected locations
–
increases enzymes affinity for
promoter sites
- Enzymes separates to 2 DNA strands
- Strand separation makes template strand
- Once 10-12 nucleotides incorporated, enzymes undergoes
major change in conformation and transformed to
transcriptional elongation complex
- Bacterial promotes at region of DNA before imitation site of
RNA synthesis
- Upstream
–
Portions before initiation site (to 3
1

); Downstream
portions succeed it (to 5
1
)
Only pages 1-3 are available for preview. Some parts have been intentionally blurred.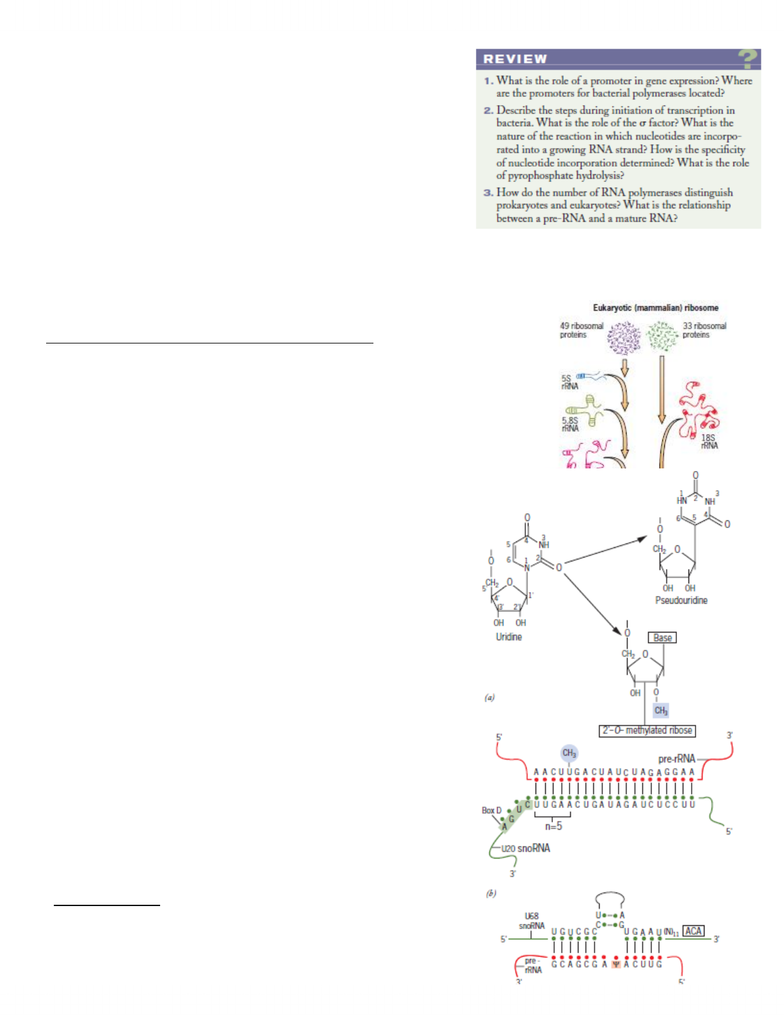 -
Consensus Sequence: TTGACA SEQUENCE (-35 ELEMENT)

;

most
common version of conserved sequence
- Ring-shaped protein called
rho
terminates bacterial transcription
Transcription and RNA processing in Eukaryotic Cells
- Robert Roedler
–
1969: Eukaryotic cells have 3 distinct
transcribing enzymes
- Understanding of transcription in eukaryotes advanced by
X-ray
crystallographic structure of Yeast RNA polymerase II
- Difference in prokaryotes and eukaryotes is
transcription factors
–
role in every aspect of transcription
- All major types of eukaryotic RNA are derived from
precursor RNA molecules
- Initial precursor RNA is primary transcript/pre-RNA
-
Corresponding segment where pre-DNA transcribed

is

transcription
unit
11.3 Synthesis and Processing of Messenger RNAs
- DNA sequences are repeated 100s of times
–
rDNA
clusters in 1-few
regions of genome
- Cluster or rDNA = nucleoli/nucleolus that produce ribosomes
- Nucleolus made of nascent ribosomal subunits
Synthesizing the RNA Precursor
- In amphibian oocytes, amount of rDNA in cell greatly increased like number
of nucleoli
–
provide large # of ribosomes to for egg to begin
embryonic development
- Development of techniques by Oscar Miller Jr.
: "Gene
s in action:
1. Numerous genes for rRNA situated one after another along DNA
molecule = tandem arrangement
2. Each fibril coming from DNA as a branch is nascent rRNA
transcript
3. Nascent RNA transcripts contain associated particles
–
consist
of
RNA and protein to covert rRNA

rRNA
4. Region of ribosomal gene cluster is not transcribed
–
non-
transcribed space, prestin in repeated genes
Processing the rRNA Precursor
- Have 4 distinct ribosomal
RNA:" 3 large (28S 5.8S, 5.S RNA
molecule) and 1 small (18S)
- 28S, 18S and 5.8S are carved by various nucleases from single
primary transcript (pre-rRNA)
- 5S synthesized from separate RNA precursor outside nucleolus
- Pre-rRNA made form e nucleotides and pseudouridine residues
methylated (not sure what these groups do
–
may protect parts
from cleavage, promote folding?)
- Modifications after nucleotides are incorporated to RNA =
posttranscriptional
- Synthesis can be flowed by incubating cells in methioinine
(radioactively labelled) to make most cells a methyl group donor
–
transferred from methionine to nucleotides in pre-RNA
- Role of snoRNAs:
small, nucleolar RNA/snoRNA: packed w/
particular proteins to form particles called snoRNPS (small,
nucleolar ribonucleoproteins)
You're Reading a Preview
Unlock to view full version
---