For unlimited access to Textbook Notes, a Class+ subscription is required.

Cancer is a disease in which uncontrolled division

of cells occur

due to
mutation in
cell and

this individual mutant clone of cells grows and evolve at
the expense of its neighboring cells destroying the entire cellular society.

Cancer cells have

two

distinctive features:

The

have the ability to bypass the cellular systems that control the
division and growth of the cell

They have the ability to invade other tissues and spread through out

A cell that grows and undergo uncontrolled rounds of division (proliferates)
give rise to neoplasm or
tumor.

A tumor which does not invade other tissues and is confined to one site is

A tumor that has the ability to invade the surround

ing tissues is termed

True cancer

is malignant.

Malignant tumors invade blood or lymphatic vessels and form secondary
tumors at other sites in the body. Thi
s process is called metastases.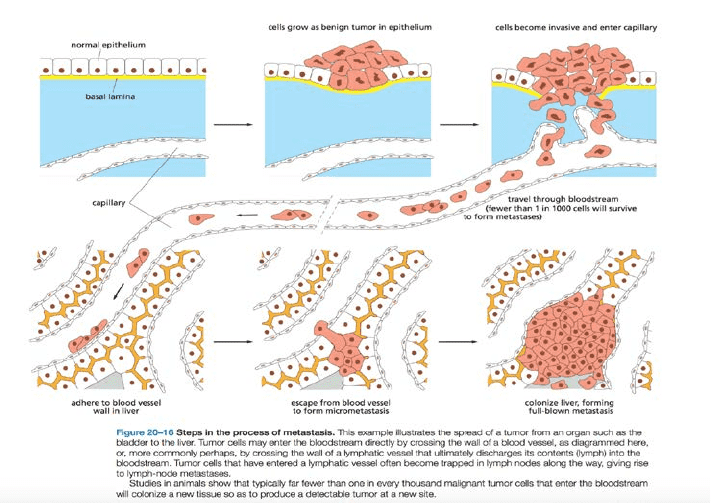 
Cancer
is classified on the basis of tissue a

nd

cell type in which it arises.

About

80%
cancers arise from epithelial cells, they are termed as

Cancer of connective tissue and muscles is called sarcomas.

Cancer of cells of nervous and white blood cells are characterized as
lymphoma
and
leuk

emia
, respectively

.

A

benign
epithelial tumor with glandular organizations termed as

adenoma
while its malignant form is termed
adenocarcinoma

Chondroma
is a benign tumor of cartilage.

Molecular analysis

of tumor chromosome can help trace the origin site of
cancer termed the
primary tumor

.

Translocation between the long arms of chromosome 9 and 22 is termed
Philadelphia chromosome
and is the distinguishing feature of white blood

Most
cancer cells contain

mutations in

somatic cells

and not in the germ

Cancer is a genetic disease as s

omatic mutations alter the DNA sequence
of the cell and passes this mutation to its progeny.

The generation of cancer is called carcinogenesis and is directly linked

to
production of change in DNA, which is termed
mutagenesis.

A compound that causes cancer is called carcinogen.

Two critical external carcinogens are:

Chemical carcinogen

which cause local change on nucleotide

Radiations
:
X rays and UV rays.

X rays cause chromosomal breaks

and translocations.

Ultraviolet
rays alter a specific nucleotide base

.

Xeroderma pigmentosum,

a cancer of skin is caused by UV light

damage

In humans, every single gene may undergo mutations on about 1010

different
occasions due to limitations in the accuracy of cell division and repair

A

sing

le

mutation is not enough to turns a cell into cancerous cells.

Development of a cancer requires a significant number of

independent

,
rare
genetic and epigenetic accidents

to

occur in the lineage that originate

The gradual accumulation of mutations in different genes that gradually
changes an initial mild disorder of cell into a vigorous cancer, is termed

At each stage of tumor progression, the cancer cell requires

a mutation or
epigenetic change that can give the growing tumor a selective advantage
over the body cells a well as the sub clones of cancerous cells. This process
is called
natural section and provides a genetic diversity to cancer.

Cancer cells accumulate genetic changes

at an abnormally high rate and
are said to be genetically unstable.