Chapter all: Cell Chemistry
For unlimited access to Textbook Notes, a Class+ subscription is required.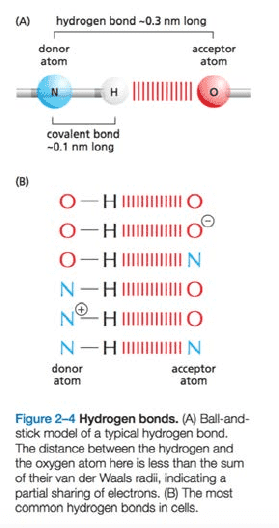 2.
CELL CHEMISTRY AND BIOENERGETICS
•
Carbon, hydrogen, nitrogen and oxygen

constitute about 96.5 % of an
•
Cells, which are the basic unit of life, are composed of 70% water

.
•
The atoms of the elements are help together by

covalent bonds

,

which are
about 100 times stronger than the thermal energies present within the cell.
•
Two different molecules are held together

by weak bonds termed as
•
The
attraction
between a positively charged region

of one water molecule
(one of its H atoms) approaches a negatively charged region (the O) of a
second water molecule,
results
information of a hydrogen bond.
•
Hydrogen bond is a special form of polar interaction

in which an
electropositive hydrogen atom is
shared by two electronegative atoms.
•
Hydrogen bonds are much

weaker

than covalent bonds and are easily
broken by the random thermal motions that reflect the heat energy of the
•
Many h

ydrogen
bonds that link water molecules together, make water

liquid
at room temperature, with a high boiling point and high surface tension,
•
Molecules that carry charge interact favorably with water and are considered
as water loving. Such molecules are
termed
hydrophilic.

They include
sugars, DNA, RNA, and most proteins.
•
Molecules that are uncharged form few or no hydrogen bonds, and so do
not dissolve in water. They are termed hydrophobic. Hydrocarbons are an
•
There are four types of non-

covalent attractions

that help bring molecules
together in c
ells
. They are

Ionic bonds (Electrostatic attractions)

van der Waals attractions
•
H+ (proton) can easily dissociate from its original water molecule and
as
sociate with the oxygen atom of another water molecule, generating a
hydronium ion
(H

3

O

+

)
and hydroxyl ion.
•
The concentration of H3O+

is expressed using a logarithmic scale called the
•
Pure water has a pH of 7.0 and is said to be neutral.

It is neither acidic (pH
•
Weak acids and bases

release or take up protons near pH 7, keeping the
environment of the cell relatively constant under a variety of conditions.
Such
solutions are called
buffers.
•
The backbone of cell is

organic

as it is mainly made of carbon compounds.
•
There are

four

major families of small organic molecules in the cell. They

amino acids (Figure 2

–6

)
•
T

he most abundant carbon containing molecules in the living cells are
termed as
the macromolecules.
•
The
macromolecules
in cells are polymers that are constructed by
covalently linking small organic molecules called
monomers
, into long