---
PSY328H1 Chapter Notes - Chapter 9: Killing Of Tim Mclean, Pro Se Legal Representation In The United States, Mental Disorder
Premium
---
---
This preview shows pages 1-2. to view the full 6 pages of the document.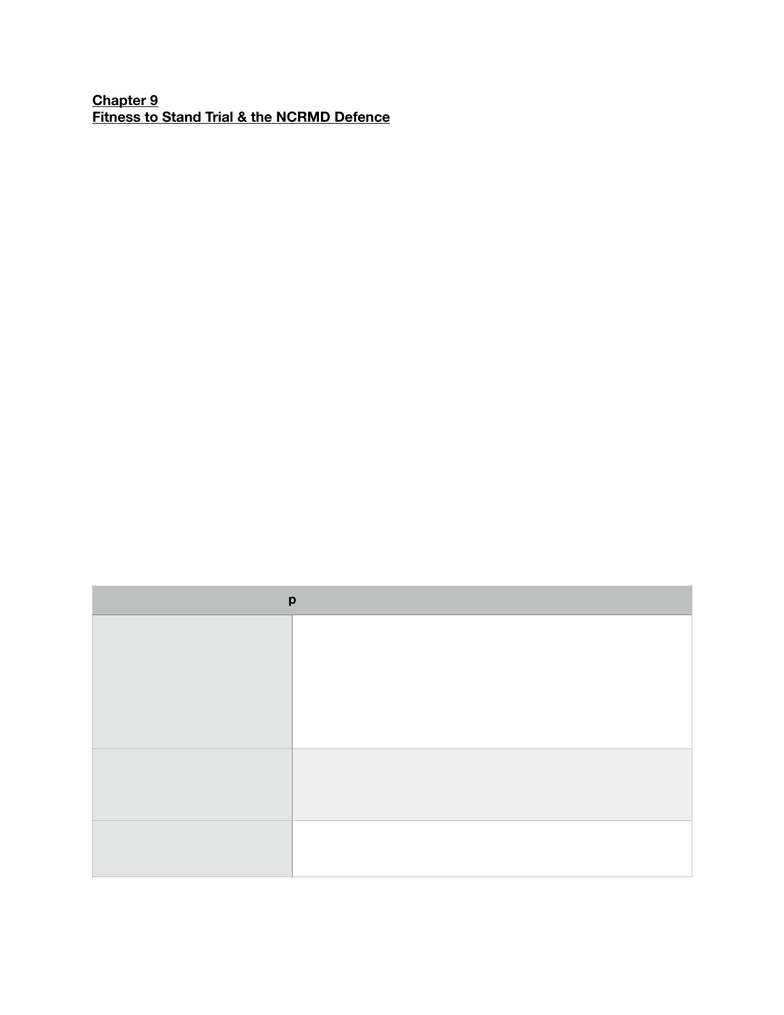 Fitness to Stand T
rial & the NCRMD Defence
•
Vincent Li stabbed Tim McLean on a Greyhound bus in '08

"
•
Diagnosed w/

schizophrenia

: serious mental illness whose su

ff

erers lose touch w/ reality

"
•
Experience

auditory hallucinations

: hearing voices that aren't actually there

"
•
Thought disorder (disorganized thinking): di

ffi

culty thinking & speaking in coherent
•
Delusions: holding false beliefs

"
•
Despite these di

ffi

culties, Li was ruled fit to stand trial

"
•
His lawyer entered a plea of

not criminally responsible on account of mental disorder
(NCRMD)
•
Li accepted that the o

ff

ence had occurred, but claimed he was unable to form
necessary intent to meet criteria for charge of first-degree murder
"
•
Psychiatrists testified that Li fit criteria for someone who wasn't criminally responsible
for actions due to mental illness
"
•
Li sent to mental health centre for further assessment & Manitoba Review Board left to
propose appropriate sentence
"
•
Provincial (Psychiatric) Review Boards

: quasi-judicial tribunals (less formal legal
tribunals that have powers & procedures resembling those of court of law)
"
•
Responsible for overseeing & making decisions about rights & care of individuals found
unfit to stand trial or NCRMD
"
•
Recommend admission to/release from care facilities & treatment

"
•
Review Board usually comprises of:

"
•
Medical practitioner (e.g., psychiatrist)

"
•
Layperson who has an interest in mental health issues

"
•
Not all defendants found NCRMD will have had finding of unfit to stand trial (UST)

"
•
Fitness to stand trial (FST)

in Canada is the same as competency to stand trial (CST) in
T
yp
es of Criminal Legal Competencies
Competency to waive arrest
rights &/or confess
•
Before interrogation, police o

ffi

cers must inform suspects of legal
rights (right to remain silent & right to free counsel)
"
•
Suspects must be informed that anything they say may be used
•
In order to validly waive these rights, suspects must both
understand
their rights (i.e., "I have the right to a lawyer.") &
appreciate the meaning
of that right (i.e., "A lawyer would
advocate for me.")
Competency to waive counsel/
•
Proceed pro se

: w/out representation from a lawyer (i.e., act as
their own counsel during trial)
"
•
Defendants must choose to waive right to counsel willfully & w/
full understanding & appreciation of this right
Competency to plead guilty
•
Must understand & appreciate nature of pleading guilty &
consequences associated w/ it (i.e., taking responsibility for a
crime & being convicted of that o
ff
ence)
Ty
pes of Criminal Legal Competencies
You're Reading a Preview
Unlock to view full version
Only half of the first page are available for preview. Some parts have been intentionally blurred.
•
FST & issue of public respect for criminal justice system

"
•
To use the full power of the court to try, convict & punish defendants who don't
understand nature of legal proceedings against them undermines perceived legitimacy of
•
Doesn't seem fair, damages integrity of legal proceedings

"
•
Prior to '92, Canadian criminal law didn't prescribe set of clear criteria for FST (relied on case
•
Bill C-30 enacted in '92

"
•
Significant changes to fitness determinations w/in

Criminal Code
•
Criminal Code

now explicitly defines persons who're unfit to stand trial as those who are
unable on account of mental disorder to conduct a defence at any stage of the
proceedings before a verdict is rendered or to instruct counsel to do so, & in particular,
unable on account of mental disorder to (a) understand the nature & object of
proceedings, (b) understand possible consequences of proceedings, or, (c) communicate
•
Legal criteria for fitness refer to psychological state of defendant

at time of trial
•
R. v. Taylor

('92): Dwight Taylor charged w/ aggravated assault & possession of a weapon for
a purpose dangerous to the public
"
•
Su

ff

ering from paranoid SZ & had been found unfit to stand trial for previous o

ff

ences

"
•
Court argued that his delusions were so pervasive & irrational that he was likely to
disagree w/ counsel & couldn't perceive his own best interests
"
•
Ontario Court of Appeal adopted

limited cognitive capacity standard

: accused doesn't
need to be able to act in their own best interest, must only be able to demonstrate ability
to recount facts to allow lawyer to properly present case
"
•
Accused is automatically presumed fit to stand trial unless court is satisfied on balance of
probabilities that they're not
"
•
Defence/court can raise issue of fitness at any stage of proceeding

"
•
Fitness evaluation can be raised strategically

"
•
E.g., used by either side to delay trial, gives lawyers more time to prepare

"
•
Defence counsel cautious b/c defendants risk spending more time incarcerated

"
•
E.g., prosecutors may use it to prevent defendant from being released on bail

"
•
Fit to stand trial =/= robust mental health or even normal mental functioning (ppl w/ severe
mental disorders & intellectual disabilities are often judged fit to stand trial)
"
•
Fitness assessment orders typically require that an assessment take no longer than 5d to
•
Courts can order assessments for up to 60d

"
•
Often take much longer (18-21d)

"
•
Criminal Code

specifies that a medical practitioner (i.e., psychiatrist) must conduct court-
ordered assessments of fitness & criminal responsibility
"
•
Psychologists may assist in process

"
•
Evaluator assesses defendant's mental capacities w/:

"
Competency to be sentenced
•
Must be able to understand

why

they're being sentenced &
understand the sentence itself
"
•
Incl. competency to be executed in U.S.
Competency to stand trial
•
Must have the mental state & capacity that allows them to
understand proceedings, appreciate possible consequences of
proceedings & communicate w/ lawyer
T
yp
es of Criminal Legal Competencies
Ty
pes of Criminal Legal Competencies
You're Reading a Preview
Unlock to view full version
---
Loved by over 2.2 million students
Over 90% improved by at least one letter grade.