PSYC 2015 Chapter Notes - Chapter 2: Reflex Arc, Sympathetic Nervous System, Interneuron
For unlimited access to Textbook Notes, a Class+ subscription is required.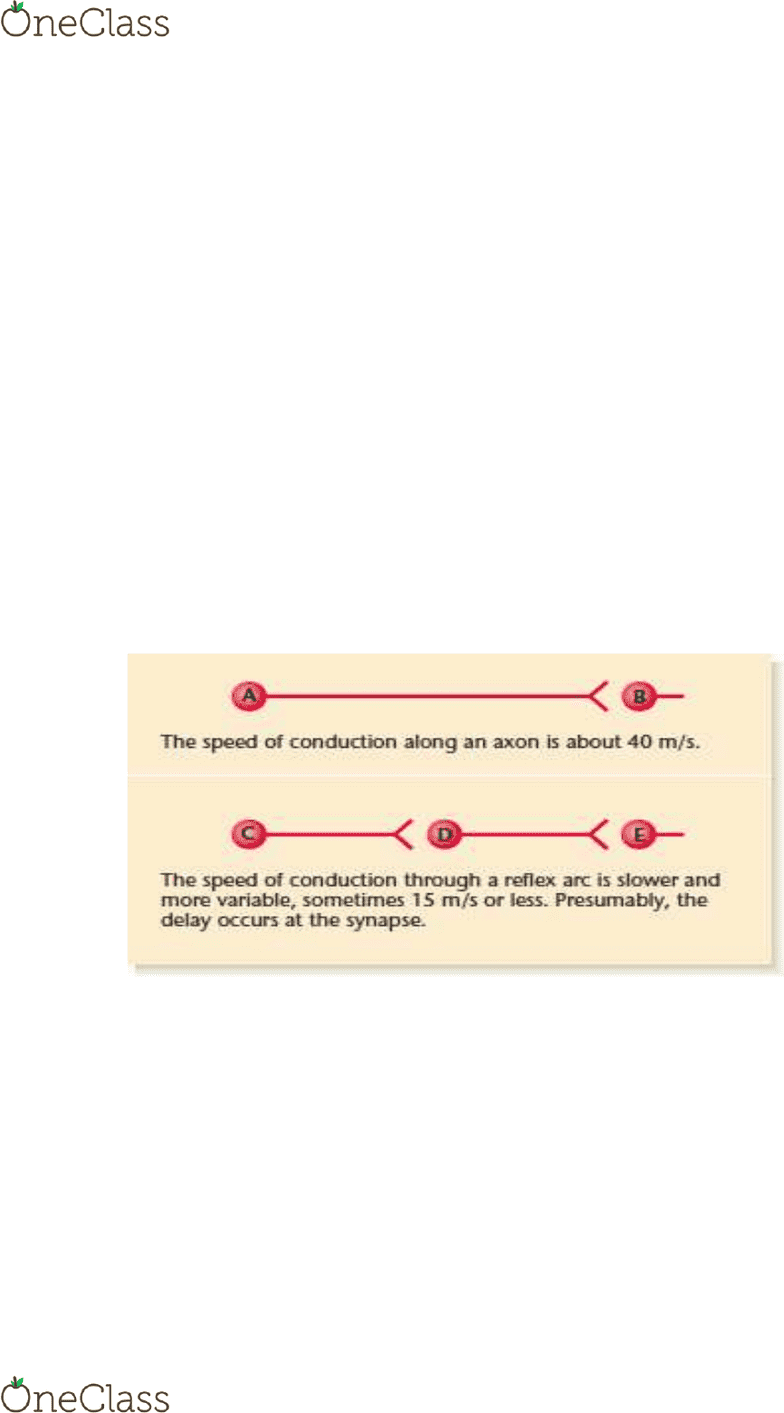 Mohit Singh
Bio Psych Notes
Ch. 2

Charles Scott Sherrington demonstrated that communication between one
neuron and the next is different from communication along a single axon.
o
He inferred a specialized gap between neurons and called it a synapse.

Circuit from sensory neuron to muscle response is called a reflex arc.

Sherrington observed that:
o
Reflexes are slower than conduction along an axon.
o
Several weak stimuli presented at nearby places or times produce a
stronger reflex than one stimulus alone does
o
When one set of muscles becomes excited, a different set becomes
relaxed.

Temporal summation= repeated stimuli within a brief time have a cumulative
effect.

Presynaptic Neuron

= neuron that delivers transmission

Post Synaptic Neuron

= neuron that receives transmission

Action potentials are always depolarizations.
find more resources at oneclass.com
find more resources at oneclass.com

Graded potentials may be either depolarizations (

excitatory

) or
hyperpolarizations (
inhibitory
)

A graded depolarization is known as a

Excitatory Postsynaptic Potential
o
It results from a flow of sodium ions into the neuron.
o
If an EPSP does not cause the cell to reach its threshold, the
depolarization decays quickly.

Sherrington also found that synapses have the property of spatial summation

,
which is summation over space.

Temporal summation and spatial summation ordinarily occur together.
o
A neuron might receive input from several axons in succession.

Sensory neuron



Interneuron



Motor Neuron

Inhibitory Postsynaptic Potential (IPSP)

is a temporary hyperpolarization of a
o
Occurs when synaptic input selectively opens the gates for potassium
ions to leave the cell (carrying a + charge with them) or for chloride ions
to enter the cell. (carrying a
–
charge with them)
find more resources at oneclass.com
find more resources at oneclass.com