---
HIST 245 Lecture Notes - Lecture 19: Scientific Revolution, Antis, Sergei Bulgakov
---
---
This preview shows pages 1-2. to view the full 8 pages of the document.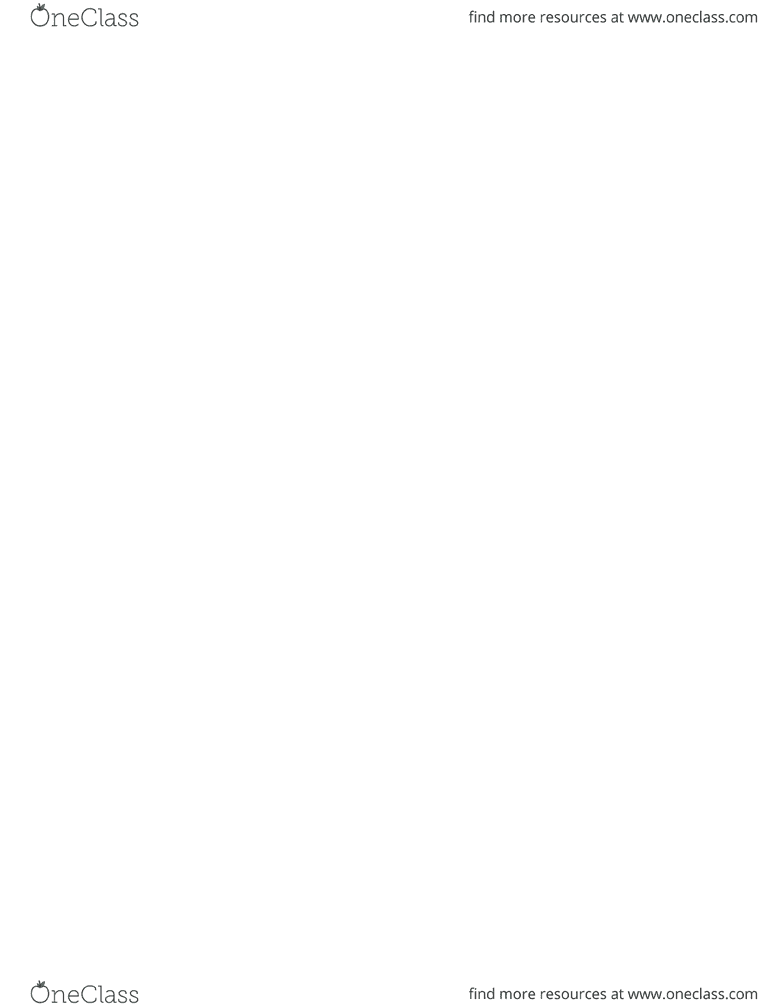 HISTORY 245
IMPERIAL RUSSIA
Lecture 19: The Liberal Predicament
I. Introduction
a.
Back to narrative of two extremes of Russia fighting it out, back to story of revolution, when talk
about story of revolution, think about group of people who could have been the middle in
between the two extremes.
b.
Nicholas unthinking reactionary, autocrat with little imagination, had to be Tsar thought everyone
should obey him, Russian peasants loyal to him no matter what bureacrats and urban dwellers
telling them, autocrat entrenched in reactionary.
c.
Other hand, Marxists, (terrorists first then move to this), come together and think that can only
do in face of reactionary autocracy is over throw it. Radical revolution. No such thing as reofmr
– Marx and Lenin – reform is copiculation, over throw only thing to do.
d.
When talk about middle in this time period, Liberals – in Russia and Europe, liberalism could
have been and abstract way, should have been that middle ground between two extremes. Should
have been people argued for more modern reofmr, preserving some instituions of old Russian
regime but moving forward into new fashion in new modern and liberalized world. Did exist,
main goals of Russia was to write a constitution, create parliamentary system that would bring
representation into autocratic regime, but who believed that autocracy be preserved, or existing
institutinos reformed, everything didn't have to be chucked and re done. Constitution preserve
system of legality and rights, and representative government – bringing people into Governing
bodies, two main governing principles.
e.
Inteesting: Russian liberalism is like Marxism, encountered some people were pre-cursors to
liberalism (spieransky, attempts to introduce some anglo-american institutinos into Russian –
Alexander I, decemberist proposals). Westernizers, some of them liberals, although most of them
socialists. Until end of 19
th
century, liberalism is chosen ideology of very small group of people,
era when nationalistic small group, reactionaries small, smaller then smallest groups.
f.
Liberlaism mocked from both sides, as compromising ideology, those slavophiles argued purely
European, and not until late 19
th
century get a positive description of liberalism. No one wanted
to be a liberal, if were mocked for it. But comes forth like Marxism, makes sense in the name of
reforms, growing class conflict, growing urbanization, rapid changes in Russia's technological
devleopments. Marxism has one response to problems of industalization, liberal has another
response with another set of instituinos, come about same time. Thought liberalism is borrowed
from West, and Russian lbierals borrow from this ideology, but don't want to be like European
liberalism, but emerge out of conditions due to growth of Russian professional class, because no
middle class in Russia, legal and zemstof experts. Closest thing to middle class, educated,
Only pages 1-2 are available for preview. Some parts have been intentionally blurred.
reasonable economic means of subsistent, not nobles (form nobility, but not exlucsively) nor
working class or peasants. Are lawyers, educators, doctors, university professors, especially as
modernization takes route – begin to make classic liberal demands while being cautious not to
call them liberal because negative word.
II. The Liberal Project
A.
The Professional Class
a.
Reason for calling for liberal reforms, but saying they cant do jobs without liberalism, cannot
be good doctors, lawyers, can't help peasantry, can't educate people, can't buold schools of
any world or keep statistics of any worth unless have liberal style guarantees of being able to
do jobs.
i.
Liberalism is born in the Zemstyoff, is totally powerless under Alexander II especially
with Alexander III, does almost nothing of what supposed to do. But has tremendous
political effect because produces liberalism. Experts, school teachers, book keepers,
etc, skilled people with higher degrees who find the zemstyoff one few places can
make difference and most idealistic see in Zemstyoff real purpose in life, only way in
Tsaris Russia to be actively involved in social and political change. (believe helping
people in concrete ways) – because Tsar susiscispon of Zemstyoff, instituinos become
locsuts of battle between liberals and regime. (How other set of instituions related to
Zemstyof become point of contestation, congress of physicains, free economic
society, all called together by various groups to discuss issues central to own
expertize, how to use better fertilizer to increase yields, what legal reforms do we
need in order for courts to work more effectively, etc. Things congresses wanted to
discuss) – because Tsar government had no intention to back this, becomes point of
contention. Pampered by reactionary regime that distrusted all independent political
activity, frustreated ebecause so susispcisous disbanded any group that tried to group
together.r
ii.
Only way to have right to organize, meet and congress, be able to get work done is
have Russian system of rights that would establish single set of principes for Russian
legal system and have specific individual rights visa vie government and predict
relationship wth government, aka a constitution. Regularize professional
organizations relationship with state.
iii.
Out of this, liberal ideology took state visa vie constituinalism. Emerging conception
– liberalism is system of a modern state, only system guarantee stability in a world
that is transofmring and modernizing rapidly, country becoming industrelail needs
lbierla instituios in order to maintain order. People need to participate in government,
You're Reading a Preview
Unlock to view full version
Only pages 1-2 are available for preview. Some parts have been intentionally blurred.
assured to rights of free speech and assembly for propseority and social stability to
increase. Class conflict, peasant migration to urban world, what ideology is going to
solve that problem?
1.
Solves class conflict through representational government, allows people to
come together to solve problems without persecution is liberalism.
B.
Russian Constitutionalism: Peter Struve and Pavel Miliukov
a.
Intereseing about both men: ame out of Russian porfessionla class.
b. Struve:
i.
Trained as natural scientist, studied law and started off as a Marxist*. Intital Marxism
of his signaled a way that he looked at world that never left, believed that progress
was one most important thing, politically, tha tRussia had to undergo, always on side
of progress. Training of lawyer led him to deep respect of law and legality as
foundalitional aspect of human society. (progress and rule of law came to frutition in
form of liberalism)
c. Pavel:
i.
Historian, deeply involved in Zemstyoff, participated in groups that tried to organize
all Russian congresses – Writers Union, Free Economic Scoiety, etc. Also * involved
in Marxism.
ii.
More practical bent, involved directly from personal experience with persecution
faced by Zemstoff activists (wanted them to have space and both men participated in
protest movements, went to prison for radical acitivsm, and evolved out of extreme
socialism to extreme iberlaism).
d.
1901: came together and titeld journal Liberation – articulate liberal demands. Knew couldn't
publsh Jouruanl in Russia, decide to publish abroad, first issue of June 1902 was to define
what Liberation means, what liberalism means. Both contributed different approaches to
same question.
i.
Struve: makes case for liberalism that we see as cliché, quite revolutionary: liberation
form political oppression is a universal ethical imperiative for man kind, desire for
freeing Russians (rights visa vie state) not in some Russian context, not in russian
terms, he contributes to discourse of universal uhman rights, everyone, no matter
where born, regime, has right to freedom of speech, religious, press, etc. Universal
rights, and not wanting rights just for Russians, articulating universally. Liberlaism
for Struve not just struggle of one party for adoption of practical aims, ideology that
spoke for all of Russia in united struggle against autocracy (defined as police
subjugation). Only establishment of freedom of indidvudla could allow for fully
floursihng of Russian culture and people and by extenstion all members of humanity.
1.
Liberation universal human rights, Russians appropriating it for themselves.
ii.
Pavel: specific Russian case for liberarition. Discourd and disharmony caused by
rapid economic indusaltriiaation, class truggle, plight of worker,s dislocation, growth
You're Reading a Preview
Unlock to view full version
---