BIO206H5 Lecture Notes - Lecture 16: Okazaki Fragments, Helicase, Dna Gyrase
BIO206
–
Lecture 16
–
DNA Replication: The Rules
-
Direct source of energy for polymerization would be missing if DNA strands were
synthesized in 3' to 5' direction –
important part of DNA complex

–

improves the
replication
-
Errors occur at 10

9

base pairs
-
The replication bubble is being stabilized by SSBs constantly

–

single stranded DNA
strand exposed will be in complex with single stranded binding proteins
-
Other components that are a part of this are clamp loader with TauC linker region
–
this is a complicated protein complex that allows for loading and unloading of
clamp protein
-
Clamp protein is really important

–

holds DNA polymerase on DNA

–

stabilizes
interaction of DNAPIII and single stranded DNA
-
The lagging strand is a dynamic relation between clamp and clamp loader

–
clamp is being loaded on and taken off repeatedly at different times
-
There are segments of DNA where small portions of double stranded
DNA (red and white on SB video)
–
migrated down the chain to a specific
location building up the replisome
-
Small amount of double stranded DNA in duplex
-
Four distinct RNA polymerase (?) core enzymes present on the replication
bubble
–
one DNA polymerase for each various components
-
Replication occurs in small segment between DNAPIII and RNA primer and clamp
-
Building up the complex to proceed through a series of elongation events
-
Single strand of DNA branches off, enters into DNAPIII complex and there is a part
where it begins to replicate and the clamp holds it in place and in relationship to helicase
-
This is our LEADING STRAND

–

replication occurs 5' to 3' –

it doesn't loop out
like the lagging strand would
-
Our lagging strand passes through DNA helicase and passes by primase (sporadically
adding those RNA nucleotides to form the patches of double strand)
–
strand goes out
and around
-
Portion of single stranded DNA

–

you can see the red primer and our polymerase
is not having its movement moving downwards (5' to 3')
-
Made possible because DNA strand loops out and around and back in

–
this is facilitated by binding and releasing of single stranded DNAs
modulated by clamp and the clamp loader structure
find more resources at oneclass.com
find more resources at oneclass.com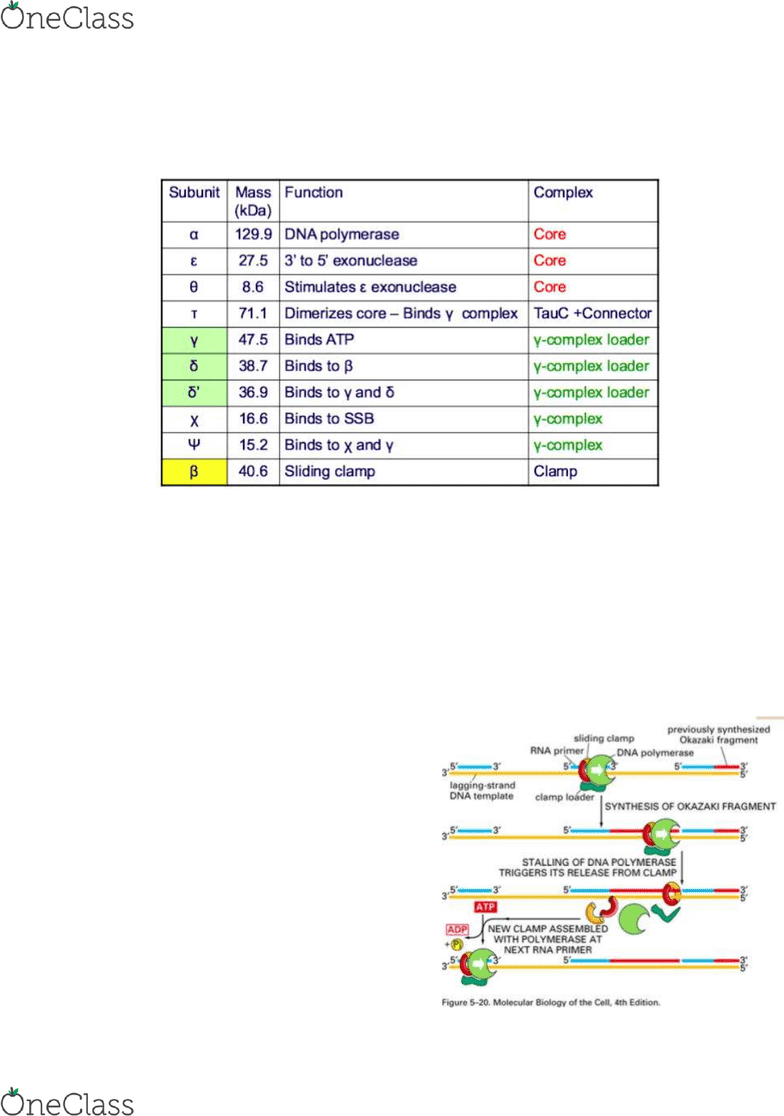 -
Helicase will unwind in downward direction, discontinuous synthesis is lagging
strand
E. Coli DNA Pol III Holoenzyme
Assembly of Replication Complex
-
Clamp loader assembles clamp proteins using ATP as energy source

–

core DNA
polymerase is recruited and assembled on the double stranded nucleic acid
-
Orientation of core determined by clamp and loader
-
Replication can occur in the 5' to 3' direction
Opening, unwinding and priming the DNA
-
Helicase on its own is NOT sufficient

–

RNA primer and DNAPIII opens the strands and
stabilizes in that configuration
-
In our leading strand, there is a small segment of primer where synthesis can continue
on this
-
Once polymerase is bound to DNA
strand, it will polymerize until it meets
some physical blockage
-
On lagging strand, a primer is placed
(most recently synthesized is also laid
down before the DNAPIII continues
polymerization)
-
An Okazaki fragment is created through
clamp stabilizing DNAPIII onto segment
–
polymerizing between the last
synthesized Okazaki fragment and the
most recent fragment until it comes to the
double strand causing DNAPIII to stall
and the complex falls apart
-
Clamp reloads onto a new region and
DNAPIII can attach so that it can
synthesize again
find more resources at oneclass.com
find more resources at oneclass.com
-
Primase continually lays down primers for the process to continue

–

lagging strand
continuously has sliding clamp falling off and being reformed
-
On our lagging strand, a second set of reactions is occurring
-
Involves in some cases the enzyme DNAPI which, in some organisms, removes
the small segments of RNA
–
in other organisms, it is RNA-H (?)
-
Small segment of RNA is removed and DNA polymerase will bind and FILL IN
the gap of RNA residues with deoxyribonucleotides instead
-
Doesn't have the same clamp structure as DNAPIII
-
Lagging strand goes through helicase; leading strand goes AROUND helicase
-
Constantly being released and rebound
-
DNAPI is important for removing RNA primers

–

it repairs a damaged piece of DNA
-
DNA Ligase is the enzyme that SEALS the two strands together using the mechanism
-
It depends on ATP

–

it will bind ATP via the amino group at the alpha phosphate;
release of inorganic phosphate
-
Ligase is in an active form and can catalyze a 3'

-

5' pho

sphodiester bond
-
In absence of covalently linked AMP, it will not be able to catalyze a reaction

–
binds on the region of damaged DNA where it will form a covalent link between
alpha phosphate of AMP and 5' phosphate of damaged DNA
-
There is now a covalent link between the enzyme

–

covalently linked

–

releases
phosphate bond and forms a phosphodiester bond
-
Ligase does not conform 3'

-

5' bond WITHOUT having a template –

DNA polymerase or
RNA polymerase will only form 3'
-
5' phosphodiester bond IF there is a com
plementary
nucleotide available for it to match
DNA Gyrase
–
Controlling Supercoils
-
Helical turns of DNA get transferred down the DNA molecule

–

if you try to open up into
separate single strands, it creates tighter helical turns of the DNA
-
This is the problem that will stall the replisome machinery is there is too much tension
and back pressure
–
can't push forward with the supercoiling
-
These enzymes that are referred to as

topoisomerases

and DNA gyrases come into
play
-
Some are enzymes that are capable of cutting single or double stranded DNA
-
DNA gyrase

–

to control supercoiling as helicase moves along replication bubble,
it must be able to cut and relieve some tension by flipping a segment of DNA
around and resealing that double stranded break
-
Our DNA gyrase will cut the double stranded DNA which allows the molecule to move
through the complex to unwind the bit and now the region will be resealed
-
Several arms that reach and maintain the segments of DNA that are cut

–

they don't fly
off and maintains control
-
During replication, there is a tremendous amount of cutting and resealing to relieve the
tension generated by the replication process
-
Breaking two separate phosphodiester bonds and resealing the two bonds AFTER the
tension on the dsDNA has been released
E. Coli has a covalently closed circular chromosome
-
OriC proceeds in opposite direction

–

chromosome is usually a covalently closed
CIRCULAR structure; there are 4 DNAP for this chromosome
–
two working in one
direction and two working in the other direction
-
Larger replication bubble

–

complete synthesis of circle
find more resources at oneclass.com
find more resources at oneclass.com
Document Summary
Bio206 lecture 16 dna replication: the rules. Direct source of energy for polymerization would be missing if dna strands were synthesized in 3" to 5" direction important part of dna complex improves the replication. The replication bubble is being stabilized by ssbs constantly single stranded dna strand exposed will be in complex with single stranded binding proteins. Other components that are a part of this are clamp loader with tauc linker region. This is a complicated protein complex that allows for loading and unloading of clamp protein. Clamp protein is really important holds dna polymerase on dna stabilizes interaction of dnapiii and single stranded dna. The lagging strand is a dynamic relation between clamp and clamp loader clamp is being loaded on and taken off repeatedly at different times. There are segments of dna where small portions of double stranded. Dna (red and white on sb video) migrated down the chain to a specific location building up the replisome.