ECON 247 Study Guide - Comprehensive Final Exam Guide - Verb, Permanent Record (Film), Logic
For unlimited access to Study Guides, a Grade+ subscription is required.
ECON 247
Chapter 1
Explain how writing business messages differs from writing academic
compositions and term papers.
Business writing is purposeful, economical, and reader oriented. Conciseness is
important. The goal is to
express
rather than

impress

.
Describe the components in each stage of the 3
-x-3 writing process.
Phase 1 (prewriting) consists of analyzing the message, anticipating the audience, and
considering ways to adapt the message to the audience. Phase 2 (writing) involves
re
searching the topic, organizing the material, and composing the message. Phase 3
(revising) includes revising, proofreading, and evaluating the message.
Name three instances in which collaborative writing is necessary.
Collaborative writing is necessary for big tasks, items with short deadlines, and team
projects that require the expertise or consensus of many people.
Why is writing shared documents frustrating, and what software tools make the
Writing shared documents c
an be frustrating because it's difficult to identify different
versions of a document and it's hard to recognize who made what comment or change
on a document. Microsoft Word provides the following editing tools to ease
collaborative writing: highlight, change colour, track changes, and in
sert comments.
List five factors to consider when selecting a communication channel.
Five factors to consider are
•
amount and speed of feedback required
•
necessity of a permanent record
•
degree of formality desired.
Why should you profile your audience before composing a message?
find more resources at oneclass.com
find more resources at oneclass.com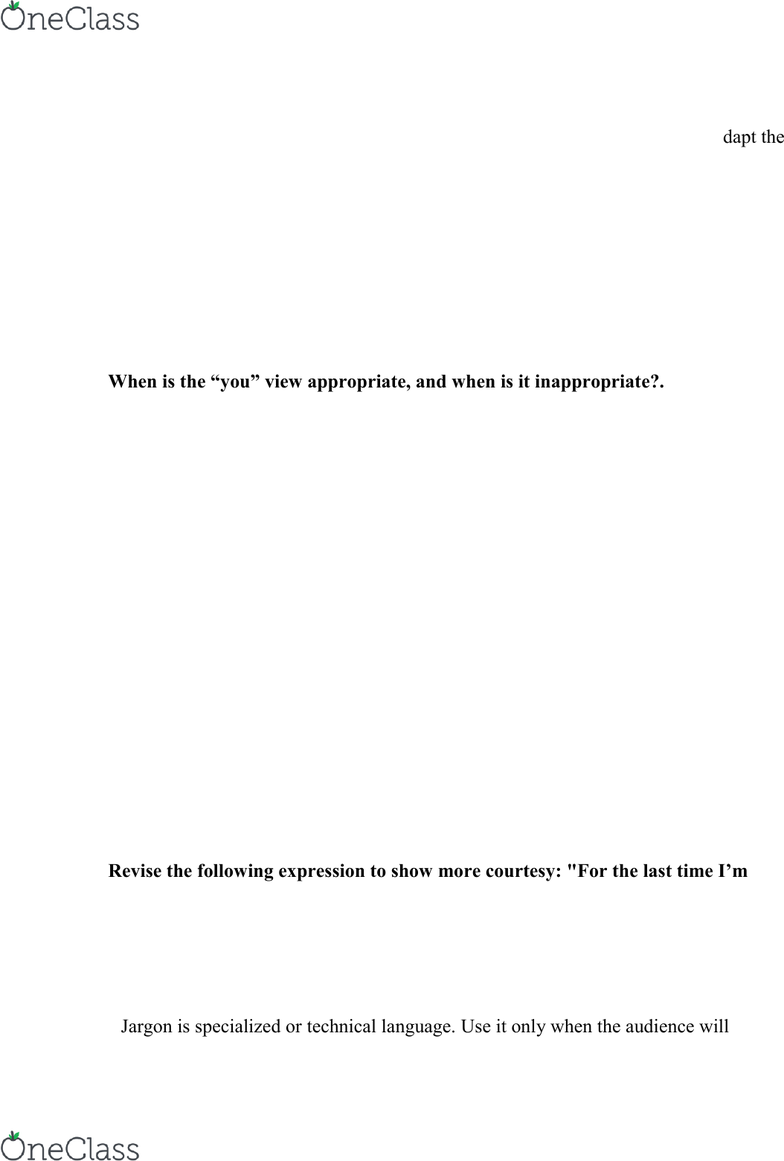 Profiling the audience before composing a message ensures a message that will appeal
to its reader. Thinking about the receiver force
s the writer to consider ways to a

dapt the
message to the receiver's views, background, culture, education, and needs. By having
a picture of the receiver in mind, the writer is more likely to produce a message that
will be effective and achieve the outcom
e desired.
How can a writer emphasize reader benefits?
Writers can emphasize reader benefits by putting themselves in the position of the
reader. How is this message going to save the receiver money, time, or effort? The
message should be written from the perspective of the reader.
When
is
t
he
"y
ou"
vie
w
appropriate,
a
nd
w
hen
is
it
i
nappr
opriat
e?.
The "you" view is appropriate when it focuses on reader benefits. It is inappropriate
when it is used to manipulate or when it conveys a sense o
f blame (e.g., You neglected
to include necessary information.).
What is bias-free language? Give original examples.
Bias-free language avoids gender, race, ethnicity, age, or disability expressions that
might be hurtful or stereotype people. Bias-free language strives to be inclusive rather
than exclusive. It eliminates words that focus attention on exclusions (e.g.,
lawyer
rather than
female lawyer
; new teacher

rather than

new Asian teacher

).
Name replacements for the following gender-biased terms:
waitress, stewardess,
Waitress = server
Stewardess = flight attendant
Foreman = lead worker
Revise the
follow
ing ex
pression to s
how
m
o
re courtesy
: "For t
he
last ti
m
e I'
m
warning all staff members that they must use virus-protection software
—
or else!"
Please use virus-protection software to prevent your computer from being infected.
What is jargon
,
and when is it appropriate for business writing?
Jargon
is s
pecialize
d o
r
technical la
nguage.
Us
e it onl
y
w
hen the a
udi
ence will
find more resources at oneclass.com
find more resources at oneclass.com