---
[BIOL 1201] - Final Exam Guide - Everything you need to know! (130 pages long)
---
Department
Biological Sciences
---
This preview shows pages 1-3. to view the full 130 pages of the document.
LSU
BIOL 1201
FINAL EXAM
STUDY GUIDE
Only pages 1-3 are available for preview. Some parts have been intentionally blurred.
Only pages 1-3 are available for preview. Some parts have been intentionally blurred.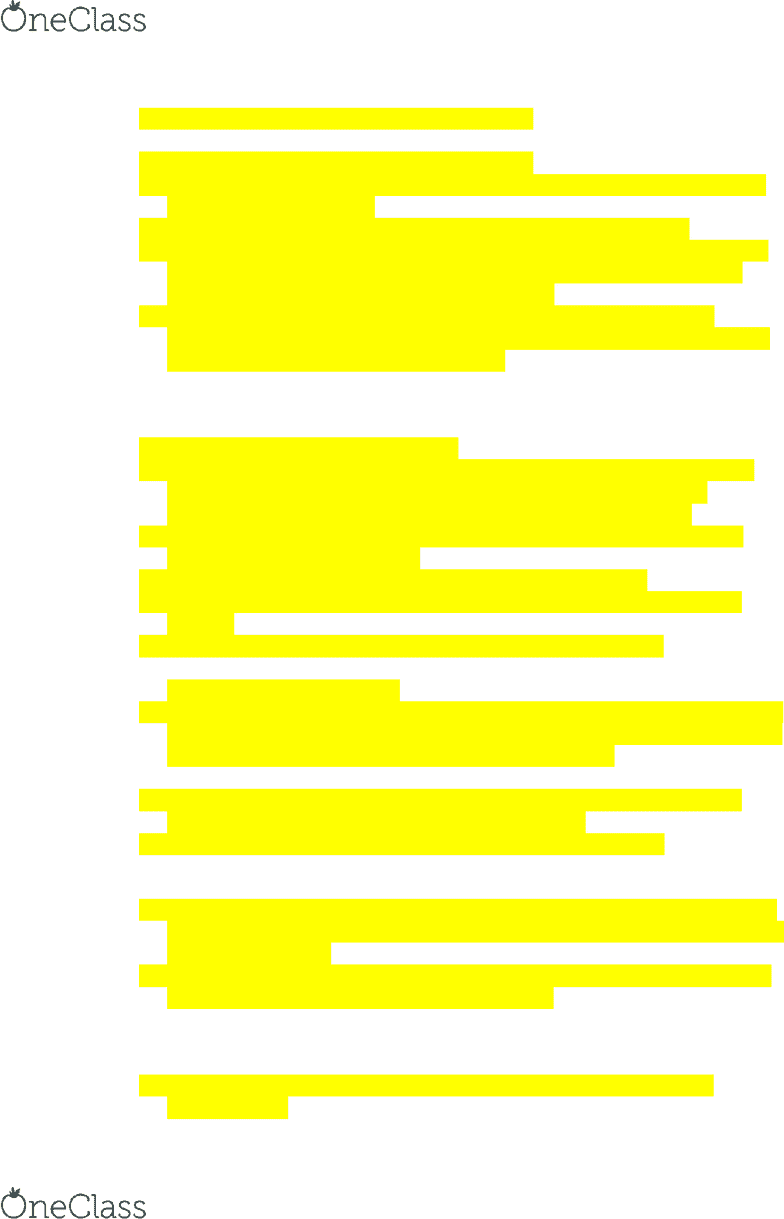 1.
How do muscles move the skeleton? Contract
2.
How may possible gametes with A/A? one
3.
What is the least involved in translation? DNA
4.
In the picture of muscle contraction, know what bands decrease in size and
which ones stay the same.
5.
What are the net products of glycolysis? ATP, NADH, Pyruvic Acid
6.
What are the net products of cellular respiration? CO

2

, ATP, and H

2

O (select
the best answer that contains these. Some answers might contain two of
these and then something from the Calvin Cycle)
7.
The message being sent reaches the target cells only because of their
receptors. If the message is lipid soluble and goes through the membrane, it
attaches to the inter-membrane receptors.
8.
How do we know that certain vibrations are sound? I put that there is a
certain
part of our brain that processes it. The other answers didn't look as
good. I may be wrong though.
9.
How many nucleotides in a codon? 3
10.
Know the diagram with the horizontal cells, amacrine cells, ganglion cells,
and bipolar cells. Know the functions of all of these. It is about three
questions in true and false form. The image (50.17) on page 1096.
11.
The non-covalent attraction between a hydrogen and an electronegative
atom is called a hydrogen bond.
12.
Know which neurons are which in Figure 49.3 on page 1064
13.
Dark reactions (Calvin Cycle) uses items from the light reactions (ATP &
NADPH)
14.
What does ATP do the myosin heads? It pulls it off of the actin.
15.
Know that the anterior pituitary does not secret T4 (Thyroxine)
16.
Na

+

has 2 gates; K

+

has 1 gate
17.
What is the conditi

on of a normal cell's membrane potential? The only option
I thought made sense was that it was negative, but again I was not sure about
it.
I looked on page 1048 and it is at -60 to -80 at normal
18.
How do myelin sheaths conduct? Saltatory Conduction
19.
Ethylene is the plant hormone that deals with any mechanical stress, for
instance if there is high humidity or too much water.
20.
What part of the neuron do action potentials flow down? Axon
21.
What is composed of a 5 carbon sugar, a phosphate group, and a nitrogenous
base? Nucleotide
22.
Know the plant hormones well. One was what two plant hormones deal with
lateral growth. Cytokinin is definitely one of them, but I'm not sure if auxin or
ethylene is the other
23.
A spider can walk on water due to what characteristic of water? It is surface
tension but it is worded water is very cohesive
24.
What affects the type of amino acid? The options were different atoms? on
the _______ group. And then more than one of the above. I didn't know it. The
options were the different groups on pages 64-
65
25.
If you put a bunch of molecules of C

6

H

12

O

6

together, this is called a….
Polysaccharide
find more resources at oneclass.com
find more resources at oneclass.com
You're Reading a Preview
Unlock to view full version
Only pages 1-3 are available for preview. Some parts have been intentionally blurred.
26.
What type of diffusion uses transport proteins? Facilitated diffusion
27.
Enzymes do not increase activation energy; they decrease it.
28.
What is not true about glycolysis? I put the option that said it cannot take
place without oxygen, which I thought of alcohol and lactic acid fermentation.
No oxygen prevents the Krebs cycle
29.
There is the image of an action potential chart from page 1052 with three
true/false.
30.
Know that K

+

brings about hyperpolarization. Na

+

depolarization
31.
What is the bond created when electrons are shared equally? Non-polar
covalent
32.
What bonds connect the phosphate sugar backbone of a nucleotide? Covalent
And which bond connects the nitrogenous bases? Hydrogen
33.
Gibberellin is the plant hormone for budding.
34.
The PNS (peripheral nervous system) is made up of the autonomic and
somatic systems
35.
Inhibitory postsynaptic potential (IPSP)

–

K

+
36.
Excitatory postsynaptic potential (EPSP)

–

Na

+
37.
How many neurons can synapse with one another? Many
38.
How many capillary beds are in a portal system from the heart back to the
heart? 2
39.
If you have ___ cells in interphase of mitosis, how many daughter cells will
there be after cytokinesis? Double the number in the blank.
40.
If interphase has __ chromosomes, how many chromosomes in Anaphase?
Double the number
41.
Know where the hypothalamus sends its information.
42.
RNA polymerase binds to the promoter section.
43.
All hormones are secreted by the Endocrine system through the
bloodstream.
44.
Action potentials increase when Na

+

enters (depolarization) and decrease
when K
+
leaves (hyperpolarization).
45.
Excitatory cells have Na

+

and K

+

gated channels
46.
The myelin sheath allows for faster propagation in the axon
Excitable cells have voltage gated Na+ and K+ channels.
If an action potential happens Na+ and K+ switch usually there is more Na+ on
the outside of the cell and K+I inside the cell but when an action potential
happens they switch.
DNA is least related in the process of translation.
Pancreas is located behind stomach and it produces glucagon and insulin
RNA polymerase binds to the PROMOTER
Which hormone has seed dormancy-abscisic acid
Which hormone has seed germination- cytokinins
What hormone prevents seed germination-absicisic acid
What two glands connect?- hypothalamus and anterior pituitary
Sugar-phosphate backbone is covalent bonds; hydrogen bonds between bases
find more resources at oneclass.com
find more resources at oneclass.com
You're Reading a Preview
Unlock to view full version
---