---
PSY BEH 11B Study Guide - Winter 2019, Comprehensive Midterm Notes - Memory, Jessica Buchanan, Behaviorism
---
Department
Psychology and Social Behavior
---
This preview shows pages 1-3. to view the full 60 pages of the document.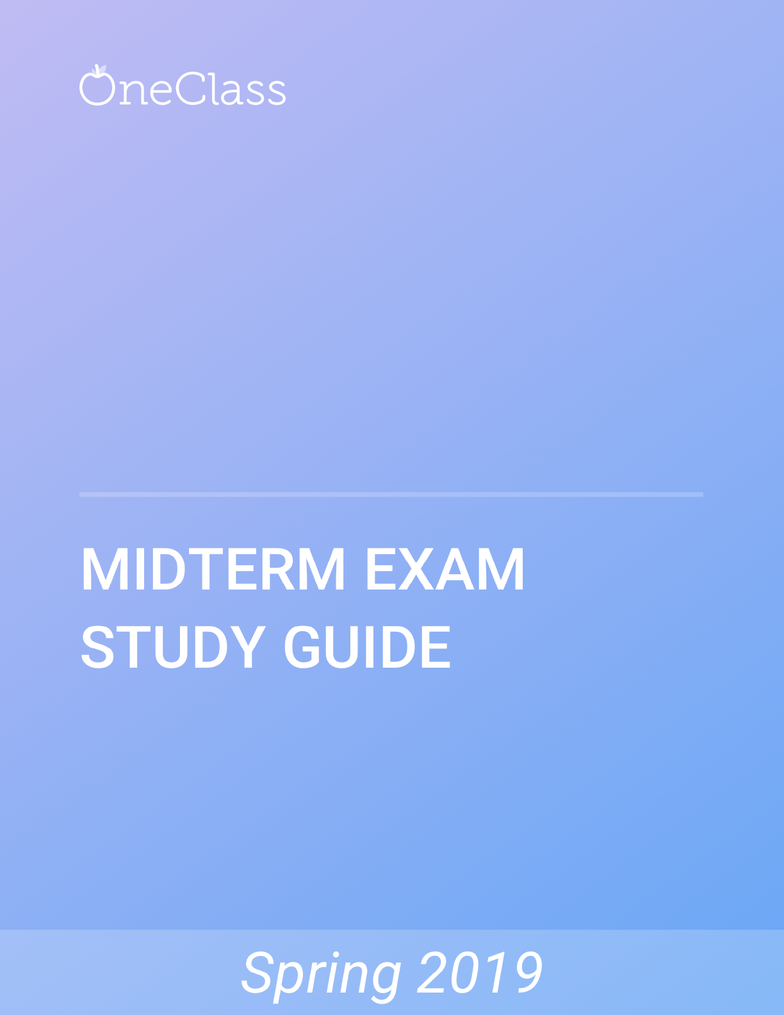 PSY BEH 11B
Only pages 1-3 are available for preview. Some parts have been intentionally blurred.
Jessica Mangold
PsyBeh 11B
Professor Levine
Week 1 Lecture 1
1/8/19
Introduction Lecture
Course Topics
- emotion & thinking & language development
Grades
- can earn extra credit by signing up for participation in experiments or writing paper
Learning
- basic structure & plasticity of neurons
- rationalism & empiricism
Overview of the Structure of Neurons & How Neurons Change
- how is a neuron like an 8
th
grade girl?
- have their own language
- match intensity of message conveyed & then go off & share message with peers
- neuron passes message to nearby neuron & that neuron passes message on
- basic unit of communication in nervous system is neuron
- receives signals from other neurons & responds by either sending signal on or not
- parts of neuron: dendrites, soma/cell body, axon, axon terminals
- receiving or sensing part of the neuron
- receptors that pick of chemical signals called neurotransmitters from surrounding
- calculates sum of signals & makes decision about whether signal strong enough to pass
- signal has to achieve voltage threshold
- where electrical signal passed from soma to axon terminals
- moving signal called action potential
- axon terminals or pre-synaptic terminals
- where signals leave one neuron for another neuron
- when signal reaches axon terminal -> neurotransmitters are released & picked up by
receptors on dendrites of next neuron
- neurons do not touch each other
- space between axon terminals of one neuron & dendrites of another neuron called
- neurotransmitters kept in vesicles
find more resources at oneclass.com
find more resources at oneclass.com
Only pages 1-3 are available for preview. Some parts have been intentionally blurred.
- action potential trigger vesicles to dump neurotransmitters into the synapse
- neurotransmitters then attach to receptors on post-synaptic neuron
Plasticity
- capacity of neurons to change way they function as result of experience
- increase or decrease how much neurotransmitter is released by presynaptic neuron
- increase or decrease how sensitive post synaptic neuron is to neurotransmitter
- can grow new receptors & dendrites
- can also prune or decrease dendrites & the number of receptors
- can strengthen or weaken synaptic connection
- strengthen -> post-synaptic neuron more easily activated by presynaptic neurons
-
cal
led
long term potentiation

(LTP)
The Philosophy of Learning
- where does knowledge come from?
- nurture: empiricism (environment)
- learning comes from the environment
- all knowledge obtained through senses, not inherited
-
Locke: born as a "blank slate"
- what someone becomes depends on environment that they are exposed to
- start out with very little -> have senses & ability to create copies of sensory info in brain
- everything else learned over course of life
- behaviorism -> what person became, learned is entirely dependent on environment
- nature: rationalism (nativism)
- we are born with innate knowledge or reasoning abilities that allow us to understand the
- e.g., Plato, Kant, Chomsky
- inferences made, associations formed, are constrained by species, heredity, maturation
- questioned whether certain things could be picked up from the environment alone
- some sort of innate ability in order to make sense of the world around us
Who Cares?
-
do people's views about the source of knowledge have consequences?
-
expectations about people's knowledge & learning abilities really do make a difference
Expectations & Learning
- Rosenthal & Jacobson (1968)
- gave all elementary school students an intelligence test
- told the teachers that based on this test they identified subset of students that were likely
to go through period of rapid intellectual growth over school year & do better than peers
- reality: this subset of students selected randomly
- when tested 8 months later, selected students showed greater gains in IQ & academic
performance than classmates
- teacher paid more attention to the supposedly gifted students
- confirmation bias -> if teachers believe that certain students are smarter then
they will seek evidence that proves that
- interpret what student says in a positive light
- follow-up studies found that teachers treated the selected students differently
- found by looking at videotapes
- asked students more questions, gave them more challenging work, were
praised more for what they did well, given enough time to answer
find more resources at oneclass.com
find more resources at oneclass.com
You're Reading a Preview
Unlock to view full version
Only pages 1-3 are available for preview. Some parts have been intentionally blurred.
- contributed to students working harder & achieving more
- views about the source of knowledge influence expectations which can influence behaviors
which can influence learning
The Blind Men & the Elephant
- need to combine different reports to get an idea of what the full elephant is like
- going to face similar issues between disagreeing researchers & psychologists
- need to see human being as complex
find more resources at oneclass.com
find more resources at oneclass.com
You're Reading a Preview
Unlock to view full version
---