[FHCE 3150] - Midterm Exam Guide - Ultimate 10 pages long Study Guide!
For unlimited access to Study Guides, a Grade+ subscription is required.
UofG
FHCE 3150
MIDTERM EXAM
STUDY GUIDE
Objectives
-
Cost-benefit approach to decisions
-
Role of economic theory
-
Common pitfalls in decision making
-
Using marginal benefit/marginal cost graphically
-
Positive questions and normative questions
-
Distinction between micro and macroeconomics
Definitions

The best science to study human behavior?

How people allocate scarce resources that have alternative uses?

The pursuit of happiness

Scottish social philosopher

Considered the father of modern economics
Scarcity
-
2 key ideas in economics:

People must use their resources efficiently
-
Consider a world without scarcity

–

what would be the consequences?
-
Can you name examples of inefficient allocations?
Cost-Benefit Approach
-
Benef
it > cost = do it! otherwise don't
-
Reservation price of activity x:

Price at which a person would not be indifferent between doing & not doing x
-
This behavior is called rational choice

Is this frame work practical?
Science of Rational Choice
-
Are economists crazy to assume that people always calculate costs and benefits?
Common Pitfalls in Decision Making
1.
Ignoring implicit (opportunity) costs
2.
Failing to ignore sunk costs
3.
Measuring costs and benefits as proportions rather than absolute dollar amounts
4.
Failure to understand the average-marginal distinction
Opportunity Cost
-
Value of all that must be sacrificed to do the activity
find more resources at oneclass.com
find more resources at oneclass.com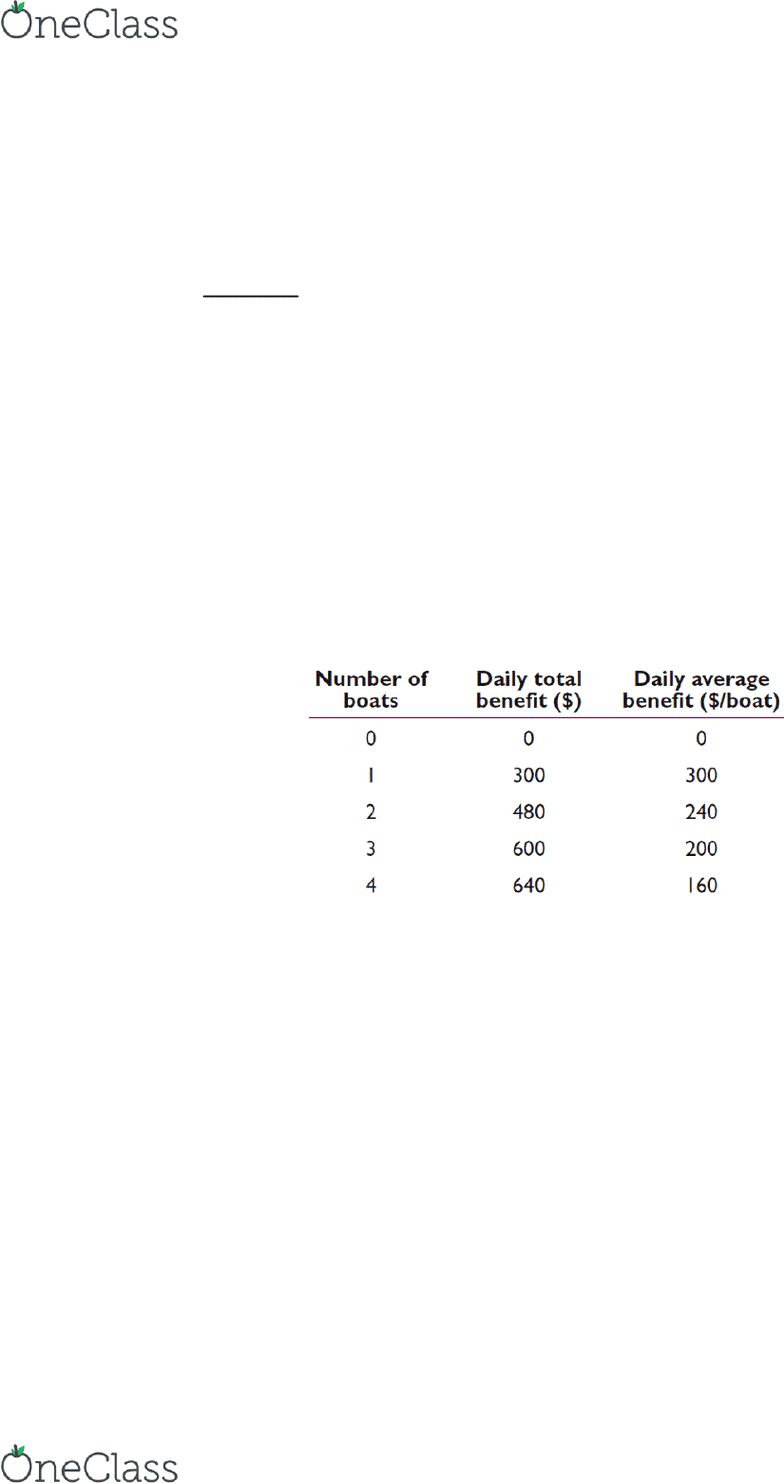 
In other words, the value of the next best alternative FORGONE due to the decision made
Failing to Ignore Sunk Costs
-
An opportunity cost may not seem to be a relevant cost when in reality it is
-
On the other hand, sometimes an expenditure may seem relevant when in reality it is not

Sunk costs: costs that are beyond recovery at the moment a decision is made

These costs should be ignored
Measuring Costs & Benefits as Proportions Rather than $$ Amounts
Failure to Think at the Margin
-
Tom manages a small fishing fleet of three boats.
-
Daily cost of operations is $300, or an average of $100 per boat launched.

Assume it is fixed, i.e., regardless of the number of boats, launching another boat always
increases the total cost by $100.
-
Daily total revenue from selling fish is currently $600, or an average of $200 per boat.

Assume, however, that the average revenue differs with the number of boats launched.
-
Tom decides that since his cost per boat is less than his revenue per boat, he should launch
another boat. Is this a rational decision? How many boats should he launch?

The meal plan at University A lets students eat as much as they like for a non-refundable
fixed fee of $500 per semester. The average student there eats 250 lb of food per semester.

University B charges students $500 for a book of meal tickets that entitles the student to eat
250 lb of food per semester. If the student eats more than 250 lb, he or she pays extra. If the
student eats less, he or she gets a refund.

Assuming that students at both universities have the same appetites and are rational, which
university will experience higher food consumption?
find more resources at oneclass.com
find more resources at oneclass.com