[ANTH 110] - Midterm Exam Guide - Everything you need to know! (56 pages long)
For unlimited access to Study Guides, a Grade+ subscription is required.
UNL
ANTH 110
MIDTERM EXAM
STUDY GUIDE
Chapter 1: What is Anthropology?

Ter athropology oes fro the Greek Athropos for a, hua ad logos for

Broad discipline, seeks to answer a wide variety of questions and has much overlap with
other fields;

Interested in both universals and differences in human populations. Broader in scope
both historically and geographically and more holistic in approach than other disciplines
Anthropology defined:
A discipline that studies humans, focusing on the study of differences and similarities both
biological and cultural, in human populations. Anthropology is concerned with typical biological
and cultural characteristics of human populations in all periods and all parts of the world (text)
The study of human variation and diversity across time and space
(syllabus)
The scope of Anthropology

Anthropologists interested in peoples over time and across cultures;

Traditionally concentrated on non-Western cultures and left the study of Western
civilizations and other complex cultures to other fields Anthropology of the study of
complex societies as well
The Holistic approach

Anthropologists interested in peoples over time and across cultures;

It is a comparative and holistic field. Holistic refers to an approach that studies man
aspects of a multifaceted system (i.e. the whole of the human condition) Approach a
research problem or question from many different perspectives. Human variation and
diversity over time, and across cultures
Fields of Anthropology

Authors of text divide anthropology into two broad classifications: (1) biological or
physical and (2) cultural anthropology;

They further subdivide cultural anthropology into archaeology, linguistics, and
ethnography (also called cultural anthropology). Cross-cutting these four fields is a fifth,
applied or practicing anthropology.
Four traditional sub disciplined or fields plus applied (5
th
field)
1.
Physical or biological, 2. Cultural or sociocultural, 3. Archaeology, 4. Linguistic, 5. Applied
Explanations

In the physical sciences, such relationships are called laws, associations or relationships
that almost all scientists accept. Allow for prediction

Associations are usually stated probabilistically; two or more variables tend to be
related in a predictable way. Statistical associations means observed relationship is
unlikely due to chance;

Theories- explanations of laws and statistical associations

–

are more complicated than
the observes relationships they are intended to explain

Theories cannot be proved but are rejectable through falsification: Showing that a
theory seems to be wrong by finding that implications or predictions derivable from it
are not consistent with objectively collected data
find more resources at oneclass.com
find more resources at oneclass.com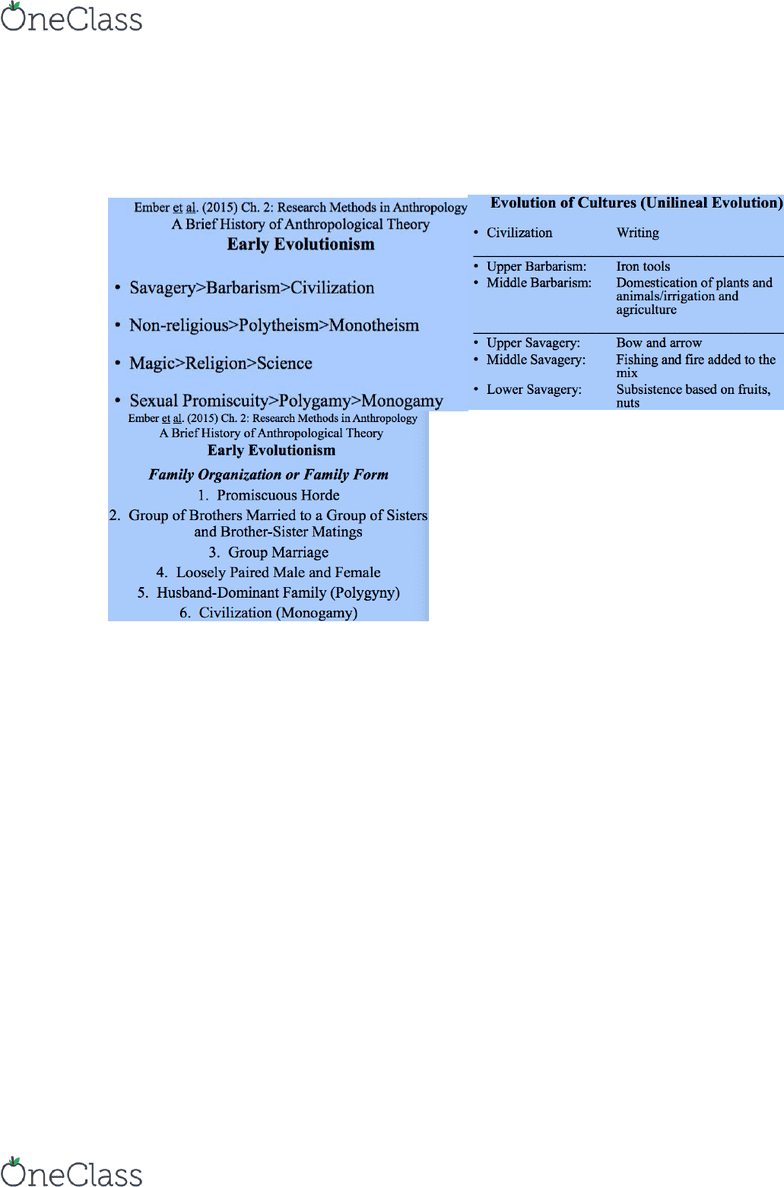 
Predictions (derived from the theory) of what might be found are called hypotheses.
Text defines hypotheses as: Predictions, which may be derived from theories about how
variables are related. If not correct, there may be something wrong with the theory.
Theories that are not falsified are accepted until proven wrong or rejected.
Race theory

Evolutionism also influence another branch of anthropological theory and the idea
that the reason human cultures differed in their behaviors was because they
represented separate subspecies of humans or races. Members therefore incapable

Supported in the late 19

th

and early 20

th

centuries and (the notion of racial
differences or biological races) ultimately discredited in anthropology.

Francie Galton (1822-1911) promoted a social and political movement aimed at
manipulating races by selectively breeding humans with desirable characteristics
from having offspring. Called Eugenics;

"till supported i soe oteporary irles. Herstei ad Murray's 99 The
Bell Curve assert there are racial differences in IQ and these should be taken into
account in social policy.
Boasian Anthropology

Boas did't eliee that ertai uiersal las goered all hua ulture ad as
agaist the ethods of arhair athropologist ho ere ot fieldorkers.
Diametrically opposed to race theory an ushers in modern anthropology;

Foused o historial partiularis ad ultural relatiis. Pioeers four

-field
Functionalism
find more resources at oneclass.com
find more resources at oneclass.com